TUBE YOUR ENTHUSIASM (1)
By: Lucy Sante
August 1, 2018
One of 25 installments in a series of enthusiastic posts analyzing and celebrating a few of our favorite TV shows from the Fifties (1954–1963).
*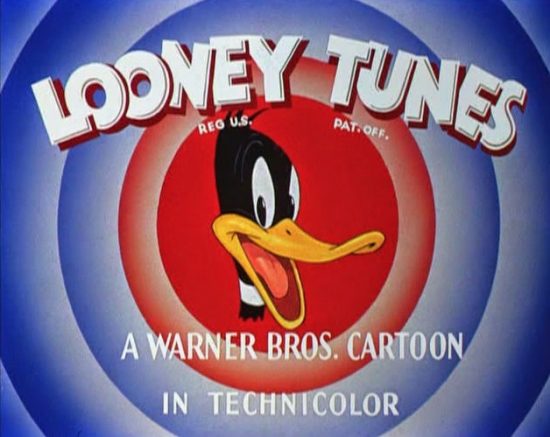 LOONEY TUNES | 1930–1969
In the executive suites of early '60s television, nobody thought too much about children's programming. The stuff broadcast by the networks on Saturday mornings and aired by the syndicates after school was as low-rent and primitive as anything in the medium's first awkward years. The basic format featured a host behaving antically, with or without a studio audience of actual kids. There were running gags, costumed sidekicks, contests and Muscular Dystrophy appeals, the occasional guest — usually a magician or a puppeteer. But all of that took up no more than thirty minutes of the hour. To fill the rest, the stations drew upon a cheap and abundant natural resource: the seven-minute cartoon.
When (in NYC) Claude Kirschner or Chuck McCann or Officer Joe Bolton barked, "And now, kids, look at this!" what followed was a deep dive into the past. You entered a world of open-top flivvers with big, complaining tires; leaning lamp posts with drunks draped around them; newsboys and shoe shiners and one-arm hash houses; granddads in stiff collars and cigar-chewing villains and cops with whistles around their necks. There was nothing alienating about it, though. Our TV sets were b&w anyway and the movies — there were movies pretty much around the clock — were all from the 1930s and '40s. And there were new cartoons at 7:30, the family hour: The Flintstones, The Jetsons, and above all The Bugs Bunny Show, which picked up our heroes in the present day and added a few, notably Road Runner and Wile E. Coyote.
Whenever kids got together there were heated debates: Which was better, the early Max Fleischer stuff (Betty Boop, Koko the Clown) or Looney Tunes (Bugs, Daffy, Sylvester, et al.)? There were even partisans of the very earliest Felix the Cat cartoons, which were eerie and almost silent, but far less common. Nobody ever won the argument, but the Warner Brothers cartoons did arguably have the largest scope. Their Merrie Melodies component was all one-shot oddities, some of which you'd fall in love with and might have to wait years to see again. There were follow-the-bouncing-ball singalongs in which the lyrics morphed into characters; newsreel parodies that unrolled vignettes of doglike or catlike characters at work and play; pre-postmodern intersections of cartoons and live action; allusions to all kinds of cultural baggage reaching back to the nineteenth century. I had seen "Owl Jolson" dozens of times before I learned it was a parody of The Jazz Singer, and knew all the words to "Rosie O'Grady" long before I could find the Lower East Side on a map. We laughed and laughed, blissfully unaware we were getting an education.
***
TUBE YOUR ENTHUSIASM: Series Introduction | Luc Sante on LOONEY TUNES | Chris Spurgeon on THE THREE STOOGES | Adrienne Crew on MY THREE SONS | Barbara Bogaev on ROCKY & BULLWINKLE | Devin McKinney on THE TWILIGHT ZONE | James Hannaham on THE NAT KING COLE SHOW | Mimi Lipson on THE BEVERLY HILLBILLIES | Jessamyn West on THE JETSONS | Gary Panter on THE OUTER LIMITS | Peter Doyle on THE MANY LOVES OF DOBIE GILLIS | Mark Kingwell on ROUTE 66 | Josh Glenn on THE ANDY GRIFFITH SHOW | Lynn Peril on THE DICK VAN DYKE SHOW | Rob Walker on LEAVE IT TO BEAVER | Dan Reines on DAVEY & GOLIATH | Adam McGovern on HIGHWAY PATROL | Erik Davis on HAVE GUN — WILL TRAVEL | Greg Rowland on THE PHIL SILVERS SHOW | Annie Nocenti on THE AVENGERS | Elizabeth Foy Larsen on GUNSMOKE | Sarah Weinman on NAKED CITY | Douglas Rushkoff on THE HONEYMOONERS | Kio Stark on ALFRED HITCHCOCK PRESENTS | Gordon Dahlquist on PERRY MASON | Brian Berger on CAR 54, WHERE ARE YOU? | CODA: Crystal Durant on Marc Anthony & Pussyfoot shorts | CODA: Mike Watt on "A Stop at Willoughby"
MORE ENTHUSIASM at HILOBROW
NERD YOUR ENTHUSIASM (4Q2021): NERDING | ARDUIN | KLINGON CONFIDENTIAL | MAP INSERTS | TIME | & 20 other nerdy passions. SWERVE YOUR ENTHUSIASM (3Q2021): WARHOL'S WALT WHITMAN | 70, GIRLS, 70 | TYRAEL'S MIGHT | SHIRATO SANPEI | THE LEON SUITES | & 20 other never-realized cultural productions. FIVE-O YOUR ENTHUSIASM (2Q2021): DARK SHADOWS | MANNIX | GET SMART | THE ADDAMS FAMILY | I DREAM OF JEANNIE | & 20 other Sixties (1964–1973) TV shows. FERB YOUR ENTHUSIASM (1Q2021): STEVEN UNIVERSE | TOP CAT | REN & STIMPY | SHE-RA AND THE PRINCESSES OF POWER | DRAGON BALL Z | & 20 other animated series. CARBONA YOUR ENTHUSIASM (2020): "Sex Bomb" | "Going Underground" | "Soft South Africans" | "Typical Girls" | "Human Fly" | & 20 other Seventies (1974–1983) punk singles. KLAATU YOU (2020 weekly): ZARDOZ | METROPOLIS | DARK STAR | SINS OF THE FLESHAPOIDS | SOLARIS | & dozens of other pre-STAR WARS sci-fi movies. CONVOY YOUR ENTHUSIASM (2019): THE TAKING OF PELHAM ONE TWO THREE | ROLLERBALL | BLACK SUNDAY | SORCERER | STRAIGHT TIME | & 20 other Seventies (1974–1983) action movies. SERIOCOMIC (2019 weekly): LITTLE LULU | VIZ | MARSUPILAMI | ERNIE POOK'S COMEEK | HELLBOY | & dozens of other comics. TUBE YOUR ENTHUSIASM (2018): LOONEY TUNES | THREE STOOGES | THE AVENGERS | ROCKY & BULLWINKLE | THE TWILIGHT ZONE | & 20 other Fifties (1954–1963) TV shows. WOWEE ZOWEE (2018 weekly): UNISEX | UNDER THE PINK | DUMMY | AMOR PROHIBIDO | HIPS AND MAKERS | & dozens of other Nineties (1994–2003) albums. KLUTE YOUR ENTHUSIASM (2017): THE KILLERS | BANDE À PART (BAND OF OUTSIDERS) | ALPHAVILLE | HARPER | BLOW-UP | & 20 other Sixties (1964–1973) neo-noir movies. #SQUADGOALS (2017 weekly): THE WILD BUNCH | BOWIE'S BAND | THE BLOOMSBURY GROUP | THE HONG KONG CAVALIERS | VI ÄR BÄST! & dozens of other squads. GROK MY ENTHUSIASM (2016 weekly): THE THEORY AND PRACTICE OF LUNCH | WEEKEND | MILLION YEAR PICNIC | LA BARONNE EMILE D'ERLANGER | THE SURVIVAL SAMPLER | & dozens more one-off enthusiasms. QUIRK YOUR ENTHUSIASM (2016): "Tainted Love" | "Metal" | "Frankie Teardrop" | "Savoir Faire" | "Broken English" | & 20 other Seventies (1974–1983) new wave singles. CROM YOUR ENTHUSIASM (2015): DARKER THAN YOU THINK | THE SWORD IN THE STONE | OUT OF THE SILENT PLANET | THIEVES' HOUSE | QUEEN OF THE BLACK COAST | & 20 other Thirties (1934–1943) fantasy novels. KERN YOUR ENTHUSIASM (2014): ALDINE ITALIC | DATA 70 | TORONTO SUBWAY | JOHNSTON'S "HAMLET" | TODD KLONE | & 20 other typefaces. HERC YOUR ENTHUSIASM (2013): "Spoonin' Rap" | "Rapper's Delight" | "Rappin' Blow" | "The Incredible Fulk" | "The Adventures of Super Rhyme" | & 20 other Seventies (1974–1983) hip-hop songs. KIRK YOUR ENTHUSIASM (2012): Justice or vengeance? | Kirk teaches his drill thrall to kiss | "KHAAAAAN!" | "No kill I" | Kirk browbeats NOMAD | & 20 other Captain Kirk scenes. KIRB YOUR ENTHUSIASM (2011): THE ETERNALS | BLACK MAGIC | DEMON | OMAC | CAPTAIN AMERICA | & 20 other Jack Kirby panels.