TUBE YOUR ENTHUSIASM (INTRO)
By: Joshua Glenn
July 31, 2018
One of 25 installments in a series of enthusiastic posts analyzing and celebrating a few of our favorite TV shows from the Fifties (1954–1963).
*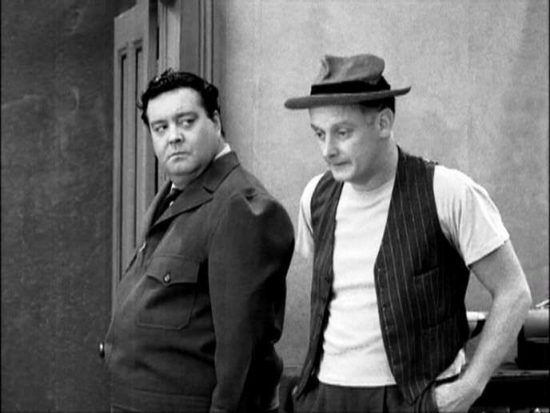 Each year since 2011, HILOBROW has published a new "enthusiasm" series — in which 25 of our talented friends and regular contributors share their passion for… hip hop music of the Seventies (1974–1983), say, or fantasy novels of the Thirties (1934–1943), or neo-noir movies of the Sixties (1964–1973). In an effort to include every medium and era in our "enthusiasm" purview, this August we'll publish 25 (+2) posts about TV shows from the Fifties.
The cultural (as opposed to calendrical) era to which Americans refer when they speak of "the Fifties" began in 1954, according to HILOBROW's periodization schema, and ended in 1963. Luc Sante, Barbara Bogaev, James Hannaham, Gary Panter, Mimi Lipson, Mark Kingwell, Lynn Peril, Annie Nocenti, Erik Davis, Sarah Weinman, yours truly, and other TUBE YOUR ENTHUSIASM contributors will help HILOBROW readers see TV shows from this period — e.g., The Three Stooges, The Twilight Zone, Route 66, Have Gun — Will Travel, The Honeymooners — through our eyes. What did we find so compelling about these shows when we first encountered them as kids growing up in the Sixties and Seventies? What do we still enjoy about them today? We'll enthuse about the shows' characters, scripts, conceits, actors, sets, and mise-en-scènes; we'll also reminisce, fondly or not so fondly, about our childhoods.
However, we'll also offer critiques. We're well aware that the Fifties were a shitty era in many ways — and that this shittiness is evidenced not only by the content of many of these TV shows, but by what's not depicted, including: racial and ethnic diversity, independent women, same-sex relationships. HILOBROW is not Nick at Nite, in other words, nor does TUBE YOUR ENTHUSIASM promote the idea of making America great again. Sure, we'll seek to avoid "presentism" — the anachronistic projection of present-day ideas and values into the past — but our contributors won't shy away from pointing out ideas and values on display in these shows which we find lacking, repugnant, bizarre, or absurd. For example: Even as a kid, Jessamyn West wondered, about The Jetsons, "Why have a humanoid maid in a costume with a female voice?"; and Peter Doyle is frustrated with how close The Many Loves of Dobie Gillis, which he once found so progressive, comes to subversion and resistance… without getting there. So although our intention is to celebrate Fifties TV shows that we enjoy, our enthusiasm will not, we hope, be naive or unalloyed.
Also, in a more positive vein, this series' lineup includes installments on shows — The Twilight Zone, say, or Rocky & Bullwinkle — that were bitingly satirical regarding Fifties culture.
Finally, it's important to point out that although HILOBROW's enthusiasm may be child-like, at times, it is not childish. Although we may be straightforwardly, seriously enthusiastic about some aspects of Fifties TV shows, that is to say, HILOBROW's contributors can simultaneously be ironically enthusiastic. We love some of these shows not despite but because of (or bespite) their flaws and weirdnesses. Adrienne Crew, for example, wonders whether there's something sinister going on in My Three Sons; and Dan Reines wonders why the kids on Davey & Goliath talk like grownup Lutherans. HILOBROW champions the crucial insight that although irony may be opposed to Naomi Klein-esque sincerity, it is not opposed to seriousness, to heartfelt emotion, or to sentiment; so please don't confuse HILOBROW's ironic appreciations with "hate-watching" (ugh). We're enthusiastic about these shows!
Below is the complete TUBE YOUR ENTHUSIASM lineup:
Luc Sante on LOONEY TUNES
Chris Spurgeon on THE THREE STOOGES
Adrienne Crew on MY THREE SONS
Barbara Bogaev on ROCKY & BULLWINKLE
Devin McKinney on THE TWILIGHT ZONE

James Hannaham on THE NAT KING COLE SHOW
Mimi Lipson on THE BEVERLY HILLBILLIES
Jessamyn West on THE JETSONS
Gary Panter on THE OUTER LIMITS
Peter Doyle on THE MANY LOVES OF DOBIE GILLIS

Mark Kingwell on ROUTE 66
Josh Glenn on THE ANDY GRIFFITH SHOW
Lynn Peril on THE DICK VAN DYKE SHOW
Rob Walker on LEAVE IT TO BEAVER
Dan Reines on DAVEY & GOLIATH

Adam McGovern on HIGHWAY PATROL
Erik Davis on HAVE GUN — WILL TRAVEL
Greg Rowland on THE PHIL SILVERS SHOW
Annie Nocenti on THE AVENGERS
Elizabeth Foy Larsen on GUNSMOKE

Sarah Weinman on NAKED CITY
Douglas Rushkoff on THE HONEYMOONERS
Kio Stark on ALFRED HITCHCOCK PRESENTS
Gordon Dahlquist on PERRY MASON
Crystal Durant on Marc Anthony & Pussyfoot shorts
CODA: Mike Watt on "A Stop at Willoughby"
Enjoy!
***
MORE ENTHUSIASM at HILOBROW
NERD YOUR ENTHUSIASM (4Q2021): NERDING | ARDUIN | KLINGON CONFIDENTIAL | MAP INSERTS | TIME | & 20 other nerdy passions. SWERVE YOUR ENTHUSIASM (3Q2021): WARHOL'S WALT WHITMAN | 70, GIRLS, 70 | TYRAEL'S MIGHT | SHIRATO SANPEI | THE LEON SUITES | & 20 other never-realized cultural productions. FIVE-O YOUR ENTHUSIASM (2Q2021): DARK SHADOWS | MANNIX | GET SMART | THE ADDAMS FAMILY | I DREAM OF JEANNIE | & 20 other Sixties (1964–1973) TV shows. FERB YOUR ENTHUSIASM (1Q2021): STEVEN UNIVERSE | TOP CAT | REN & STIMPY | SHE-RA AND THE PRINCESSES OF POWER | DRAGON BALL Z | & 20 other animated series. CARBONA YOUR ENTHUSIASM (2020): "Sex Bomb" | "Going Underground" | "Soft South Africans" | "Typical Girls" | "Human Fly" | & 20 other Seventies (1974–1983) punk singles. KLAATU YOU (2020 weekly): ZARDOZ | METROPOLIS | DARK STAR | SINS OF THE FLESHAPOIDS | SOLARIS | & dozens of other pre-STAR WARS sci-fi movies. CONVOY YOUR ENTHUSIASM (2019): THE TAKING OF PELHAM ONE TWO THREE | ROLLERBALL | BLACK SUNDAY | SORCERER | STRAIGHT TIME | & 20 other Seventies (1974–1983) action movies. SERIOCOMIC (2019 weekly): LITTLE LULU | VIZ | MARSUPILAMI | ERNIE POOK'S COMEEK | HELLBOY | & dozens of other comics. TUBE YOUR ENTHUSIASM (2018): LOONEY TUNES | THREE STOOGES | THE AVENGERS | ROCKY & BULLWINKLE | THE TWILIGHT ZONE | & 20 other Fifties (1954–1963) TV shows. WOWEE ZOWEE (2018 weekly): UNISEX | UNDER THE PINK | DUMMY | AMOR PROHIBIDO | HIPS AND MAKERS | & dozens of other Nineties (1994–2003) albums. KLUTE YOUR ENTHUSIASM (2017): THE KILLERS | BANDE À PART (BAND OF OUTSIDERS) | ALPHAVILLE | HARPER | BLOW-UP | & 20 other Sixties (1964–1973) neo-noir movies. #SQUADGOALS (2017 weekly): THE WILD BUNCH | BOWIE'S BAND | THE BLOOMSBURY GROUP | THE HONG KONG CAVALIERS | VI ÄR BÄST! & dozens of other squads. GROK MY ENTHUSIASM (2016 weekly): THE THEORY AND PRACTICE OF LUNCH | WEEKEND | MILLION YEAR PICNIC | LA BARONNE EMILE D'ERLANGER | THE SURVIVAL SAMPLER | & dozens more one-off enthusiasms. QUIRK YOUR ENTHUSIASM (2016): "Tainted Love" | "Metal" | "Frankie Teardrop" | "Savoir Faire" | "Broken English" | & 20 other Seventies (1974–1983) new wave singles. CROM YOUR ENTHUSIASM (2015): DARKER THAN YOU THINK | THE SWORD IN THE STONE | OUT OF THE SILENT PLANET | THIEVES' HOUSE | QUEEN OF THE BLACK COAST | & 20 other Thirties (1934–1943) fantasy novels. KERN YOUR ENTHUSIASM (2014): ALDINE ITALIC | DATA 70 | TORONTO SUBWAY | JOHNSTON'S "HAMLET" | TODD KLONE | & 20 other typefaces. HERC YOUR ENTHUSIASM (2013): "Spoonin' Rap" | "Rapper's Delight" | "Rappin' Blow" | "The Incredible Fulk" | "The Adventures of Super Rhyme" | & 20 other Seventies (1974–1983) hip-hop songs. KIRK YOUR ENTHUSIASM (2012): Justice or vengeance? | Kirk teaches his drill thrall to kiss | "KHAAAAAN!" | "No kill I" | Kirk browbeats NOMAD | & 20 other Captain Kirk scenes. KIRB YOUR ENTHUSIASM (2011): THE ETERNALS | BLACK MAGIC | DEMON | OMAC | CAPTAIN AMERICA | & 20 other Jack Kirby panels.