TUBE YOUR ENTHUSIASM (7)
By: Mimi Lipson
August 7, 2018
One of 25 installments in a series of enthusiastic posts analyzing and celebrating a few of our favorite TV shows from the Fifties (1954–1963).
*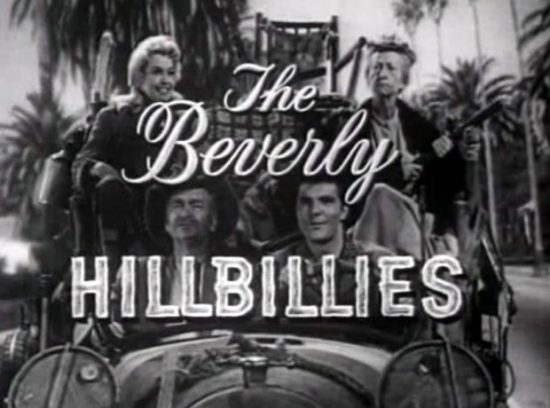 THE BEVERLY HILLBILLIES | 1962–1971
The Beverly Hillbillies — A Glossary
a heap: quantifier. (See also: a might, a spell, clean, plumb)
big fancy eating table: pool table.
Californy: California.
cement pond: swimming pool.
Note stress on first syllable of 'cement':
— "Granny, can I go swimming in this here SEE-ment pond?"
— "Course not. I don't allow nobody splashing around in my warsh water."
cipher: to write.
critter: animal. (See also: varmint.)
— [Ellie enters with a goat, a raccoon, a pigeon, a possum, and a dog.] "I'm comin'. What can I do to help?"
— "You can get them varmints and them critters out of here. Don't you know your Paw's sick?"
doctor: to attend the misery, usually with a remedy.
— "Jethro, you go get me a mud dauber's nest, retchweed, dog-bane, stump water, a dried beetle, and some lizard eggs. I've got doctoring to do."
go to: to begin. (See also: get to; commence)
— "Mr. Drysdale said if we go to ploughing up the front yard, the whole neighborhood'll come storming over."
goomer: generic insult.
misery, the: unspecified illness.
pillar: pillow.
— "Yes, those southern mansions are beautiful. I suppose it has the large white pillars?"
— "It did, but we brung em along and put em on the beds out here."
pot passer: pool cue.
— "Say, speaking of Thanksgiving, we can use the big fancy eating table. I just finished notching the last pot passer."
powerful: intensifier.
— "Four o'clock's powerful early."
— "Not when you have the whole front yard to plough. And corn to plant. And taters, turnips, ruterbagers, and onions, and oats and barley and watermelon."
remedy: medicinal preparation.
sobering-up mash: specialized remedy made from coon root, retchweed, skunk oil, chimney soot, spider webs, slippery elm ooze, turpentine, and a few more things that's secret.
stock: cattle.
— "Mr. Drysdale says to me, 'Mr. Clampett, you've got 25 million dollars in cash. You oughta put some of that money into stock.'"
store-bought lace-trimmed double barrel slingshot: brassiere.
varmint: non-beneficial critter.
— "Ellie May, get them varmints out of here."
— "But Granny, they ain't varmints. They's my critters!"
***
TUBE YOUR ENTHUSIASM: Series Introduction | Luc Sante on LOONEY TUNES | Chris Spurgeon on THE THREE STOOGES | Adrienne Crew on MY THREE SONS | Barbara Bogaev on ROCKY & BULLWINKLE | Devin McKinney on THE TWILIGHT ZONE | James Hannaham on THE NAT KING COLE SHOW | Mimi Lipson on THE BEVERLY HILLBILLIES | Jessamyn West on THE JETSONS | Gary Panter on THE OUTER LIMITS | Peter Doyle on THE MANY LOVES OF DOBIE GILLIS | Mark Kingwell on ROUTE 66 | Josh Glenn on THE ANDY GRIFFITH SHOW | Lynn Peril on THE DICK VAN DYKE SHOW | Rob Walker on LEAVE IT TO BEAVER | Dan Reines on DAVEY & GOLIATH | Adam McGovern on HIGHWAY PATROL | Erik Davis on HAVE GUN — WILL TRAVEL | Greg Rowland on THE PHIL SILVERS SHOW | Annie Nocenti on THE AVENGERS | Elizabeth Foy Larsen on GUNSMOKE | Sarah Weinman on NAKED CITY | Douglas Rushkoff on THE HONEYMOONERS | Kio Stark on ALFRED HITCHCOCK PRESENTS | Gordon Dahlquist on PERRY MASON | Brian Berger on CAR 54, WHERE ARE YOU? | CODA: Crystal Durant on Marc Anthony & Pussyfoot shorts | CODA: Mike Watt on "A Stop at Willoughby"
MORE ENTHUSIASM at HILOBROW
NERD YOUR ENTHUSIASM (4Q2021): NERDING | ARDUIN | KLINGON CONFIDENTIAL | MAP INSERTS | TIME | & 20 other nerdy passions. SWERVE YOUR ENTHUSIASM (3Q2021): WARHOL'S WALT WHITMAN | 70, GIRLS, 70 | TYRAEL'S MIGHT | SHIRATO SANPEI | THE LEON SUITES | & 20 other never-realized cultural productions. FIVE-O YOUR ENTHUSIASM (2Q2021): DARK SHADOWS | MANNIX | GET SMART | THE ADDAMS FAMILY | I DREAM OF JEANNIE | & 20 other Sixties (1964–1973) TV shows. FERB YOUR ENTHUSIASM (1Q2021): STEVEN UNIVERSE | TOP CAT | REN & STIMPY | SHE-RA AND THE PRINCESSES OF POWER | DRAGON BALL Z | & 20 other animated series. CARBONA YOUR ENTHUSIASM (2020): "Sex Bomb" | "Going Underground" | "Soft South Africans" | "Typical Girls" | "Human Fly" | & 20 other Seventies (1974–1983) punk singles. KLAATU YOU (2020 weekly): ZARDOZ | METROPOLIS | DARK STAR | SINS OF THE FLESHAPOIDS | SOLARIS | & dozens of other pre-STAR WARS sci-fi movies. CONVOY YOUR ENTHUSIASM (2019): THE TAKING OF PELHAM ONE TWO THREE | ROLLERBALL | BLACK SUNDAY | SORCERER | STRAIGHT TIME | & 20 other Seventies (1974–1983) action movies. SERIOCOMIC (2019 weekly): LITTLE LULU | VIZ | MARSUPILAMI | ERNIE POOK'S COMEEK | HELLBOY | & dozens of other comics. TUBE YOUR ENTHUSIASM (2018): LOONEY TUNES | THREE STOOGES | THE AVENGERS | ROCKY & BULLWINKLE | THE TWILIGHT ZONE | & 20 other Fifties (1954–1963) TV shows. WOWEE ZOWEE (2018 weekly): UNISEX | UNDER THE PINK | DUMMY | AMOR PROHIBIDO | HIPS AND MAKERS | & dozens of other Nineties (1994–2003) albums. KLUTE YOUR ENTHUSIASM (2017): THE KILLERS | BANDE À PART (BAND OF OUTSIDERS) | ALPHAVILLE | HARPER | BLOW-UP | & 20 other Sixties (1964–1973) neo-noir movies. #SQUADGOALS (2017 weekly): THE WILD BUNCH | BOWIE'S BAND | THE BLOOMSBURY GROUP | THE HONG KONG CAVALIERS | VI ÄR BÄST! & dozens of other squads. GROK MY ENTHUSIASM (2016 weekly): THE THEORY AND PRACTICE OF LUNCH | WEEKEND | MILLION YEAR PICNIC | LA BARONNE EMILE D'ERLANGER | THE SURVIVAL SAMPLER | & dozens more one-off enthusiasms. QUIRK YOUR ENTHUSIASM (2016): "Tainted Love" | "Metal" | "Frankie Teardrop" | "Savoir Faire" | "Broken English" | & 20 other Seventies (1974–1983) new wave singles. CROM YOUR ENTHUSIASM (2015): DARKER THAN YOU THINK | THE SWORD IN THE STONE | OUT OF THE SILENT PLANET | THIEVES' HOUSE | QUEEN OF THE BLACK COAST | & 20 other Thirties (1934–1943) fantasy novels. KERN YOUR ENTHUSIASM (2014): ALDINE ITALIC | DATA 70 | TORONTO SUBWAY | JOHNSTON'S "HAMLET" | TODD KLONE | & 20 other typefaces. HERC YOUR ENTHUSIASM (2013): "Spoonin' Rap" | "Rapper's Delight" | "Rappin' Blow" | "The Incredible Fulk" | "The Adventures of Super Rhyme" | & 20 other Seventies (1974–1983) hip-hop songs. KIRK YOUR ENTHUSIASM (2012): Justice or vengeance? | Kirk teaches his drill thrall to kiss | "KHAAAAAN!" | "No kill I" | Kirk browbeats NOMAD | & 20 other Captain Kirk scenes. KIRB YOUR ENTHUSIASM (2011): THE ETERNALS | BLACK MAGIC | DEMON | OMAC | CAPTAIN AMERICA | & 20 other Jack Kirby panels.