Dolores del Río
By: William Nericcio
August 3, 2014
In photographs, Mexican movie star DOLORES DEL RÍO (María de los Dolores Asúnsolo López-Negrete, 1905–83) is not the passive object of your gaze — her eyes assault and challenge you, transmute you. During the Twenties, when she appeared in popular silent films like Resurrection (1927) and Ramona (1928), she was considered one of the most beautiful women alive; with Marlene Dietrich, Carole Lombard, and Rita Hayworth, she helped define supremely elegant Hollywood glamour as we know it. During the Thirties, she was one of the few silent stars who made the transition to talkies. In a striking 1941 photo, Del Rio — by that point better known for promoting cigarettes and makeup than for her acting — is being worshipped by Orson Welles, who was 10 years her junior and on the cusp of greatness; she accompanied him to the premiere of his first feature, Citizen Kane, that year. However, whereas Welles's career would soon crash and burn, Del Rio's star was on the rise: Breaking with Welles and the United States, in 1943 she became the poster child for Mexico's Golden Age of cinema with Emilio "El Indio" Fernandez's María Candelaria — which eventually won the Grand Prix at Cannes. She continued to work through the Fifties and Sixties… and even appeared in an Elvis movie.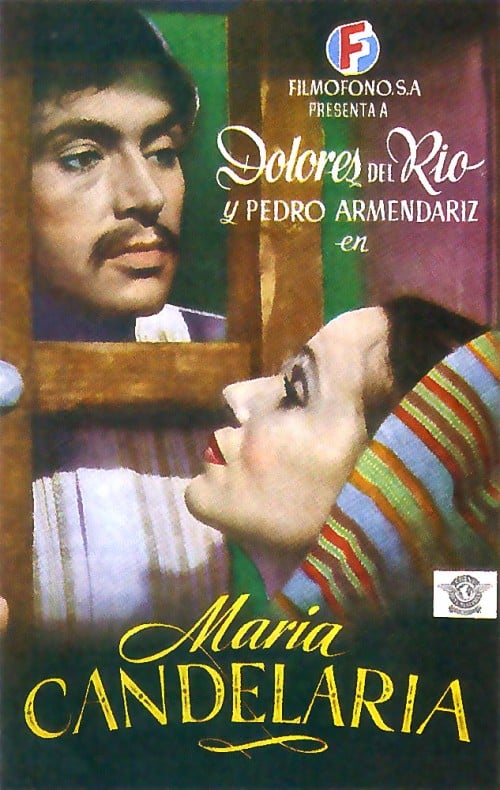 ***
On his or her birthday, HiLobrow irregularly pays tribute to one of our high-, low-, no-, or hilobrow heroes. Also born this date: James Hetfield, Clifford D. Simak.
READ MORE about members of the Partisan Generation (1904-13).