Ursula K. Le Guin
By: Joshua Glenn
October 21, 2009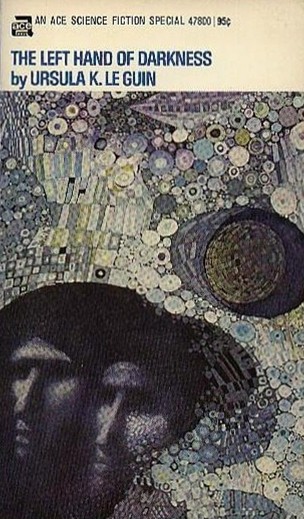 Her Earthsea fantasy novels — most signally, A Wizard of Earthsea (1968), The Tombs of Atuan (1971), and The Farthest Shore (1972) — concern the education of a young wizard, and are recommended for those who labor under the delusion that the middlebrow Harry Potter series is any good. However, URSULA K. LE GUIN (born 1929) is particularly talented as an author of science fiction, a genre she uses better than most to criticize gender roles, capitalism, and the Western shibboleth of "progress." Long before Iain M. Banks set his "Culture" series in an egalitarian, galaxy-spanning social order, there was Le Guin's Hainish Cycle — The Left Hand of Darkness (1969), The Dispossessed: An Ambiguous Utopia (1974), and The Word for World is Forest (1976) are the must-reads — in which an egalitarian social order, the Ekumen, explores the outposts of a collapsed Galactic Empire. These outposts include (respectively) Gethen, whose inhabitants can become male or female each month; Anarres, an anarcho-syndicalist moon orbiting around a capitalist planet; and Athshe, a forest-world whose aboriginal natives are brutalized by Earth's military-industrial complex. NB: The Lathe of Heaven (1971), a PKD-esque epistemological workout, appears more or less between the two series — and it appealed, at the time, to fantasy and SF fans alike.
NEW WAVE SCI-FI at HILOBROW: 75 Best New Wave (1964–1983) Sci-Fi Novels | Back to Utopia: Fredric Jameson's theorizing about New Wave sci-fi | Douglas Adams | Poul Anderson | J.G. Ballard | John Brunner | William Burroughs | Octavia E. Butler | Samuel R. Delany | Philip K. Dick | Frank Herbert | Ursula K. Le Guin | Barry N. Malzberg | Moebius (Jean Giraud) | Michael Moorcock | Alan Moore | Gary Panter | Walker Percy | Thomas Pynchon | Joanna Russ | James Tiptree Jr. (Alice Sheldon) | Kurt Vonnegut | PLUS: Jack Kirby's Golden Age and New Wave science fiction comics.
Click here for more science fiction on HiLobrow.com.
***
MORE FANTASY ON HILOBROW: CROM YOUR ENTHUSIASM series | 65 Fantasy Adventures | Mervyn Peake | Lord Dunsany | H.P. Lovecraft | Edgar Rice Burroughs | Ursula K. LeGuin | Michael Moorcock | Gary Gygax | Clark Ashton Smith | Frank Frazetta | George MacDonald | John Bellairs | T.H. White | Wilkie Collins | M.R. James | Edgar Allan Poe | Lewis Carroll | Mikhail Bulgakov | Guy Endore | Alasdair Gray | Maurice Sendak | Tove Jansson | L. Frank Baum | Roald Dahl | Abraham Merritt | August Derleth | William Hope Hodgson | Madeleine L'Engle
On his or her birthday, HiLobrow irregularly pays tribute to one of our high-, low-, no-, or hilobrow heroes. Also born this date: | Fran Landesman | Lux Interior | Yoshikazu Ebisu |
READ MORE about members of the Postmodernist Generation (1924-33).