Best 1979 Adventures (3)
By: Joshua Glenn
December 7, 2019
One in a series of 10 posts identifying Josh Glenn's favorite 1979 adventure novels.
*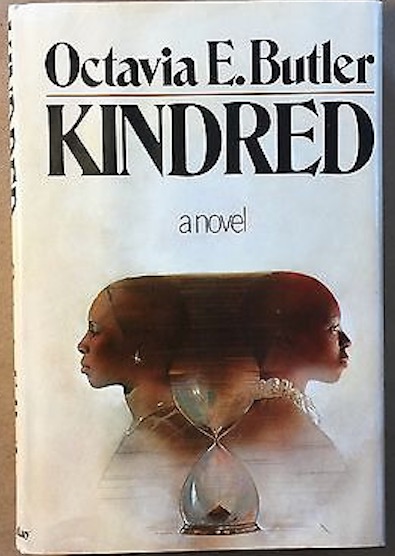 Octavia E. Butler's New Wave sci-fi adventure Kindred.
In this realistic (visceral, even) sci-fi/fantasy hybrid yarn, which Butler modeled on grim North American slave narratives by the likes of Harriet Tubman, Dana, a young, educated African-American woman in contemporary Los Angeles, finds herself shunted back in time to an antebellum Maryland plantation. (Unless she's just hallucinating?) Dana, who is married to a white man in the present, discovers in the past her own ancestors — a white planter and a black freewoman who has been forced into slavery. Her ontogeny — as a black woman fully conscious of slavery's legacy in contemporary America — recapitulates the phylogeny of her ancestor, who loses her innocence, faces harsh punishment, develops strategies of resistance, and ultimately develops the ability to escape from a repressive, racist white society. Kindred unflinchingly interrogates the intersection of power, gender, and race, but the narrative is far from simple: Dana's ancestors, Rufus and Alice, were childhood friends, and Dana ends up developing sympathy for Rufus, despite the fact that he grows up to be a monster. She also encounters Sarah, an angry slave who only appears to be a submissive "mammie," and other characters who fail to conform to previous depictions of slavery, from Gone with the Wind to Roots. The time travel narrative is also complex, as Dana — and, sometimes, her husband — ricochets back and forth from the present to various points in Alice and Rufus's life stories.
Fun facts: Kindred was a bestseller, and remains popular today; it is often chosen as a text for community-wide reading programs and high school and college courses. It was adapted as a 2017 graphic novel by Damian Duffy and John Jennings.
***
JOSH GLENN'S *BEST ADVENTURES* LISTS: BEST 250 ADVENTURES OF THE 20TH CENTURY | 100 BEST OUGHTS ADVENTURES | 100 BEST RADIUM AGE (PROTO-)SCI-FI ADVENTURES | 100 BEST TEENS ADVENTURES | 100 BEST TWENTIES ADVENTURES | 100 BEST THIRTIES ADVENTURES | 75 BEST GOLDEN AGE SCI-FI ADVENTURES | 100 BEST FORTIES ADVENTURES | 100 BEST FIFTIES ADVENTURES | 100 BEST SIXTIES ADVENTURES | 75 BEST NEW WAVE SCI FI ADVENTURES | 100 BEST SEVENTIES ADVENTURES | 100 BEST EIGHTIES ADVENTURES | 75 BEST DIAMOND AGE SCI-FI ADVENTURES | 100 BEST NINETIES ADVENTURES (in progress) | 1994 | 1995 | 1996 | 1997 | 1998 | 1999 | 2000 | 2001 | 2002 | 2003 | NOTES ON 21st-CENTURY ADVENTURES.