Best 1943 Adventures (2)
By: Joshua Glenn
June 9, 2018
One in a series of 10 posts identifying Josh Glenn's favorite 1943 adventure novels. Happy 75th anniversary!
*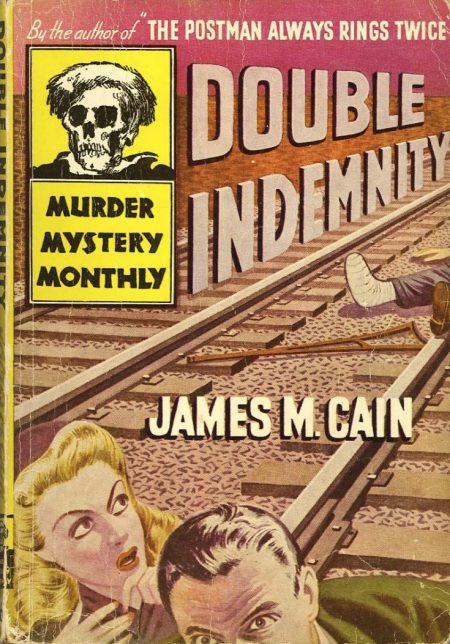 James M. Cain's crime adventure Double Indemnity.
Walter Huff is an insurance agent who has dedicated his career to foiling insurance scams; in fact, he's beginning to fantasize about using his inside knowledge in order to pull off the perfect scam. When Phyllis, the beautiful wife of one of his clients, asks him suggestively about a policy that she wants to take out on her husband, he proposes that they team up to kill the guy — and split the money. Huff puts together a "double indemnity" policy for Phyllis, one which will pay double the contract's face value in cases of accidental death. They then arrange a railroad accident for their victim. Everything goes well, but Phyllis, it seems, never had any intention of splitting the money with Walter. What's worse, Keyes, one of Walter's colleagues, begins to suspect foul play and opens an investigation. Will the conspirators end up trying to kill one another?
Fun facts: A shorter version of the story, based on a 1927 case that Cain covered while working as a journalist in New York, was serialized in Liberty magazine in 1936. The novel served as the basis for the 1944 film noir of the same name, adapted by Raymond Chandler and directed by Billy Wilder. The movie stars Fred MacMurray, Barbara Stanwyck, and Edward G. Robinson. The 1981 neo-noir Body Heat is an homage of sorts to Wilder's movie.
***
JOSH GLENN'S *BEST ADVENTURES* LISTS: BEST 250 ADVENTURES OF THE 20TH CENTURY | 100 BEST OUGHTS ADVENTURES | 100 BEST RADIUM AGE (PROTO-)SCI-FI ADVENTURES | 100 BEST TEENS ADVENTURES | 100 BEST TWENTIES ADVENTURES | 100 BEST THIRTIES ADVENTURES | 75 BEST GOLDEN AGE SCI-FI ADVENTURES | 100 BEST FORTIES ADVENTURES | 100 BEST FIFTIES ADVENTURES | 100 BEST SIXTIES ADVENTURES | 75 BEST NEW WAVE SCI FI ADVENTURES | 100 BEST SEVENTIES ADVENTURES | 100 BEST EIGHTIES ADVENTURES | 75 BEST DIAMOND AGE SCI-FI ADVENTURES | 100 BEST NINETIES ADVENTURES (in progress) | 1994 | 1995 | 1996 | 1997 | 1998 | 1999 | 2000 | 2001 | 2002 | 2003 | NOTES ON 21st-CENTURY ADVENTURES.