20 Avengers & Artful Dodgers
By: Joshua Glenn
November 25, 2013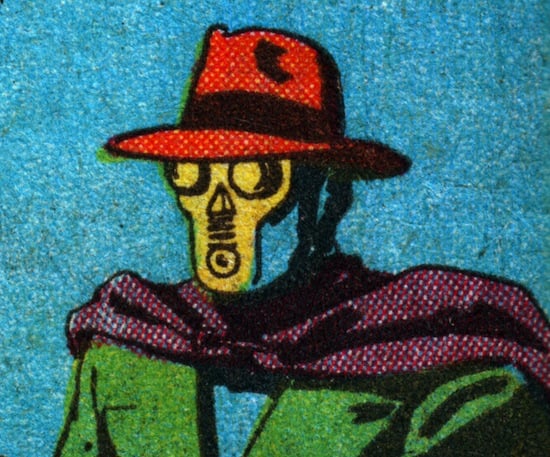 Recently, I compiled a list of two hundred of my favorite adventures published before the Eighties (1984–1993).
Seven of the titles on that list are avenger adventures; four are artful dodger adventures. Also, via the following posts — Best 19th Century Adventure (1805–1903) | Best Nineteen-Oughts Adventure (1904–1913) | Best Nineteen-Teens Adventure (1914–1923) | Best Twenties Adventure (1924–1933) | Best Thirties Adventure (1934–1943) | Best Forties Adventure (1944–1953) | Best Fifties Adventure (1954–1963) | Best Sixties Adventure (1964–1973) | Best Seventies Adventure (1974–1983) — I listed another two hundred and fifty of my favorite adventures. Three of the titles on those secondary lists are avenger adventures; six are artful dodger adventures.
Thus — below, please find a list of twenty of my favorite avenger and artful dodger adventures — arranged not qualitatively (which would be impossible) but chronologically. The titles marked with an asterisk (*) are from my Top 200 Adventures list; the others are second-tier favorites.
As noted in earlier posts, the avenger-type adventure is a counter-Enlightenment phenomenon, one which first appeared in the form of 18th century gothic melodramas full of curses, disguises, treasure, mysterious codes. Modern society's constitutional law is corrupt and slow; as a result, evil (usually in the form of injustice and oppression; a system that refuses to take account of human needs) too often goes unpunished — hence the hope that a fiercer and purer authority will arise to punish evil on behalf of evil's victims. There are three distinct themes and memes within this Adventure sub-genre: the Secret Identity, Self-Liberation, and Reluctant Bad-Ass.
In an earlier post on the Artful Dodger meme within Adventure, I noted that in this sort of adventure story, the protagonist stumbles upon a network — of criminals, spies, conspirators, terrorists — and becomes enmeshed, trapped. In order to escape, and perhaps even triumph, she must rely on her wits and cunning — like a fox pursued by hounds. The protagonist tends to be an ordinary man or woman. She may have adventurous experience behind her, in the past, from which she has derived an extraordinary capacity for action and cunning… but she is not looking for adventure. Adventure is looking for her.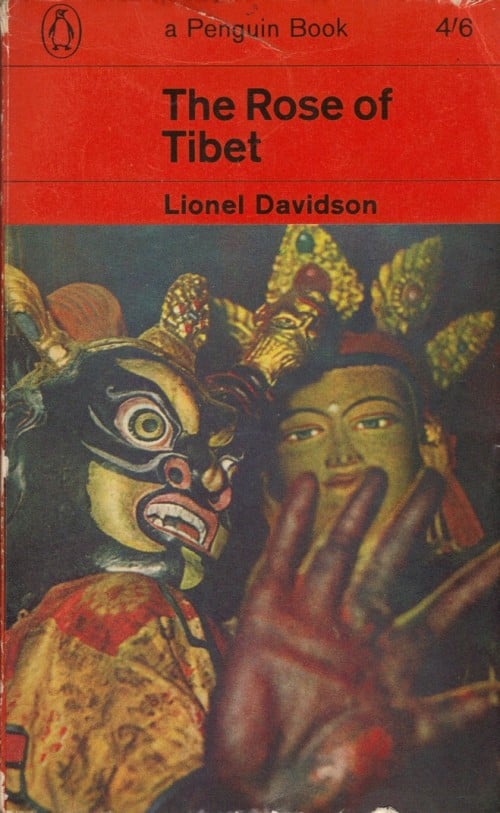 JOSH GLENN'S *BEST ADVENTURES* LISTS: BEST 250 ADVENTURES OF THE 20TH CENTURY | 100 BEST OUGHTS ADVENTURES | 100 BEST RADIUM AGE (PROTO-)SCI-FI ADVENTURES | 100 BEST TEENS ADVENTURES | 100 BEST TWENTIES ADVENTURES | 100 BEST THIRTIES ADVENTURES | 75 BEST GOLDEN AGE SCI-FI ADVENTURES | 100 BEST FORTIES ADVENTURES | 100 BEST FIFTIES ADVENTURES | 100 BEST SIXTIES ADVENTURES | 75 BEST NEW WAVE SCI FI ADVENTURES | 100 BEST SEVENTIES ADVENTURES | 100 BEST EIGHTIES ADVENTURES | 75 BEST DIAMOND AGE SCI-FI ADVENTURES | 100 BEST NINETIES ADVENTURES (in progress) | 1994 | 1995 | 1996 | 1997 | 1998 | 1999 | 2000 | 2001 | 2002 | 2003 | NOTES ON 21st-CENTURY ADVENTURES.
*
Why does my Top Adventures List project stop in 1983? Primarily because I figure that adventure fans already know which adventure novels from the Eighties, Nineties, and Twenty-Oughts are worth reading; I'm interested in directing attention to older, sometimes obscure or forgotten adventures. Also, I have friends who've published adventures since 1983 — I don't want these lists to be biased!
In chronological order, here is the list of my Top 20 Avenger & Artful Dodger Adventures.
THE NINETEENTH CENTURY

* 1820. Walter Scott's 12th c. knightly adventure Ivanhoe, the protagonist of which makes his first appearance at a tourney in disguise, known only as The Disinherited Knight. (Also at that tourney is a mysterious archer named Locksley. Who can it be?) This popular book was single-handedly responsible for the medievalist craze in early 19th-century England.
* 1837–39. I realize that mentioning a Charles Dickens joint here opens up a can of worms, but Oliver Twist in particular is a great adventure, and the Artful Dodger is awesome.

* 1844–45. Alexandre Dumas's avenger-type adventure The Count of Monte Cristo. It's all here: a wronged man seeking revenge, a jailbreak, poisonings, smugglers, a sex slave (spoiler: she's freed), and a treasure cave. Serialized in 117 installments, it's on the long side; still, according to Luc Sante, this story is today as "immediately identifiable as Mickey Mouse, Noah's flood, and the story of Little Red Riding Hood."
1868. Jules Verne's exploration adventure Around the World in Eighty Days.

* 1886. Robert Louis Stevenson's 18th c. avenger-type adventure Kidnapped, in which young David Balfour is sold into servitude by his wicked uncle. With the help of Alan Breck, a daring Jacobite, David escapes and travels across Scotland by night — hiding from government soldiers by day.

THE TEENS (1914–1923)

* 1915. Rafael Sabatini's sea-going historical adventure The Sea Hawk is set in the late 16th century. Sold into slavery by his fiancée's villainous brother, Cornish gentleman Oliver Tressilian is liberated by Barbary pirates — i.e., Muslim corsairs — among whom he makes a name for himself as Sakr-el-Bahr, the Hawk of the Sea. Tressilian then returns to England for revenge. NB: The Errol Flynn movie was supposed to be an adaption of this novel… but it's quite different.

* 1915. Frances Hodgson Burnett's YA adventure The Lost Prince. The author of the sentimental children's classics Little Lord Fauntleroy, A Little Princess, and The Secret Garden also wrote one of the best Ruritanian-type yarns ever. Young Marco Loristan and his crippled urchin friend "The Rat" are entrusted with a secret mission: traveling across Europe with a message for exiled Samavian revolutionaries.
1918. Leo Perutz's From Nine to Nine (Zwischen neun und neun), in which an impoverished student in Vienna is thrown into a series of grotesque situations after a crime is committed. Surprise twist at the end.

1921. Rafael Sabatini's swashbuckling adventure Scaramouche, in which a disguised fugitive from the French Revolution becomes a fencing master.
1922. Rafael Sabatini's sea-going historical adventure Captain Blood, in which an Irish physician is caught up in the Monmouth Rebellion of 1685, and sold as an indentured servant to Barbados. He escapes and becomes a buccaneer — preying upon the Spanish, and saving Jamaica from the French. Adapted as the great 1935 Errol Flynn movie.

THE TWENTIES (1924–1933)

* 1924. Johnston McCulley's historical swashbuckling adventure The Mark of Zorro. The first novella featuring Don Diego de la Vega, a Californio nobleman who, wearing a black mask, defends the people of the land against tyrannical officials. Batman and The Lone Ranger were inspired in part by Zorro, and McCulley's other pulp inventions were influential too.

* 1924. Richard Connell's adventure story "The Most Dangerous Game." One of the greatest examples of the hunted-man sub-genre. It's so iconic that I'm breaking the rule against including stories (as opposed to novels) on these lists of mine. Collected in the definitive 1945 collection The Pocket Book of Adventure Stories, ed. Philip Van Doren Stern.
1927. H.M. Tomlinson's sea-going/hunted-man adventure Gallion's Reach. During a quarrel over labor relations, Jim Colet accidentally kills his boss. He must escape from Rangoon, to Malaya, and back to England.

THE THIRTIES (1934–1943)

1934–35. Hergé's Tintin adventure The Blue Lotus. Published as a color album in 1946. Tintin's friendship with Chang marked a new, less racist — even anti-racist — phase for Hergé.
1936. Graham Greene's hunted-man adventure A Gun for Sale.

* 1939. Geoffrey Household's Rogue Male, the most exciting hunted-man adventure since Buchan's Thirty Nine Steps, is one of my favorite novels. A big-game hunter stalks a European dictator (presumably Hitler), gets caught… then escapes back to England. Thanks to top-notch fieldcraft, he eludes his pursuers by going to ground like an animal.

THE FORTIES (1944–1953)

1953. Richard Wright's avenger-type adventure The Outsider, which concerns an African American man in Chicago whose mistaken identity and falsely reported death permit him to take up a new life in New York. There, he is manipulated by Communists into committing murder.

THE FIFTIES (1954–1963)

* 1960. Geoffrey Household's hunted-man adventure Watcher in the Shadows, his second best novel (after Rogue Male). Zoologist Charles Dennim is sent a mail bomb — why? Turns out that during the war, he was a double agent working for the Allies as a Gestapo officer in a concentration camp. Now the husband of one of the Gestapo's victims wants revenge.
* 1962. Lionel Davidson's adventure The Rose of Tibet. A Haggard-esque yarn in which an English man travels to Tibet searching for his missing brother. He is mistaken for a god; he falls in love with a high priestess; he is entrusted with a treasure; and he in the end, he must flee the invading Red Chinese army. Graham Greene: "I hadn't realised how much I had missed the genuine adventure story until I read The Rose of Tibet."

THE SIXTIES (1964–1973)

1971. Frederick Forsyth's The Day of the Jackal, the author's first novel. A professional assassin is contracted by a French dissident paramilitary organization to kill Charles de Gaulle. Like Forsyth's subsequent books, this one — which was written in a few weeks — is more concerned with tradecraft than with character development; its focus is on how the assassination will occur, not on the assassin or the assassination itself. Not particularly well-written, but closely researched and credible.
***
20 ADVENTURE THEMES AND MEMES: Index to All Adventure Lists | Introduction to Adventure Themes & Memes Series | Index to Entire Series | The Robinsonade (theme: DIY) | The Robinsonade (theme: Un-Alienated Work) | The Robinsonade (theme: Cozy Catastrophe) | The Argonautica (theme: All for One, One for All) | The Argonautica (theme: Crackerjacks) | The Argonautica (theme: Argonaut Folly) | The Argonautica (theme: Beautiful Losers) | The Treasure Hunt | The Frontier Epic | The Picaresque | The Avenger Drama (theme: Secret Identity) | The Avenger Drama (theme: Self-Liberation) | The Avenger Drama (theme: Reluctant Bad-Ass) | The Atavistic Epic | The Hide-And-Go-Seek Game (theme: Artful Dodger) | The Hide-And-Go-Seek Game (theme: Conspiracy Theory) | The Hide-And-Go-Seek Game (theme: Apophenia) | The Survival Epic | The Ruritanian Fantasy | The Escapade