Best 1907 Adventures (1)
By: Joshua Glenn
February 15, 2017
One in a series of 10 posts identifying Josh Glenn's favorite 1907 adventure novels. Happy 110th anniversary!
*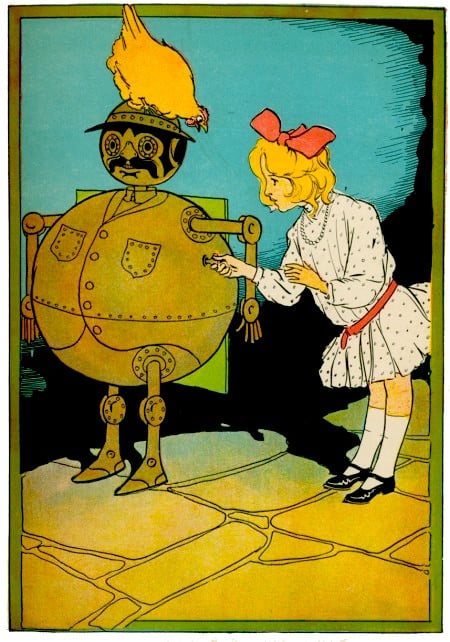 L. Frank Baum's Radium Age science fiction/fantasy Ozma of Oz.
The third Oz book, and the first in which we meet one of Baum's most delightful characters: "He was only about as tall as Dorothy herself, and his body was round as a ball and made out of burnished copper. Also his head and limbs were copper, and these were jointed or hinged to his body in a peculiar way, with metal caps over the joints, like the armor worn by knights in days of old." From a printed card attached to its neck, Dorothy learns that Tiktok is a "Patent Double-Action, Extra-Responsive, Thought-Creating, Perfect-Talking Mechanical Man Fitted with out Special Clock-Work Attachment. Thinks, Speaks, Acts, and Does Everything but Live." Though one of the earliest fictional appearances of true machine intelligence, Tiktok is not a free agent like his equally metallic, yet living new friend, the Tin Man — to whom he confides that "When I am wound up I do my du-ty by go-ing just as my ma-chin-er-y is made to go."
Fun fact: Baum revisited this story for his 1913 musical, The Tik-Tok Man of Oz, in which Tiktok sings: "Always work and never play!/Don't demand a cent of pay!"
***
Let me know if I've missed any 1907 adventures that you particularly admire.