Best 1974 Adventures (1)
By: Joshua Glenn
October 31, 2019
One in a series of 10 posts identifying Josh Glenn's favorite 1974 adventure novels.
*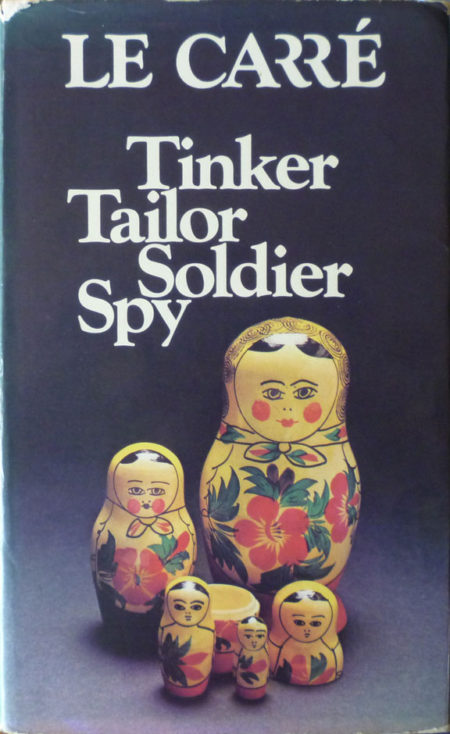 John le Carré's Karla Trilogy espionage adventure Tinker Tailor Soldier Spy.
David Cornwell, who wrote under the pseudonym John le Carré, worked as a British intelligence officer during the early Cold War; Kim Philby's defection to the USSR, and the consequent compromising of British agents, was a factor in Cornwell's return to private life. So it's only fitting that in his first outing, 1961's Call for the Dead, the un-James Bond-like George Smiley should be an ex-operative who roots out an East German spy ring operating in the UK. In 1963's The Spy Who Came In from the Cold, Smiley returns to the Circus (that is, the secret intelligence service) as top aide to its head, Control. As this novel begins, Control and Smiley have been forced into retirement after "Testify," an operation in Czechoslovakia, ends disastrously. Smiley discovers that there is a Soviet mole operating at the highest level within the Circus — that is to say, it must be someone he's known and trusted for years. But who? With the assistance of an increasingly paranoid Peter Guillam, his former protégé and right-hand man, Smiley investigates four ambitious senior Circus men: Alleline, the new Circus chief; Haydon, commander of London Station (and Smiley's wife's lover); Bland, Haydon's lieutenant; and Esterhase, who is in charge of surveillance and wiretapping for the Circus. He discovers that two major Circus operations — the ill-fated "Testify," and also "Merlin," a highly successful intelligence-gathering operation led by Alleline and the others — are not at all what they seem. Karla, Moscow Centre's spymaster, seems to have been been manipulating the Circus — and Smiley — for years. If this is true, how will Smiley flush out the mole?
Fun facts: Considered one of Le Carré's best books, Tinker Tailor Soldier Spy was adapted as an excellent movie — starring Gary Oldman as Smiley, along with Colin Firth, Tom Hardy, John Hurt, Toby Jones, Mark Strong, Benedict Cumberbatch, and Ciarán Hinds — in 2011. It was previously adapted into a BBC TV miniseries in 1979, with Alec Guinness in the lead role. The Honourable Schoolboy (1977) and Smiley's People (1979) are the subsequent installments in Le Carré's so-called Karla Trilogy.
***
JOSH GLENN'S *BEST ADVENTURES* LISTS: BEST 250 ADVENTURES OF THE 20TH CENTURY | 100 BEST OUGHTS ADVENTURES | 100 BEST RADIUM AGE (PROTO-)SCI-FI ADVENTURES | 100 BEST TEENS ADVENTURES | 100 BEST TWENTIES ADVENTURES | 100 BEST THIRTIES ADVENTURES | 75 BEST GOLDEN AGE SCI-FI ADVENTURES | 100 BEST FORTIES ADVENTURES | 100 BEST FIFTIES ADVENTURES | 100 BEST SIXTIES ADVENTURES | 75 BEST NEW WAVE SCI FI ADVENTURES | 100 BEST SEVENTIES ADVENTURES | 100 BEST EIGHTIES ADVENTURES | 75 BEST DIAMOND AGE SCI-FI ADVENTURES | 100 BEST NINETIES ADVENTURES (in progress) | 1994 | 1995 | 1996 | 1997 | 1998 | 1999 | 2000 | 2001 | 2002 | 2003 | NOTES ON 21st-CENTURY ADVENTURES.