Best 1963 Adventures (1)
By: Joshua Glenn
September 7, 2018
One in a series of 10 posts identifying Josh Glenn's favorite 1963 adventure novels. Happy 55th anniversary!
*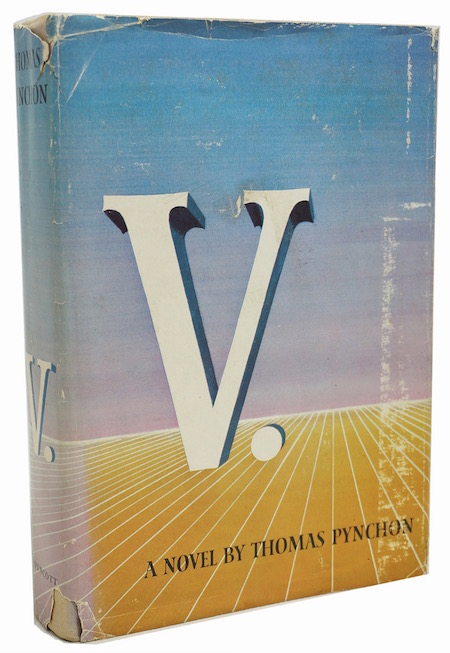 Thomas Pynchon's apophenic adventure V..
In 1956, Benny Profane, a discharged U.S. Navy sailor, reconnects with Pig Bodine and the Whole Sick Crew, goofball bohemian pals of his in New York, who get in and out of scrapes and eke out a living by any means necessary — including alligator-hunting in New York's sewers. They are off the radar, instinctively avoiding the normalizing apparatuses of what Yippies would later call "the creeping meatball." We also meet Herbert Stencil, an older man who for years has been on the track of a mysterious entity (person? place? MacGuffin?) known as "V." ("V. ambiguously a beast of venery, chased like the hart, hind or hare, chased like an obsolete, or bizarre, or forbidden form of sexual delight.") Stencil's story is mostly back-story, until he hires Benny to travel with him to Malta. What we have here, then, is a playful mashup and deconstruction of two out of three sub-genres of (what I've dubbed) the Hide-and-Go-Seek Game adventure genre: Artful Dodger and Apophenia. V. is a sci-fi novel in much the same way that Philip K. Dick's and Kurt Vonnegut's best works are sci-fi: barely. Two characters, SHOCK and SHROUD, are synthetic humans designed to test the effects of nuclear radiation; and the novel's aimless plot can be read as a what-if story about right action at the end of history. V. is also a philosophical novel about the pleasures and perils of idleness.
Fun fact: The third Hide-and-Go-Seek sub-genre, Conspiracy, is one that Pynchon would playfully deconstruct in subsequent novels, including The Crying of Lot 49 (1966) and Gravity's Rainbow (1973).
***
JOSH GLENN'S *BEST ADVENTURES* LISTS: BEST 250 ADVENTURES OF THE 20TH CENTURY | 100 BEST OUGHTS ADVENTURES | 100 BEST RADIUM AGE (PROTO-)SCI-FI ADVENTURES | 100 BEST TEENS ADVENTURES | 100 BEST TWENTIES ADVENTURES | 100 BEST THIRTIES ADVENTURES | 75 BEST GOLDEN AGE SCI-FI ADVENTURES | 100 BEST FORTIES ADVENTURES | 100 BEST FIFTIES ADVENTURES | 100 BEST SIXTIES ADVENTURES | 75 BEST NEW WAVE SCI FI ADVENTURES | 100 BEST SEVENTIES ADVENTURES | 100 BEST EIGHTIES ADVENTURES | 75 BEST DIAMOND AGE SCI-FI ADVENTURES | 100 BEST NINETIES ADVENTURES (in progress) | 1994 | 1995 | 1996 | 1997 | 1998 | 1999 | 2000 | 2001 | 2002 | 2003 | NOTES ON 21st-CENTURY ADVENTURES.