Yevgeny Zamyatin
By: Joshua Glenn
February 1, 2011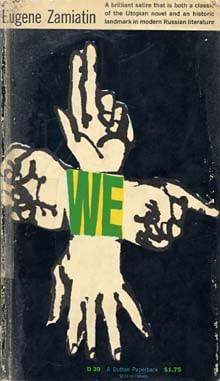 In 1921, Russian engineer and litterateur YEVGENY ZAMYATIN (1884-1937) wrote an essay castigating Communists who demanded of writers subservience to the Party: "There shall be no more polyphony or dissonances," the former Bolshevik activist warned. "There shall only be majestic, monumental, all-encompassing unanimity." That same year, Zamyatin completed We, a sci-fi novel that would circulate in samizdat for years (translated into English, it influenced Orwell's 1984) before being published in Russia a half-century after his death. Extrapolating from the rhetoric of those communist and capitalist utopians who advocated extending Taylorism, Fordism, and other scientific-management techniques beyond the factory, We is a ripping adventure yarn set in a totalized social order whose citizens ("ciphers," with numbers for names) eat, sleep, work, and even make love like clockwork. Zamyatin's fable isn't anti-utopian, but anti-anti-utopian. Like his protagonist, mathematician and rocket designer D-503, the author longed to see war, hunger, and poverty eradicated through collectivism… but not at the cost of spontaneity and freedom of choice. Their ancestors were right to invent a more equitable social order, the female revolutionist I-330 tells D-503. But afterward, she adds (speaking in a mathematics-inflected register intended to subvert D-503's lifelong conditioning) "they believed that they were the final number — which doesn't exist in the natural world, it just doesn't."

A version of this item appeared in the Boston Globe in July 2006.
***
On his or her birthday, HiLobrow irregularly pays tribute to one of our high-, low-, no-, or hilobrow heroes. Also born this date: Langston Hughes.
READ MORE about men and women born on the cusp between the Psychonaut (1874-83) and Modernist (1884-93) generations.
***
In 2012–2013, HiLoBooks serialized and republished (in gorgeous paperback editions, with new Introductions) 10 forgotten Radium Age science fiction classics! For more info: HiLoBooks.
MORE RADIUM AGE SCI FI ON HILOBROW: HiLoBooks homepage! | What is Radium Age science fiction? |Radium Age 100: 100 Best Science Fiction Novels from 1904–33 | Radium Age Supermen | Radium Age Robots | Radium Age Apocalypses | Radium Age Telepaths | Radium Age Eco-Catastrophes | Radium Age Cover Art (1) | SF's Best Year Ever: 1912 | Radium Age Science Fiction Poetry | Enter Highbrowism | Bathybius! Primordial ooze in Radium Age sf | War and Peace Games (H.G. Wells's training manuals for supermen) | Radium Age: Context series | J.D. Beresford | Algernon Blackwood | Edgar Rice Burroughs | Karel Čapek | Buster Crabbe | August Derleth | Arthur Conan Doyle | Hugo Gernsback | Charlotte Perkins Gilman | Cicely Hamilton | Hermann Hesse | William Hope Hodgson | Aldous Huxley | Inez Haynes Irwin | Alfred Jarry | Jack Kirby (Radium Age sf's influence on) | Murray Leinster | Gustave Le Rouge | Gaston Leroux | David Lindsay | Jack London | H.P. Lovecraft | A. Merritt | Maureen O'Sullivan | Sax Rohmer | Paul Scheerbart | Upton Sinclair | Clark Ashton Smith | E.E. "Doc" Smith | Olaf Stapledon | John Taine | H.G. Wells | Jack Williamson | Stanisław Ignacy Witkiewicz | S. Fowler Wright | Philip Gordon Wylie | Yevgeny Zamyatin