New Wave Sci-Fi 75 (54)
By: Joshua Glenn
October 14, 2018
One in a series of posts about the 75 best science fiction novels published during the genre's New Wave era (from 1964–1983, according to HILOBROW's periodization schema). For Josh Glenn's complete New Wave Sci-Fi 75 list, click here.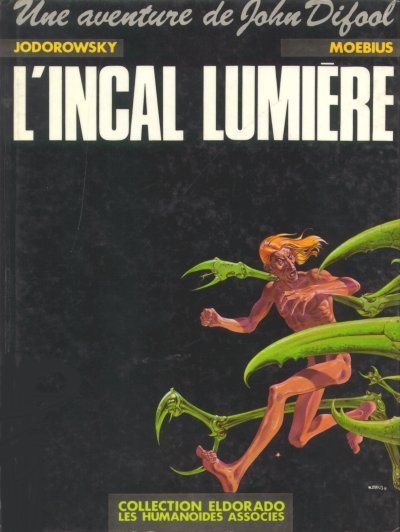 Alejandro Jodorowsky and Jean Giraud (Moebius)'s graphic novel The Incal (1980–1988).
In the capital city of a planet within a galactic empire dominated by humans (and humanoid aliens known as Bergs), a mercurial private investigator, John DiFool, is nearly murdered by masked assassins. They're seeking a crystal of enormous power, the Light Incal, which has gone missing; and so is: Animah, the keeper of the Light Incal; Tanatah, leader of a rebel group (and Animah's sister); the city's corrupt government; the Bergs; and the Technopriests, a cult that worships a different crystal, the Dark Incal. Jodorowsky's space opera — drawn brilliantly by Giraud — is a satirical, dystopian admixture of intergalactic travel, political conspiracy, sex, drugs, and messianism. (If this description reminds you of Frank Herbert's Dune, it should: in 1975, Giraud provided concept art for Jodorowsky's never-made film adaption of Dune.) Accompanied by Deepo, his loyal "concrete seagull," and the Metabaron, a mercenary super-warrior, DiFool embarks on a quest to prevent the Technopriests from launching a sun-eating Dark Egg. It's also a recursive mystic parable, of sorts.
Fun facts: Originally published in installments in Métal Hurlant (1980–1988); The Incal was followed by Before the Incal (1988–1995, with Zoran Janjetov), After the Incal (2000, with Jean Giraud), and Final Incal (2008–2014, with José Ladrönn). Jodorowsky is perhaps better known as director of the classic underground films El Topo (1970) and The Holy Mountain (1973).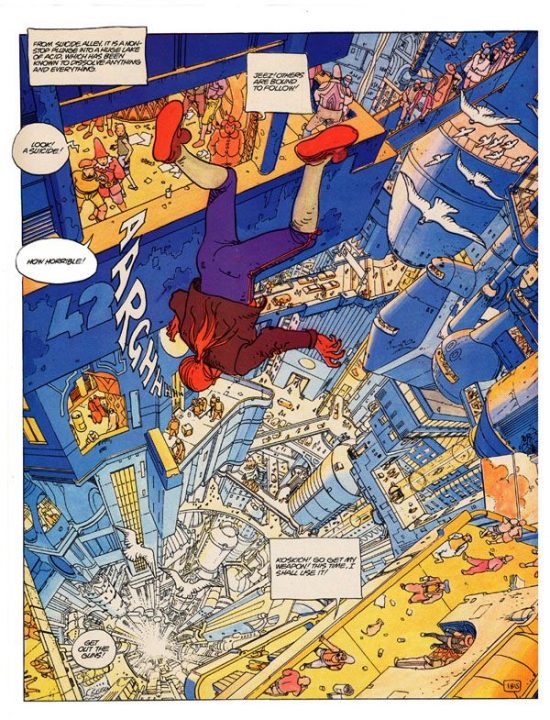 ***
NEW WAVE SCI-FI at HILOBROW: 75 Best New Wave (1964–1983) Sci-Fi Novels | Back to Utopia: Fredric Jameson's theorizing about New Wave sci-fi | Douglas Adams | Poul Anderson | J.G. Ballard | John Brunner | William Burroughs | Octavia E. Butler | Samuel R. Delany | Philip K. Dick | Frank Herbert | Ursula K. Le Guin | Barry N. Malzberg | Moebius (Jean Giraud) | Michael Moorcock | Alan Moore | Gary Panter | Walker Percy | Thomas Pynchon | Joanna Russ | James Tiptree Jr. (Alice Sheldon) | Kurt Vonnegut | PLUS: Jack Kirby's Golden Age and New Wave science fiction comics.
JOSH GLENN'S *BEST ADVENTURES* LISTS: BEST 250 ADVENTURES OF THE 20TH CENTURY | 100 BEST OUGHTS ADVENTURES | 100 BEST RADIUM AGE (PROTO-)SCI-FI ADVENTURES | 100 BEST TEENS ADVENTURES | 100 BEST TWENTIES ADVENTURES | 100 BEST THIRTIES ADVENTURES | 75 BEST GOLDEN AGE SCI-FI ADVENTURES | 100 BEST FORTIES ADVENTURES | 100 BEST FIFTIES ADVENTURES | 100 BEST SIXTIES ADVENTURES | 75 BEST NEW WAVE SCI FI ADVENTURES | 100 BEST SEVENTIES ADVENTURES | 100 BEST EIGHTIES ADVENTURES | 75 BEST DIAMOND AGE SCI-FI ADVENTURES | 100 BEST NINETIES ADVENTURES (in progress) | 1994 | 1995 | 1996 | 1997 | 1998 | 1999 | 2000 | 2001 | 2002 | 2003 | NOTES ON 21st-CENTURY ADVENTURES.