Karel Čapek
By: Joshua Glenn
January 9, 2010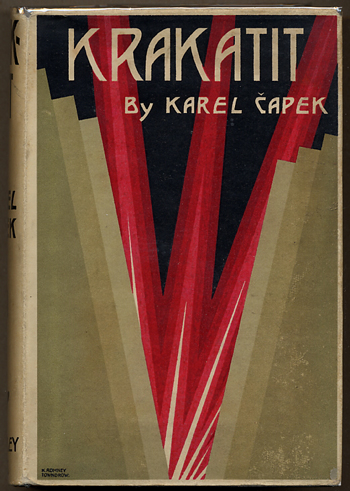 Before Aldous Huxley and George Orwell, the Czech litterateur KAREL ČAPEK (1890-1938) was an anti-totalitarian absurdist who achieved his most memorable effects when working in a science-fictional mode. Čapek's 1921 play, R.U.R.: Rossum's Universal Robots, expressed his fear of social disaster and the unlimited power of corporations — and gave us the term "robot," which the author's brother, Joseph, coined (from the Czech for "serf labor") to describe manufactured biological humanoids. Čapek satirized the capitalist cult of efficiency in a 1922 novel, The Absolute at Large, which describes how a near-future Greatest War (during which worldwide civilization collapses) is sparked by the manufacture of an atomic reactor whose unintended byproduct is the spiritual essence that permeates every particle of matter: i.e., God. In Čapek's 1924 novel, Krakatit, a scientist discovers the most powerful explosive ever, but refuses to share it with any of Earth's flawed political powers; and his 1936 novel, War with the Newts, is a dystopian satire on intolerance, militarism, and the exploitation of native populations by first-world powers. Despite the fact that the Gestapo had named him one of Czechoslovakia's top public enemies, Čapek refused to flee the country when World War II broke out. He died of pneumonia shortly after Hitler's troops marched into Bohemia; and his brother Joseph died where Karel would have ended up: in Bergen-Belsen.
***
Each day, HILOBROW pays tribute to one of our favorite high-, low-, no-, or hilobrow heroes on that person's birthday. Click here for more HiLo Hero shout-outs.
***
In 2012–2013, HiLoBooks serialized and republished (in gorgeous paperback editions, with new Introductions) 10 forgotten Radium Age science fiction classics! For more info: HiLoBooks.
MORE RADIUM AGE SCI FI ON HILOBROW: HiLoBooks homepage! | What is Radium Age science fiction? |Radium Age 100: 100 Best Science Fiction Novels from 1904–33 | Radium Age Supermen | Radium Age Robots | Radium Age Apocalypses | Radium Age Telepaths | Radium Age Eco-Catastrophes | Radium Age Cover Art (1) | SF's Best Year Ever: 1912 | Radium Age Science Fiction Poetry | Enter Highbrowism | Bathybius! Primordial ooze in Radium Age sf | War and Peace Games (H.G. Wells's training manuals for supermen) | Radium Age: Context series | J.D. Beresford | Algernon Blackwood | Edgar Rice Burroughs | Karel Čapek | Buster Crabbe | August Derleth | Arthur Conan Doyle | Hugo Gernsback | Charlotte Perkins Gilman | Cicely Hamilton | Hermann Hesse | William Hope Hodgson | Aldous Huxley | Inez Haynes Irwin | Alfred Jarry | Jack Kirby (Radium Age sf's influence on) | Murray Leinster | Gustave Le Rouge | Gaston Leroux | David Lindsay | Jack London | H.P. Lovecraft | A. Merritt | Maureen O'Sullivan | Sax Rohmer | Paul Scheerbart | Upton Sinclair | Clark Ashton Smith | E.E. "Doc" Smith | Olaf Stapledon | John Taine | H.G. Wells | Jack Williamson | Stanisław Ignacy Witkiewicz | S. Fowler Wright | Philip Gordon Wylie | Yevgeny Zamyatin
GOLDEN-AGE SCI-FI at HILOBROW: Golden Age Sci-Fi: 75 Best Novels of 1934–1963 | Robert Heinlein | Karel Capek | William Burroughs | E.E. "Doc" Smith | Clifford D. Simak | H.P. Lovecraft | Olaf Stapledon | Philip K. Dick | Jack Williamson | George Orwell | Boris Vian | Bernard Wolfe | J.G. Ballard | Jorge Luis Borges |Poul Anderson | Walter M. Miller, Jr. | Murray Leinster | Kurt Vonnegut | Stanislaw Lem | Alfred Bester | Isaac Asimov | Ray Bradbury | Madeleine L'Engle | Arthur C. Clarke | PLUS: Jack Kirby's Golden Age and New Wave science fiction comics.