Arthur Conan Doyle
By: Joshua Glenn
May 22, 2012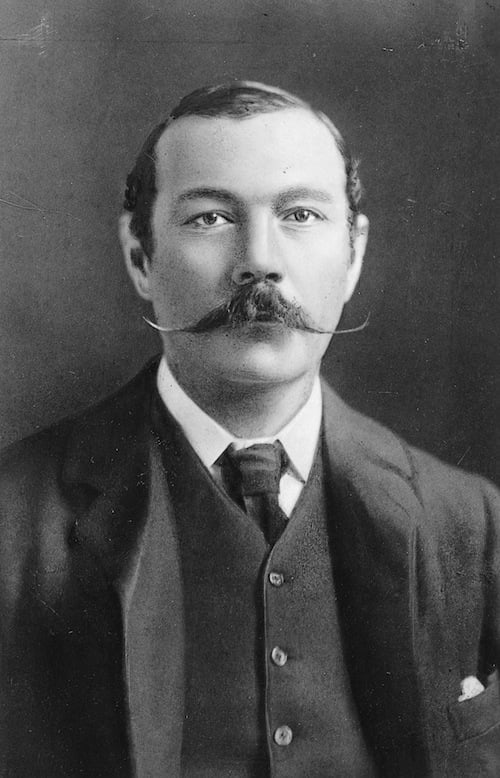 Scottish adventure fiction is renowned for being thrilling and funny, but the Sherlock Holmes and Professor Challenger stories of Scottish physician and author ARTHUR CONAN DOYLE (1859-1930) are remarkable because they admix such entertaining lowbrow qualities (very much on display in Doyle's The White Company and The Exploits of Brigadier Gerard) with a highbrow inquiry into the logic of the process of knowledge. Doyle's characters Holmes and Challenger not only reject narrow-minded scientific materialism but demonstrate a utopian alternative: an agile mode of reasoning that relies as much upon intuition and imagination as it does upon logical analysis. As Umberto Eco and other semioticians have pointed out, Holmes rejects scientific materialism's inductive mode of acquiring knowledge — which proceeds, by means of instruments and techniques of observation and experiment, from case/hypothesis (e.g., "These beans are from this bag," to use the logician C. S. Peirce's 1878 "beanbag" example), to a fact gathered as a result of observation (e.g., "These beans are white") and thence to a law-like rule ("All the beans from this bag are white"). Nor, despite what Holmes himself often claims, are Doyle's characters deductive reasoners; that is, they don't proceed from law-like rule to case/hypothesis to observed fact. When confronted with a heterogeneous fact, Holmes and Challenger first reason backward, casting about in their minds for a law-like rule in order to identify the fact's possible causes; they then take an imaginative, intuitive leap forward, challenging established paradigms and common sense with bold, creative conjectures. (Peirce named this mode of reasoning abductive.) Doyle's animus against narrow-minded Edwardian science led him to champion Spiritualism, and it might have led him to perpetrate the Piltdown Man hoax. But let's judge the man by his fiction, which was — along with Alfred Jarry's 'pataphysical and absurdist writings — one of the era's truly great high-lowbrow high-wire acts.
READ: The Abductive Method | HILOBROW's serialization of Arthur Conan Doyle's The Poison Belt. BUY: HiLoBooks' beautiful paperback edition of The Poison Belt, with commentary by Joshua Glenn and Gordon Dahlquist; proofed against the first edition.
MORE RADIUM AGE SCI FI ON HILOBROW: HiLoBooks homepage! | What is Radium Age science fiction? |Radium Age 100: 100 Best Science Fiction Novels from 1904–33 | Radium Age Supermen | Radium Age Robots | Radium Age Apocalypses | Radium Age Telepaths | Radium Age Eco-Catastrophes | Radium Age Cover Art (1) | SF's Best Year Ever: 1912 | Radium Age Science Fiction Poetry | Enter Highbrowism | Bathybius! Primordial ooze in Radium Age sf | War and Peace Games (H.G. Wells's training manuals for supermen) | Radium Age: Context series | J.D. Beresford | Algernon Blackwood | Edgar Rice Burroughs | Karel Čapek | Buster Crabbe | August Derleth | Arthur Conan Doyle | Hugo Gernsback | Charlotte Perkins Gilman | Cicely Hamilton | Hermann Hesse | William Hope Hodgson | Aldous Huxley | Inez Haynes Irwin | Alfred Jarry | Jack Kirby (Radium Age sf's influence on) | Murray Leinster | Gustave Le Rouge | Gaston Leroux | David Lindsay | Jack London | H.P. Lovecraft | A. Merritt | Maureen O'Sullivan | Sax Rohmer | Paul Scheerbart | Upton Sinclair | Clark Ashton Smith | E.E. "Doc" Smith | Olaf Stapledon | John Taine | H.G. Wells | Jack Williamson | Stanisław Ignacy Witkiewicz | S. Fowler Wright | Philip Gordon Wylie | Yevgeny Zamyatin
***
PS: Doyle is listed among HiLobrow editor Joshua Glenn's Favorite Scottish Adventure Novelists.
On his or her birthday, HiLobrow irregularly pays tribute to one of our high-, low-, no-, or hilobrow heroes. Also born this date: Morrissey, Arthur Cravan, and Sun Ra.
READ MORE about members of the Plutonian Generation (1854-63).