Mervyn Peake
By: James Parker
July 9, 2009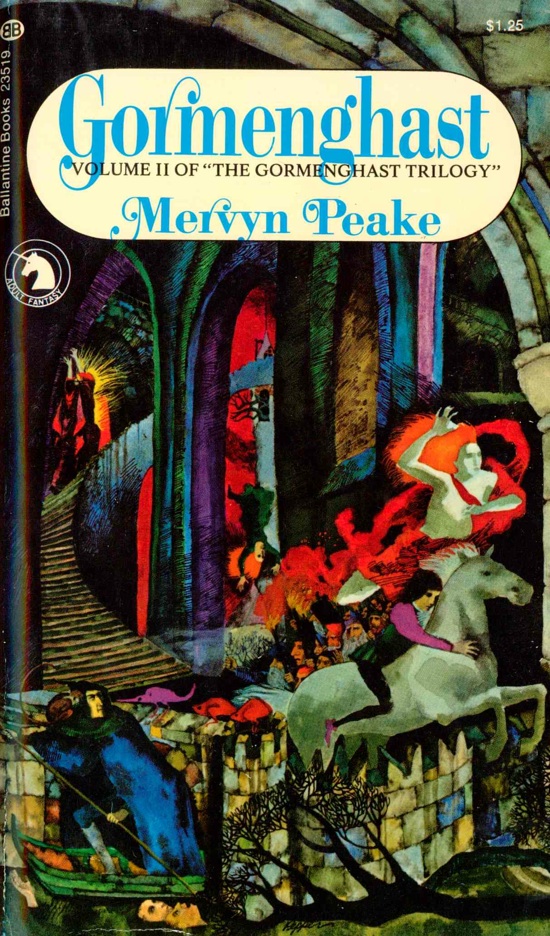 The castle of consciousness, turret and coign,
too huge for the human head,
where stalk the battlements, robed and forbidding,
the super-intelligent dead,
has terrible deeps and horrible heights,
and walls that are wondrous thick,
but can be displaced or dissolved, nonetheless,
by a couple of drinks, or a brick.
Or an illness. Biographies of the great MERVYN PEAKE (1911-68) make damned depressing reading. His work — as an illustrator, as a poet, as the author of the Gormenghast trilogy — was extraordinary, but it found no home in his time. Gentle, elegant, but with the architectural mass of Gormenghast installed at an unearthly pressure inside his brain, Peake moved rather spectrally through postwar literary London, always working, always needing work, trying his hand at this and that until a disastrous foray into theatre (a play called The Wit To Woo) triggered neurological chaos — he read the tepid-to-poor reviews, and the little symptoms which had been bothering him for months suddenly massed and overwhelmed him. Parkinson's Disease. Which of course happens to plenty of people who don't write books or do drawings, but which in Peake's case had a ready-made poignancy: the brilliant draughtsman was undone by the trembling hand, and the lovely man withdrew further and further until he echoed his own creation, the Earl of Groan, burning-eyed and all alone in an owl-haunted tower.
***
MORE FANTASY ON HILOBROW: CROM YOUR ENTHUSIASM series | 65 Fantasy Adventures | Mervyn Peake | Lord Dunsany | H.P. Lovecraft | Edgar Rice Burroughs | Ursula K. LeGuin | Michael Moorcock | Gary Gygax | Clark Ashton Smith | Frank Frazetta | George MacDonald | John Bellairs | T.H. White | Wilkie Collins | M.R. James | Edgar Allan Poe | Lewis Carroll | Mikhail Bulgakov | Guy Endore | Alasdair Gray | Maurice Sendak | Tove Jansson | L. Frank Baum | Roald Dahl | Abraham Merritt | August Derleth | William Hope Hodgson | Madeleine L'Engle
On his or her birthday, HiLobrow irregularly pays tribute to one of our high-, low-, no-, or hilobrow heroes. Also born this date: | Franz Boas | Basil Wolverton | Jack White |
READ MORE about members of the Partisan Generation (1904-13).