James M. Cain
By: Lucy Sante
July 1, 2009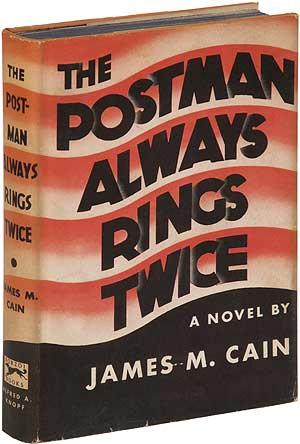 "They threw me off the hay truck about noon." The celebrated first line of The Postman Always Rings Twice (1934) by JAMES M. CAIN (1892-1977) tersely illustrates his verbal and narrative economy as well as his acute ear for American speech, and suggests his compellingly driven use of the first person singular. Cain, who wrote about crime without being a crime writer, was instead a kind of sawed-off Zola, a stranger to mystery. His other great novel is Double Indemnity (1943), which symmetrically enough has a famous last line. ("The moon." You'll have to read it to find out why.) It was made into an equally indelible movie by Billy Wilder in 1944; the best adaptation of Postman is Luchino Visconti's unauthorized Ossessione (1943). Also noteworthy are a few books that have something wrong with them: Mildred Pierce (1941), the deeply strange Serenade (1937), and the totally overlooked The Moth (1948). Cain was a classic instance of a novelist with only one story; the further he strayed from the fatal triangle the more likely he was to embarrass himself.
***
HILO HERO ITEMS by Luc Sante: Dashiell Hammett | Pancho Villa | James M. Cain | Georges Bataille | Félix Fénéon | Émile Henry | A.J. Liebling | Jim Thompson | Joe Hill | Nestor Makhno | Hans Magnus Enzensberger | Captain Beefheart | William Burroughs | Ring Lardner | Lee "Scratch" Perry | Serge Gainsbourg | Kathy Acker | Arthur Cravan | Weegee | Alexander Trocchi | Ronnie Biggs | George Ade | Georges Darien | Zo d'Axa | Petrus Borel | Blaise Cendrars | Alexandre Jacob | Constance Rourke | Damia | J-P Manchette | Jean-Paul Clebert | Pierre Mac Orlan | Comte De Lautreamont | André Breton | Robert Desnos | Arthur Rimbaud |
On his or her birthday, HiLobrow irregularly pays tribute to one of our high-, low-, no-, or hilobrow heroes. Also born this date: | Yellow Kid Weil | Debbie Harry |
READ MORE about men and women born on the cusp between the Postmodernist (1924-33) and Anti-Anti-Utopian (1934-43) Generations.