Aldous Huxley
By: Amanda French
July 26, 2010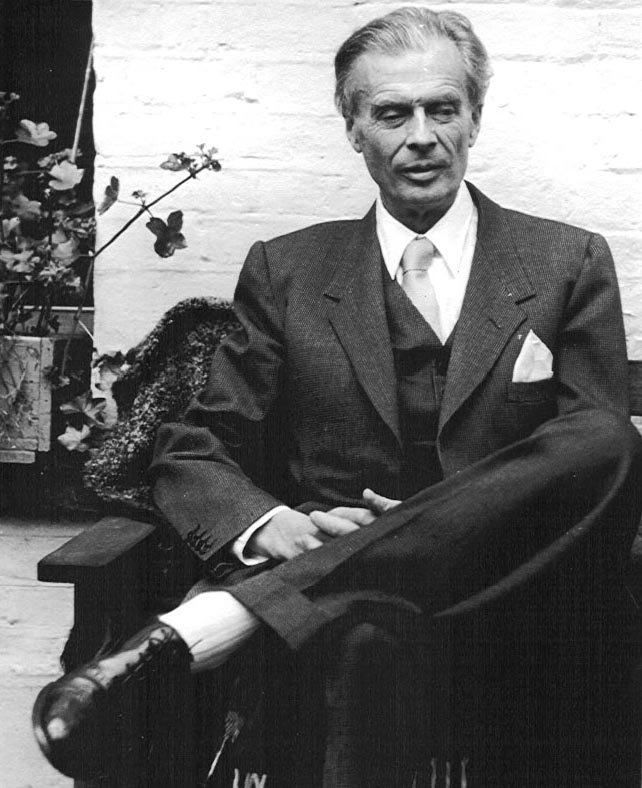 What wouldn't we give to see the screenplay treatment for Walt Disney's Alice in Wonderland drafted by ALDOUS HUXLEY (1894-1963) in 1938. Unfortunately, a brush fire burned down Huxley's house in the Hollywood Hills in 1961, and most of his manuscripts were lost. Disney and Huxley met at at least one story conference, but Disney had no idea who Huxley was, and the entrepreneurial mouse purveyor said that Huxley's idea of Alice "was so literary I could understand only every third word." Unsurprising, given that Huxley had an impeccable intellectual pedigree as the grandson of T. H. Huxley and the great-nephew of Matthew Arnold, not to mention his first at Oxford, his association with the Bloomsbury circle, and most importantly his authorship of Brave New World (1932). That key work of Foucauldian late Radium Age science fiction vividly made the case that people could be terrifyingly well controlled by other means than force, namely culture, education, biotechnology, and recreational drugs.
Yet in both Brave New World Revisited (1958) and the straightforwardly utopian Island (1962) Huxley imagined better alternatives to that scary future, and indeed he did a bit of a flip-flop on the recreational drugs issue with his nonfiction treatise The Doors of Perception (1954). That Jim Morrison's little rock band took its name from that work and that Huxley died on the same day John F. Kennedy was assassinated means, by the rules of factoid philosophy, that Huxley helped father the fabled Sixties, a psychedelic dys/utopia notoriously compounded of idealism and disillusionment. Kind of makes you wonder whether just enough of Huxley remained in Disney's Alice to make it sync up with Pink Floyd's The Wall, doesn't it?
ALSO BORN THIS DATE: Marshall McLuhan
***
Each day, HILOBROW pays tribute to one of our favorite high-, low-, no-, or hilobrow heroes on that person's birthday.
READ MORE about men and women born on the cusp between the Modernist (1884-93) and Hardboiled (1894-1903) generations.
***
In 2012–2013, HiLoBooks serialized and republished (in gorgeous paperback editions, with new Introductions) 10 forgotten Radium Age science fiction classics! For more info: HiLoBooks.
MORE RADIUM AGE SCI FI ON HILOBROW: HiLoBooks homepage! | What is Radium Age science fiction? |Radium Age 100: 100 Best Science Fiction Novels from 1904–33 | Radium Age Supermen | Radium Age Robots | Radium Age Apocalypses | Radium Age Telepaths | Radium Age Eco-Catastrophes | Radium Age Cover Art (1) | SF's Best Year Ever: 1912 | Radium Age Science Fiction Poetry | Enter Highbrowism | Bathybius! Primordial ooze in Radium Age sf | War and Peace Games (H.G. Wells's training manuals for supermen) | Radium Age: Context series | J.D. Beresford | Algernon Blackwood | Edgar Rice Burroughs | Karel Čapek | Buster Crabbe | August Derleth | Arthur Conan Doyle | Hugo Gernsback | Charlotte Perkins Gilman | Cicely Hamilton | Hermann Hesse | William Hope Hodgson | Aldous Huxley | Inez Haynes Irwin | Alfred Jarry | Jack Kirby (Radium Age sf's influence on) | Murray Leinster | Gustave Le Rouge | Gaston Leroux | David Lindsay | Jack London | H.P. Lovecraft | A. Merritt | Maureen O'Sullivan | Sax Rohmer | Paul Scheerbart | Upton Sinclair | Clark Ashton Smith | E.E. "Doc" Smith | Olaf Stapledon | John Taine | H.G. Wells | Jack Williamson | Stanisław Ignacy Witkiewicz | S. Fowler Wright | Philip Gordon Wylie | Yevgeny Zamyatin