Orson Welles
By: Joe Alterio
May 6, 2010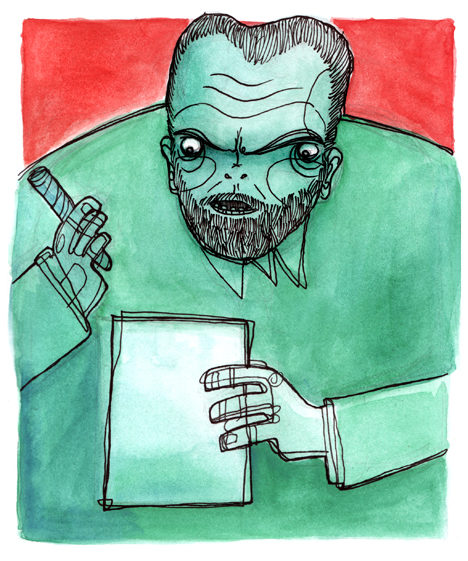 In the long nights of artistic commiseration that takes place after a particular creative obstacle, more often than not, the phrase "Fucking Welles." comes up, followed by a slow, long pull from the bottle. This, of course, is in reference to ORSON WELLES' (1915-85) jaw-dropping accomplishments at tender ages, and the seeming ease by which they came to him. The profligacy is heart-stopping: by the age of 21, Welles was working with Aaron Copland at the Federal Theater, directing the fiery, political Cradle Will Rock. By 23, he had formed the Mercury Theater, and created both the original The Shadow broadcasts AND the War of the Worlds adaptation that caused mass panic and brought him world-wide fame. By 35, he already put to acetate two of the greatest films ever created, Citizen Kane and The Magnificent Ambersons; and by 40, his acting work in films like The Third Man and Touch of Evil ushered him into the pantheon of narrative gods. Welles, the archetypal lustful satyr of cinema, always with a glass of booze and cigar in hand, has, as the years have gone by, become shorthand for the inadequacy of the rest of us — the 20th-century Da Vinci — and one might resent him if the work he produced wasn't so goddamn good. However, there is a coda to this story, and one that both humanizes the man and provides one final lesson from his life: the precipitous, and sometimes embarrassing, drop into schlock that made up the end of his career. It seems that whether all at once, or drawn out over a lifetime, we all have occasionally to take a spill. One can only hope one's highlights are as brilliant as his.
— Text and illustration by Joe Alterio. To view a gallery of Alterio's HiLobrow illustrations, click here.
***
Each day, HILOBROW pays tribute to one of our favorite high-, low-, no-, or hilobrow heroes on that person's birthday.
READ MORE about the New Gods Generation.
READ MORE HiLo Hero shout-outs.
SUBSCRIBE to HiLo Hero updates via Facebook.
SHARE this post, by clicking on the toolbar below.