New Wave Sci-Fi 75 (39)
By: Joshua Glenn
July 1, 2018
One in a series of posts about the 75 best science fiction novels published during the genre's New Wave era (from 1964–1983, according to HILOBROW's periodization schema). For Josh Glenn's complete New Wave Sci-Fi 75 list, click here.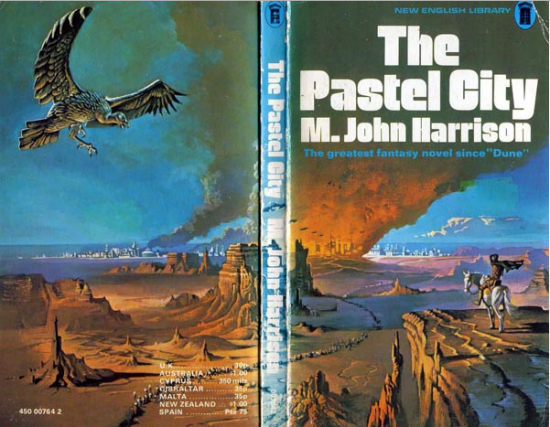 M. John Harrison's science fantasy adventure The Pastel City (1971).
In the distant future, a medieval-style way of life has risen from the ashes of civilization. There is a barbarian Queen of the North; and, ruling over Viriconium, the ever-changing Pastel City, a beautiful Queen of the South. Scavengers scour the ruins for power blades, energy cannons, and airboats. When news comes that the North plans to deploy scavenged alien automata against the South, a brooding poet-warrior, Lord tergeus-Cormis, travels with a mercenary, Birkin Grif, in search of a mad dwarf who is expert in ancient weaponry. The adventurers encounter mechanical birds, brain eaters, and a wizard of sorts; and they discover that a complex, lethal technology from the past lives on. This is an affectionate, but also sardonic reimagining of the fantasy genre — nothing is resolved, things get murkier instead of more clear, heroes are unheroic.
Fun fact: Harrison's Viriconium series — it includes A Storm of Wings (1980), In Viriconium (1982), and the story collection Viriconium Nights (1985) — has been aptly described as "fantasy without the magic and science fiction without the 'future'." PS: John Christopher's YA Sword of the Spirits trilogy, which could be described the same way, began publication in 1970.
***
NEW WAVE SCI-FI at HILOBROW: 75 Best New Wave (1964–1983) Sci-Fi Novels | Back to Utopia: Fredric Jameson's theorizing about New Wave sci-fi | Douglas Adams | Poul Anderson | J.G. Ballard | John Brunner | William Burroughs | Octavia E. Butler | Samuel R. Delany | Philip K. Dick | Frank Herbert | Ursula K. Le Guin | Barry N. Malzberg | Moebius (Jean Giraud) | Michael Moorcock | Alan Moore | Gary Panter | Walker Percy | Thomas Pynchon | Joanna Russ | James Tiptree Jr. (Alice Sheldon) | Kurt Vonnegut | PLUS: Jack Kirby's Golden Age and New Wave science fiction comics.
JOSH GLENN'S *BEST ADVENTURES* LISTS: BEST 250 ADVENTURES OF THE 20TH CENTURY | 100 BEST OUGHTS ADVENTURES | 100 BEST RADIUM AGE (PROTO-)SCI-FI ADVENTURES | 100 BEST TEENS ADVENTURES | 100 BEST TWENTIES ADVENTURES | 100 BEST THIRTIES ADVENTURES | 75 BEST GOLDEN AGE SCI-FI ADVENTURES | 100 BEST FORTIES ADVENTURES | 100 BEST FIFTIES ADVENTURES | 100 BEST SIXTIES ADVENTURES | 75 BEST NEW WAVE SCI FI ADVENTURES | 100 BEST SEVENTIES ADVENTURES | 100 BEST EIGHTIES ADVENTURES | 75 BEST DIAMOND AGE SCI-FI ADVENTURES | 100 BEST NINETIES ADVENTURES (in progress) | 1994 | 1995 | 1996 | 1997 | 1998 | 1999 | 2000 | 2001 | 2002 | 2003 | NOTES ON 21st-CENTURY ADVENTURES.