G. K. Chesterton
By: Robert Wringham
May 29, 2013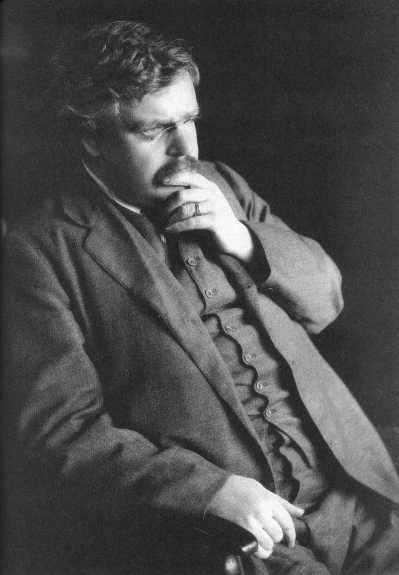 "Lying in bed would be an altogether perfect and supreme experience," wrote the Brobdingnagian G.K. CHESTERTON (1874–1936), "if only one had a coloured pencil long enough to draw on the ceiling." This essay opener tells us a great deal about Chesterton: essentially an idler, he was no stranger to the luxuries of the lie-in yet was unable to enjoy lengthy inactivity without the burgeoning urge to act. The least he could do in such circumstances was to derive a beautiful essay from the experience. His output was enormous (much like himself: Wodehouse once described an almighty clatter as sounding "like Chesterton falling onto a sheet of tin") and he wrote eighty books, several hundred short stories and poems, and something in the region of four thousand essays. These essays — frequently apologies for maligned ideas such as the aforementioned slugabeddery — are perhaps what he's best remembered for, their content being both convincing and extraordinarily witty. For the seriousness of many of his essay topics and the wholeheartedness with which he would set about dragging the reader over to his point of view, Chesterton was a humorist: he even wrote the entry on humour for the Encyclopædia Britannica. "Humour," he puts it, "can get in under the door while seriousness is still fumbling at the handle." He belongs forever in the pantheon of HiLo saints for his contributions to both high literary criticism and to gorgeously pulpy suspense stories such as The Man Who Was Thursday: A Nightmare and The Man Who Knew Too Much.
***
On his or her birthday, HiLobrow irregularly pays tribute to one of our high-, low-, no-, or hilobrow heroes. Also born this date: Kyril Bonfiglioli, T.H. White, JFK, Paul Ehrlich.
READ MORE about men and women born on the cusp between the Anarcho-Symbolist (1864–73) and Psychonaut (1874–1883) Generations.