New Wave Sci-Fi 75 (58)
By: Joshua Glenn
November 11, 2018
One in a series of posts about the 75 best science fiction novels published during the genre's New Wave era (from 1964–1983, according to HILOBROW's periodization schema). For Josh Glenn's complete New Wave Sci-Fi 75 list, click here.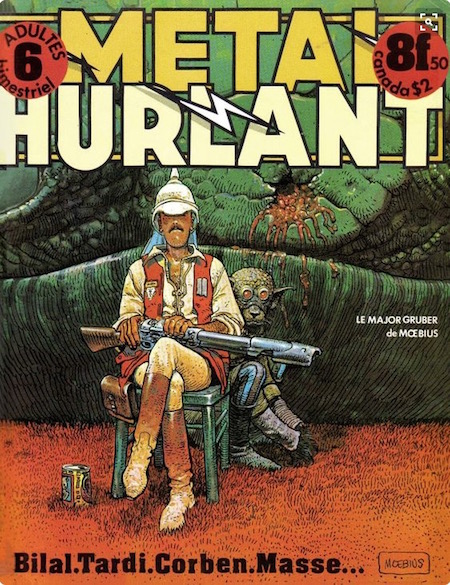 Moebius's sci-fi/western/frontier/apophenic graphic novel adventure Le Garage Hermétique (The Airtight Garage, 1976–79).
Le Garage Hermétique is one of the two great capricious comic strips of the Seventies (1974–1983); Gary Panter's Dal Tokyo, which first appeared in 1983, is the other. Over a four year period, Moebius cranked out two to four pages per month; each month, he challenged himself to solve continuity problems that he'd playfully introduced previously, while also creating new problems. The main plot, to the extent that there is one, concerns the efforts of Major Grubert to prevent outside entities from invading the Garage Hermétique — an asteroid housing a pocket universe, which features, e.g., desert and forest biomes, a city, and a world made of machines. One of these invaders is Jerry Cornelius, a trickster figure whom Moebius lifted from Michael Moorcock's sci-fi novels; Grubert and Cornelius join forces, eventually, to face a threat to the Airtight Garage. Each installment of the strip, many of which focus on Grubert and Cornelius's hapless allies, is its own self-contained epic; they don't necessarily add up to anything larger.
Fun fact: Le Garage Hermétique first appeared, from 1976–1979, in issues 6 through 41 of the Franco-Belgian comics magazine Métal Hurlant; Americans first read it in the magazine Heavy Metal, starting in 1977.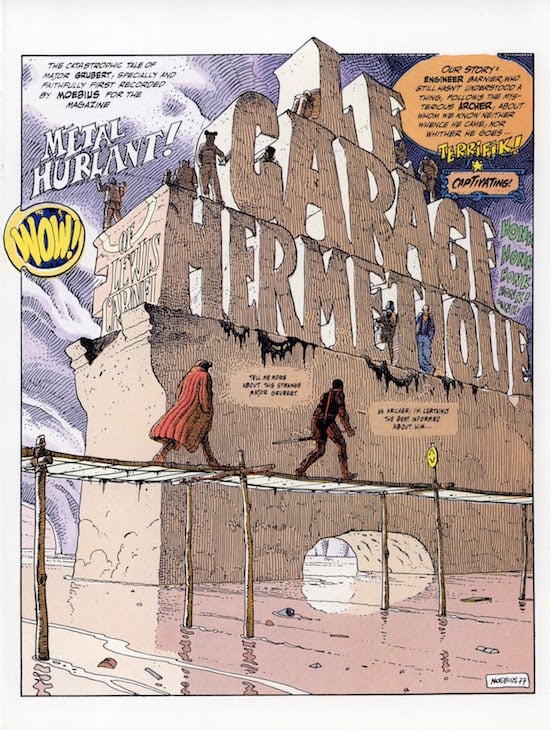 ***
NEW WAVE SCI-FI at HILOBROW: 75 Best New Wave (1964–1983) Sci-Fi Novels | Back to Utopia: Fredric Jameson's theorizing about New Wave sci-fi | Douglas Adams | Poul Anderson | J.G. Ballard | John Brunner | William Burroughs | Octavia E. Butler | Samuel R. Delany | Philip K. Dick | Frank Herbert | Ursula K. Le Guin | Barry N. Malzberg | Moebius (Jean Giraud) | Michael Moorcock | Alan Moore | Gary Panter | Walker Percy | Thomas Pynchon | Joanna Russ | James Tiptree Jr. (Alice Sheldon) | Kurt Vonnegut | PLUS: Jack Kirby's Golden Age and New Wave science fiction comics.
JOSH GLENN'S *BEST ADVENTURES* LISTS: BEST 250 ADVENTURES OF THE 20TH CENTURY | 100 BEST OUGHTS ADVENTURES | 100 BEST RADIUM AGE (PROTO-)SCI-FI ADVENTURES | 100 BEST TEENS ADVENTURES | 100 BEST TWENTIES ADVENTURES | 100 BEST THIRTIES ADVENTURES | 75 BEST GOLDEN AGE SCI-FI ADVENTURES | 100 BEST FORTIES ADVENTURES | 100 BEST FIFTIES ADVENTURES | 100 BEST SIXTIES ADVENTURES | 75 BEST NEW WAVE SCI FI ADVENTURES | 100 BEST SEVENTIES ADVENTURES | 100 BEST EIGHTIES ADVENTURES | 75 BEST DIAMOND AGE SCI-FI ADVENTURES | 100 BEST NINETIES ADVENTURES (in progress) | 1994 | 1995 | 1996 | 1997 | 1998 | 1999 | 2000 | 2001 | 2002 | 2003 | NOTES ON 21st-CENTURY ADVENTURES.