Best 1919 Adventures (9)
By: Joshua Glenn
January 12, 2019
One in a series of 10 posts identifying Josh Glenn's favorite 1919 adventure novels. Happy 100th anniversary!
*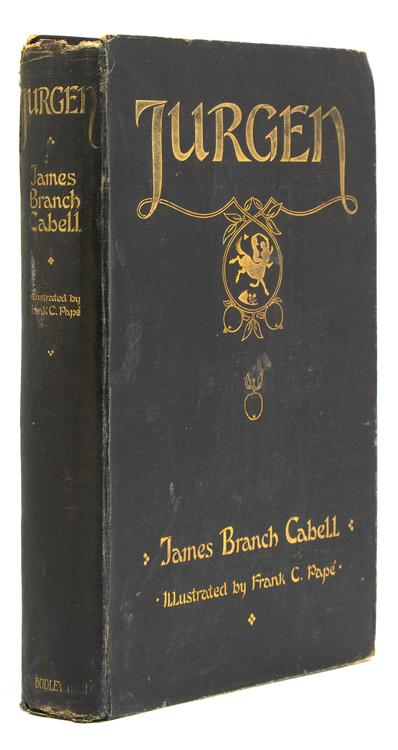 James Branch Cabell's comical fantasy adventure Jurgen, A Comedy of Justice.
Cabell, a friend and exact contemporary of the arch-ironist H.L. Mencken's, is best remembered today for this bawdy, bonkers picaresque, the sly protagonist of which — Jurgen, poet and pawnbroker — romps through Arthurian mythos and medieval dreamscapes. Along the way, he seduces such alluring characters as Guenevere; Queen Sylvia, who vanishes at dawn; Anaitis, the personification of desire; Sereda, the Goddess of Time; Florimel, who dwells in a quiet cleft by the Sea of Blood; and Phyllis, the wife of Satan himself. Or so we're led to believe: Cabell's sex scenes are wink-wink, nudge-nudge masterpieces of allusion, puns, and misdirection. Jurgen bears comparison to Joyce's Ulysses (first serialized from 1918–1920), not only because the author's use of language is gorgeous, but because both books are dizzying displays of erudition — and both are easier to read, for this reason, in annotated editions. This is a fantasist's fantasy; its most ardent fans — including Aleister Crowley, who called Jurgen one of the "epoch-making masterpieces of philosophy," James Blish, who edited the journal of the Cabell Society, Robert A. Heinlein, who described Stranger in a Strange Land as "a Cabellesque satire," and Neil Gaiman, whose syncretist Sandman mythos owes a debt to Jurgen's — are themselves among our best fantasy authors. Plus, it's funny!
Fun facts: Jurgen was the subject of a celebrated obscenity case, brought by the New York Society for the Suppression of Vice, shortly after its publication. The 1926 edition of the novel includes a new scenario in which the hero is placed on trial by the Philistines, with a dung-beetle as the chief prosecutor. HiLoBooks serialized Jurgen, with footnotes, here at HILOBROW in 2015–2016.
***
JOSH GLENN'S *BEST ADVENTURES* LISTS: BEST 250 ADVENTURES OF THE 20TH CENTURY | 100 BEST OUGHTS ADVENTURES | 100 BEST RADIUM AGE (PROTO-)SCI-FI ADVENTURES | 100 BEST TEENS ADVENTURES | 100 BEST TWENTIES ADVENTURES | 100 BEST THIRTIES ADVENTURES | 75 BEST GOLDEN AGE SCI-FI ADVENTURES | 100 BEST FORTIES ADVENTURES | 100 BEST FIFTIES ADVENTURES | 100 BEST SIXTIES ADVENTURES | 75 BEST NEW WAVE SCI FI ADVENTURES | 100 BEST SEVENTIES ADVENTURES | 100 BEST EIGHTIES ADVENTURES | 75 BEST DIAMOND AGE SCI-FI ADVENTURES | 100 BEST NINETIES ADVENTURES (in progress) | 1994 | 1995 | 1996 | 1997 | 1998 | 1999 | 2000 | 2001 | 2002 | 2003 | NOTES ON 21st-CENTURY ADVENTURES.