Michael Moorcock
By: Tom Nealon
December 18, 2009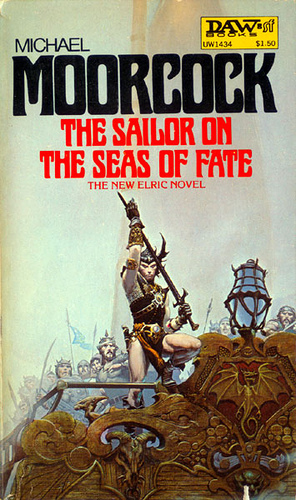 With the profusion of anti-heroes on television in recent years, from Tony Soprano's jolly murderer to House's belittling a-hole pose and from Jack Bauer's strident seriousness to Dexter's huggable serial killer, it's easy to forget that MICHAEL MOORCOCK (born 1939) tested the limits of readerly ambivalence and amoral action decades ago with Elric of Melniboné and Jerry Cornelius. These and a host of other Eternal Champions, all cast as balancing elements in the endless struggle of Law and Chaos, were constantly threatening to destroy their connection with the reader via a never-ending assault on morality, the norms of character development, and cherished literary icons. Elric isn't a parody of Conan, he is a shadow Conan, a diametric opposition; Cornelius isn't just a postmodern Bond, he is a postmodern Redcrosse Knight, a negation of allegory. As editor of the British science-fiction magazine New Worlds, Moorcock systematically dismantled tired, Tolkien-esque tropes and barriers, helping build a new wave of literary fiction where the fantastic and SF bled together. New Worlds provoked critical outrage, but shattered the genre in ways that it's taken the middlebrows decades to repair.
NEW WAVE SCI-FI at HILOBROW: 75 Best New Wave (1964–1983) Sci-Fi Novels | Back to Utopia: Fredric Jameson's theorizing about New Wave sci-fi | Douglas Adams | Poul Anderson | J.G. Ballard | John Brunner | William Burroughs | Octavia E. Butler | Samuel R. Delany | Philip K. Dick | Frank Herbert | Ursula K. Le Guin | Barry N. Malzberg | Moebius (Jean Giraud) | Michael Moorcock | Alan Moore | Gary Panter | Walker Percy | Thomas Pynchon | Joanna Russ | James Tiptree Jr. (Alice Sheldon) | Kurt Vonnegut | PLUS: Jack Kirby's Golden Age and New Wave science fiction comics.
MORE FANTASY ON HILOBROW: CROM YOUR ENTHUSIASM series | 65 Fantasy Adventures | Mervyn Peake | Lord Dunsany | H.P. Lovecraft | Edgar Rice Burroughs | Ursula K. LeGuin | Michael Moorcock | Gary Gygax | Clark Ashton Smith | Frank Frazetta | George MacDonald | John Bellairs | T.H. White | Wilkie Collins | M.R. James | Edgar Allan Poe | Lewis Carroll | Mikhail Bulgakov | Guy Endore | Alasdair Gray | Maurice Sendak | Tove Jansson | L. Frank Baum | Roald Dahl | Abraham Merritt | August Derleth | William Hope Hodgson | Madeleine L'Engle
***
On his or her birthday, HiLobrow irregularly pays tribute to one of our high-, low-, no-, or hilobrow heroes. Also born this date: Paul Klee, Jacques Pepin, Alfred Bester.
READ MORE about members of the Anti-Anti-Utopian Generation (1934-43).