Erskine Childers
By: Joshua Glenn
June 25, 2014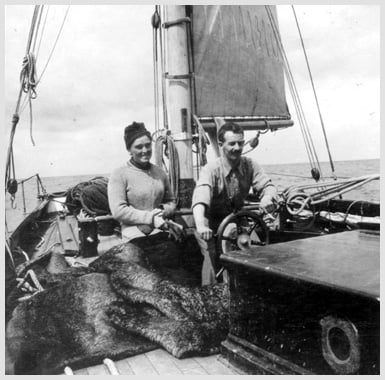 A wealthy Anglo-Irish orphan who volunteered in the Boer War, did intelligence work for Winston Churchill during WWI, smuggled Mausers and ammo to Irish Republicans in his sailing yacht Asgard, and who was executed by the anti-Republican authorities of the nascent Irish Free State during the Irish Civil War (though not before siring a future President of Ireland), ERSKINE CHILDERS (Robert Erskine Childers, 1870–1922) led an exciting and eventful life. I am particularly fascinated by his 1903 espionage thriller The Riddle of the Sands: A Record of Secret Service, which predicted war with Germany and spurred much-needed British preparedness; Churchill — then First Lord of the Admiralty — gave the book credit for persuading a complacent British public to fund vital measures against the German naval threat. Published on the cusp of the 20th century and based on the author's own sailing trips along the German coast, The Riddle of the Sands pits two English yachting enthusiasts against the German Navy, whose operatives may or may not be planning an invasion of England; a great deal of detail regarding the North Sea's complicated currents and sandbanks only adds to the story's veracity and atmosphere of suspense. John Buchan's and Geoffrey Household's open-air adventure thrillers are perhaps more to today's reader's taste than The Riddle of the Sands; but Childers — along with Kipling and Haggard — pioneered the genre as we know it today.
ADVENTURERS as HILO HEROES: Katia Krafft | Freya Stark | Louise Arner Boyd | Mary Kingsley | Bruce Chatwin | Hester Lucy Stanhope | Annie Smith Peck | Richard Francis Burton | Isabella Lucy Bird | Calamity Jane | Ernest Shackleton | Osa Helen Johnson | Redmond O'Hanlon | Gertrude Bell | George Mallory | Neta Snook | Jane Digby | Patty Wagstaff | Wilfred Thesiger | Joe Carstairs | Florence "Pancho" Barnes | Erskine Childers | Jacques-Yves Cousteau | Michael Collins | Thor Heyerdahl | Jean-Paul Clébert | Tristan Jones | Neil Armstrong
***
On his or her birthday, HiLobrow irregularly pays tribute to one of our high-, low-, no-, or hilobrow heroes. Also born this date: George Orwell, Alex Toth, Ricky Gervais.
READ MORE about members of the Anarcho-Symbolist Generation (1864–73).
MORE ADVENTURE ON HILOBROW: The 200 Greatest Adventure Novels | Best 19th Century Adventure (1805–1903) | 101 Science Fiction Adventures | 70 Crime Adventures | 65 Fantasy Adventures | 61 Espionage Adventures | 40 Atavistic & Historical Adventures | 25 Frontier & Western Adventures | 20 Avenger & Artful Dodger Adventures | 20 Apophenic & Treasure Hunt Adventures | 20 War & Ruritanian Adventures | 18 Picaresque Adventures | 10 Robinsonade & Survival Adventures.