Alfred Bester
By: Suzanne Fischer
December 18, 2013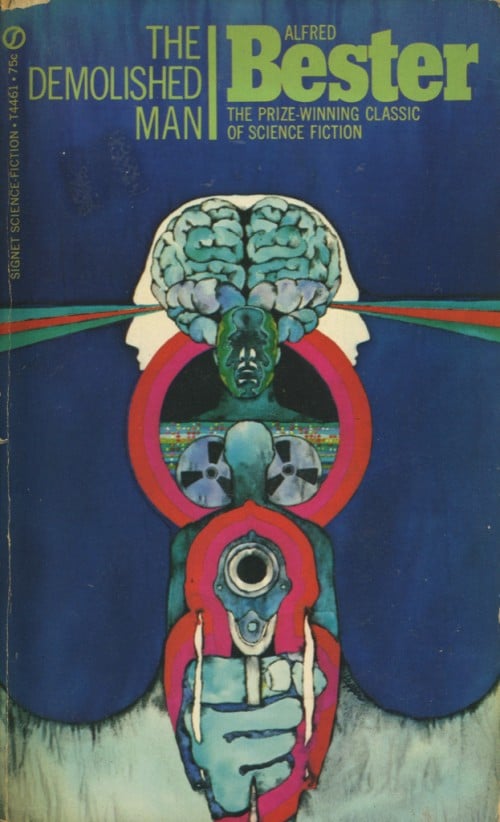 ALFRED BESTER (1913–87) titled his masterpiece The Stars My Destination, but he spent much of his career writing about more mundane destinations for Holiday magazine. A flexible professional writer, Bester wrote for comics, radio and television in the 1940s and 1950s while knocking out small gem after small gem for Astounding and Galaxy to let off steam. In this period he also wrote his two best novels, The Demolished Man (1953), a Freud-inflected story of how to plan a murder in a world of telepathic detectives; and The Stars My Destination (1956). But when he had the chance for creative freedom and world travel as a writer and editor for Holiday, "a magazine of civilized entertainment," he mostly took an sf hiatus, returning to the genre only after Holiday was sold in 1971. Bester's dispatches from Rome seem even more glamorous in comparison to the cramped, godforsaken space wreck where, at the opening of Stars, protagonist Gully Foyle is left to die. Foyle's desire for revenge powers this intense, dazzling novel of teleportation, space travel, and the id — the violent tiger (the book was published in the UK as Tiger! Tiger!) that is at once the source of destruction and creation. In the novel, teleportation is called 'jaunting' and requires two faculties of will: visualization and concentration. Bester had both in spades.
GOLDEN-AGE SCI-FI at HILOBROW: Golden Age Sci-Fi: 75 Best Novels of 1934–1963 | Robert Heinlein | Karel Capek | William Burroughs | E.E. "Doc" Smith | Clifford D. Simak | H.P. Lovecraft | Olaf Stapledon | Philip K. Dick | Jack Williamson | George Orwell | Boris Vian | Bernard Wolfe | J.G. Ballard | Jorge Luis Borges |Poul Anderson | Walter M. Miller, Jr. | Murray Leinster | Kurt Vonnegut | Stanislaw Lem | Alfred Bester | Isaac Asimov | Ray Bradbury | Madeleine L'Engle | Arthur C. Clarke | PLUS: Jack Kirby's Golden Age and New Wave science fiction comics.
***
On his or her birthday, HiLobrow irregularly pays tribute to one of our high-, low-, no-, or hilobrow heroes. Also born this date: Paul Klee, Michael Moorcock, Jacques Pepin.
READ MORE about men and women born on the cusp between the Partisan (1904-13) and New God (1914-23) Generations.