Jonathan Lethem
By: Flourish Klink
February 19, 2013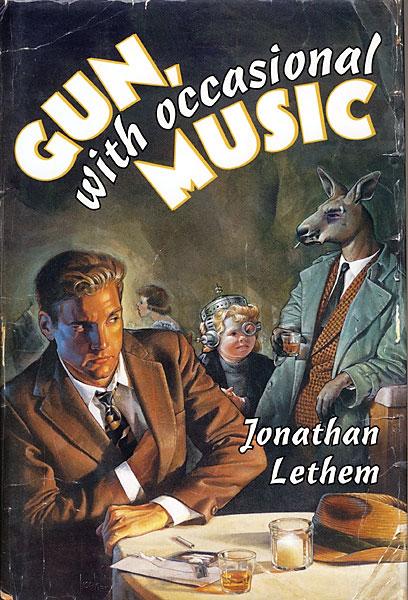 Many young science fiction fans dream of their own stories one day being taken seriously, but few succeed. JONATHAN LETHEM (born 1964) is one of those few. Though often compared with Philip K. Dick (whose inclusion in the Library of America series in three volumes was edited by, you guessed it, Lethem), there is none of Dick's paid-by-the-word desperation in Girl in Landscape (1998), Motherless Brooklyn (1999), The Fortress of Solitude (2003), and his other novels. If his work bears comparison to Dick's, it's because his novels are jittery, ambulant, and amorphous with respect to genre, and although highbrow they never let you forget their roots in the lowbrow parts of the bookstore: fantasy, sci fi, mystery, crime, comics. To enjoy Lethem's first novel, Gun, with Occasional Music (1994), for example, you must bring yourself to accept an armed kangaroo — and you will bring yourself to accept it. And not in the way you accept a pataphysician's absurdities, either: You will take the kangaroo seriously. But no more seriously than you take the rest of the world.
***
On his or her birthday, HiLobrow irregularly pays tribute to one of our high-, low-, no-, or hilobrow heroes. Also born this date: Constantin Brancusi and Carson McCullers.
READ MORE about men and women born on the cusp between the Original Generation X (1954–1963) and Reconstructionist (1964–1973) Generation.