T.H. White
By: Joshua Glenn
May 29, 2009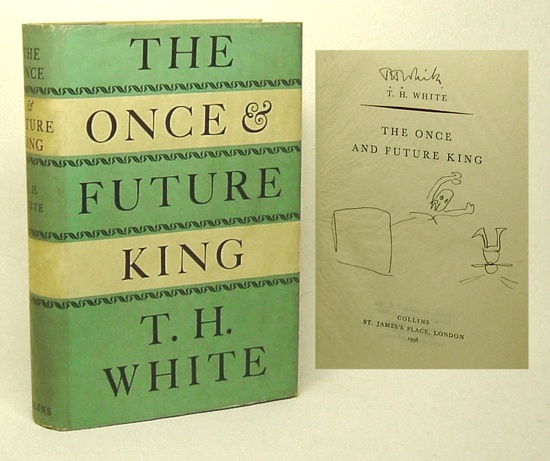 "To and fro/Stop and go/That's what makes the world go round…" Ugh. I pity the fool who sees Disney's 1963 adaptation of The Sword in the Stone (from which these insipid lyrics are quoted) before enjoying its original: the 1938 novel of the same title by British author T.H. WHITE (1906-64). Isn't retelling English myth a middlebrow activity? Usually, yes. But whereas Tolkien and C.S. Lewis — whom I do enjoy, without admiring so much — write romantic fantasies for grownup kiddies (cf. Michael Moorcock's critique, "Epic Pooh"), White's animal farm is as fraught, witty, and politically daring as Orwell's. Disney's Sword depicts Wart learning sentimental truisms from cute squirrels; in White's The Book of Merlyn, a nomadic goose convinces Wart of the merits of Fourier-esque anarchism. Plus: a leather-clad Maid Marian! Colonel Cully, the mad hawk! King Pellinore! Unlike the so-so Harry Potter series, whose author claims White as a key influence, White's Once and Future King tetralogy demands rereading. Now.
***
MORE FANTASY ON HILOBROW: CROM YOUR ENTHUSIASM series | 65 Fantasy Adventures | Mervyn Peake | Lord Dunsany | H.P. Lovecraft | Edgar Rice Burroughs | Ursula K. LeGuin | Michael Moorcock | Gary Gygax | Clark Ashton Smith | Frank Frazetta | George MacDonald | John Bellairs | T.H. White | Wilkie Collins | M.R. James | Edgar Allan Poe | Lewis Carroll | Mikhail Bulgakov | Guy Endore | Alasdair Gray | Maurice Sendak | Tove Jansson | L. Frank Baum | Roald Dahl | Abraham Merritt | August Derleth | William Hope Hodgson | Madeleine L'Engle
On his or her birthday, HiLobrow irregularly pays tribute to one of our high-, low-, no-, or hilobrow heroes. Also born this date: | Kyril Bonfiglioli | JFK | Paul Ehrlich |
READ MORE about the Partisans Generation (1904-13).