Abraham Merritt
By: Joshua Glenn
January 20, 2013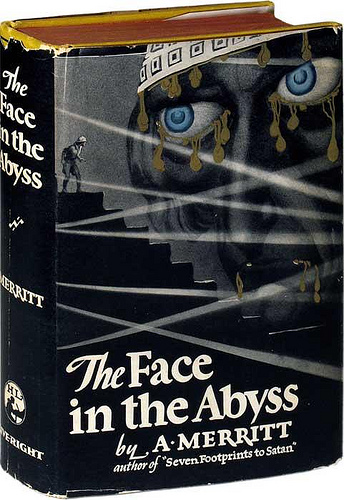 Despite his considerable success ABRAHAM MERRITT (1884–1943) never quit his day job. From 1912 until his death, he was assistant editor and then editor of The American Weekly, a Sunday newspaper supplement which often featured scientific and historical oddities; in that capacity, he gave illustrators Virgil Finlay and Hannes Bok their start. He earned a lot of money, traveled the world, accumulated an enormous occult library, cultivated exotic plants like wolfbane and peyote… and in his spare time, wrote Radium-Age fantasy and science fiction like The Moon Pool (1919), The Metal Monster (1920), and Burn Witch Burn! (1932; Tod Browning adapted it as The Devil-Doll). Michael Moorcock rightly argues that Merritt's The Ship of Ishtar (1924) and Dwellers in the Mirage (1932) are two of the best fantasy novels ever written. Merritt's Fortean suggestion that lost races, ancient technologies, and other far-out phenomena were to be discovered beneath the surface of everyday life influenced H.P. Lovecraft (who said that Merritt has "a peculiar power of working up an atmosphere and investing a region with an aura of unholy dread") and Gary Gygax, and makes his prose fun to read today — despite its purple-ness. I'm particularly fond of The Face in the Abyss (1931), in which a treasure hunter in the Peruvian Andes discovers the last survivor of a race of superintelligent serpent people — whose servants, the Old Race, were once far superior to modern-day humankind, but are now obsessed with sex, hunting mutants with dinosaurs, and dream machines! Who can't relate?
***
On his or her birthday, HiLobrow irregularly pays tribute to one of our high-, low-, no-, or hilobrow heroes. Also born this date: Juan García Esquivel and Federico Fellini.
READ MORE about men and women born on the cusp between the Psychonaut (1874–1883) and Modernist (1884–93) Generations.
MORE RADIUM AGE SCI FI ON HILOBROW: HiLoBooks homepage! | What is Radium Age science fiction? |Radium Age 100: 100 Best Science Fiction Novels from 1904–33 | Radium Age Supermen | Radium Age Robots | Radium Age Apocalypses | Radium Age Telepaths | Radium Age Eco-Catastrophes | Radium Age Cover Art (1) | SF's Best Year Ever: 1912 | Radium Age Science Fiction Poetry | Enter Highbrowism | Bathybius! Primordial ooze in Radium Age sf | War and Peace Games (H.G. Wells's training manuals for supermen) | Radium Age: Context series | J.D. Beresford | Algernon Blackwood | Edgar Rice Burroughs | Karel Čapek | Buster Crabbe | August Derleth | Arthur Conan Doyle | Hugo Gernsback | Charlotte Perkins Gilman | Cicely Hamilton | Hermann Hesse | William Hope Hodgson | Aldous Huxley | Inez Haynes Irwin | Alfred Jarry | Jack Kirby (Radium Age sf's influence on) | Murray Leinster | Gustave Le Rouge | Gaston Leroux | David Lindsay | Jack London | H.P. Lovecraft | A. Merritt | Maureen O'Sullivan | Sax Rohmer | Paul Scheerbart | Upton Sinclair | Clark Ashton Smith | E.E. "Doc" Smith | Olaf Stapledon | John Taine | H.G. Wells | Jack Williamson | Stanisław Ignacy Witkiewicz | S. Fowler Wright | Philip Gordon Wylie | Yevgeny Zamyatin
MORE FANTASY ON HILOBROW: CROM YOUR ENTHUSIASM series | 65 Fantasy Adventures | Mervyn Peake | Lord Dunsany | H.P. Lovecraft | Edgar Rice Burroughs | Ursula K. LeGuin | Michael Moorcock | Gary Gygax | Clark Ashton Smith | Frank Frazetta | George MacDonald | John Bellairs | T.H. White | Wilkie Collins | M.R. James | Edgar Allan Poe | Lewis Carroll | Mikhail Bulgakov | Guy Endore | Alasdair Gray | Maurice Sendak | Tove Jansson | L. Frank Baum | Roald Dahl | Abraham Merritt | August Derleth | William Hope Hodgson | Madeleine L'Engle