TEEN YOUR ENTHUSIASM (INTRO)
By: Heather Quinlan
April 1, 2023
One in a series of 25 enthusiastic posts, contributed by 25 HILOBROW friends and regulars, on the topic of heartthrobs from our adolescences). Series edited by Heather Quinlan.
*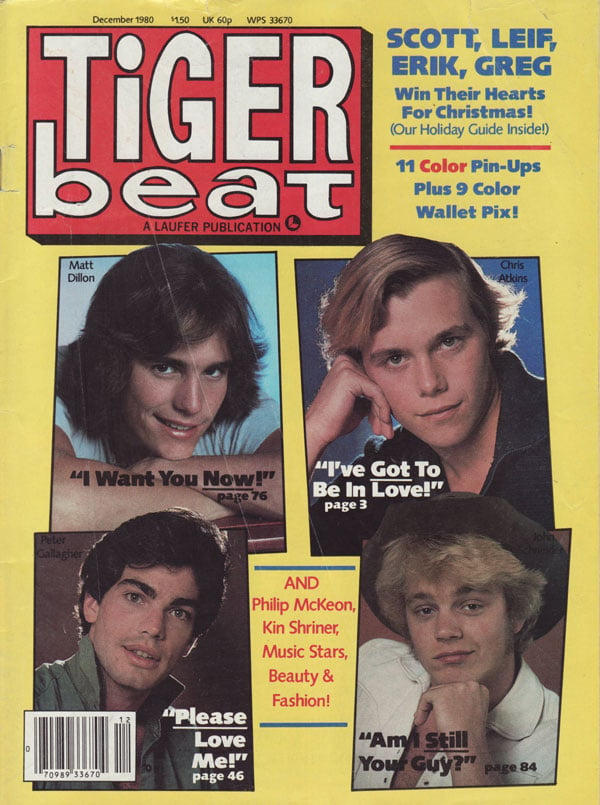 SERIES INTRODUCTION
I grew up in the glory days of Teen Beat, Tiger Beat, Bop, et al: Ralph Macchio, Michael J. Fox, Menudo and even (WTF?) Don Johnson were just a few of the many mega-heartthrobs promoted back then. And when I say I devoured pages — yeah, I pretty much did devour pages about my favorites: Jason Bateman, the Coreys, and my big crush — Kirk Cameron, though even back then there seemed something a bit different about him. Perhaps because article after article mentioned that he followed the Pritikin Diet. The Pritikin Diet? What kid follows a specialty diet, especially a boy and one who weighed less than I did? But whatever, he was cute and we had the same birthday.
As times changed so did my taste, which went from boys to men. (Ugh, sorry.) I remember an Anthrax centerfold in Metal Edge where I asked my mother who she thought was the cutest, and she pointed to the guy with a towel over his face. And while these rags didn't have articles like, "What Lemmy looks for in a date," it suited where I was at crush-wise. So it's no coincidence that in the showdown to write about my unrequited love, Faith No More's Mike Patton won out over Kirk Cameron, because that's where I'm still at. We've all gotten older, but to me, a guy like Jason Bateman will always be the kid from that Ricky Schroder show. (Meanwhile, Ricky Schroder has not aged well… nor has Kirk Cameron. Maybe it was the Pritikin Diet.)
However, that's not to say all those years of articles with tips like, "Rob Lowe prefers a girl with a sense of humor," lost their oomph. Which is why I suggested this series, and was thrilled when it was greenlit. Over the following weeks you'll be treated to fantasy hopes and dreams spanning Robert Redford to Michael Jackson to Drew Barrymore. The New Kids craze as seen by kids from São Paulo, written by Mariane Cara. Lynn Peril sharing why Danny Bonaduce held such an appeal for the under-tween set. International loves like Gustavo Cerati, Kim Wilde, and Françoise Hardy and her bangs are given the spotlight in the U.S. And we'll find out why my mom, who didn't like Anthrax, wrote, "I <3 Eli Wallach" all over her notebooks when she was 12. As with the previous series I edited, KILL YOUR ENTHUSIASM, the choices I offered to potential authors rarely landed. Just like no one wrote about a death in The Sopranos, no one took me up on Leif Garrett or Method Man or even Bobby Rydell (I love Grease). But again that didn't matter, because what was chosen was better than I could've hoped for, just like a date in 1988 with C. Thomas Howell. I would never have thought of Arlo Guthrie, as Mimi Lipson did, or that Cheryl Tiegs once had va-va-voom, as per Jack Silbert. So to those of you who are still teenagers in love, I hope you enjoy TEEN YOUR ENTHUSIASM, and get to indulge your 14-year-old hearts all over again.
Yours in like-like and in love,
Heather
***
TEEN YOUR ENTHUSIASM: INTRODUCTION by Heather Quinlan | Adam McGovern on ANDY GIBB | Crockett Doob on DREW BARRYMORE | Kathy Biehl on THE MONKEES | Josh Glenn on SHAUN CASSIDY | Catherine Christman on ELI WALLACH | Carlo Rotella on VALERIE BERTINELLI | Miranda Mellis on EDDIE VAN HALEN | Paul Finnegan on KIM WILDE | Heather Quinlan on MIKE PATTON | Mariane Cara on NKOTB | Mimi Lipson on ARLO GUTHRIE | Gabriela Pedranti on GUSTAVO CERATI | Michele Carlo on MICHAEL JACKSON | Ingrid Schorr on PAUL McCARTNEY | Carolyn Campbell on ROBERT REDFORD | Erin M. Routson on JOHNNY KNOXVILLE | Amy Keyishian on JIM MORRISON | Fran Pado on TONY DEFRANCO | Krista Margies Kunkle on LUKE PERRY | Lucy Sante on FRANÇOISE HARDY | Lynn Peril on DANNY BONADUCE | Jack Silbert on CHERYL TIEGS | Kelly Jean Fitzsimmons on CHRISTIAN SLATER | Cynthia Scott on LEONARD WHITING | Elizabeth Foy Larsen on OLIVIA NEWTON-JOHN.
MORE ENTHUSIASM at HILOBROW
MÖSH YOUR ENTHUSIASM (1Q2024): ENTER SANDMAN | MILQUETOAST | CHRISTBAIT RISING | GOING BLIND | HERE COME THE COPS | & 20 other Eighties (1984–1993) Metal songs. STOOGE YOUR ENTHUSIASM (4Q2023): MOVE ON FAST | 96 TEARS | SHE CRACKED | WHAT A WAY TO DIE | PSYCHOTIC REACTION | & 20 other Sixties (1964–1973) proto-punk songs. CURVE YOUR ENTHUSIASM (3Q2023): PIZZA PURISM | BOY BANDS | THE '86 METS | LOVE ISLAND UK | ELTON JOHN | & 20 other reconsidered enthusiasms. TEEN YOUR ENTHUSIASM (2Q2023): ANDY GIBB | VALERIE BERTINELLI | KIM WILDE | ARLO GUTHRIE | MIKE PATTON | & 20 other heartthrobs from our adolescences. DOLLY YOUR ENTHUSIASM (1Q2023): WE FOUND IT | TOGETHER AGAIN | SUNDAY MORNIN' COMIN' DOWN | BAD CASE OF THE BLUES | FANCY | & 20 other Sixties (1964–1973) Country records. KILL YOUR ENTHUSIASM (4Q2022): LT. TASHA YAR | JOYCE SUMMERS | COL. HENRY BLAKE | MRS. LANDINGHAM | ALEX KAMAL | & 20 other TV deaths. BLURB YOUR ENTHUSIASM (3Q2022): LEFT-CORNER BRICK | JOY IS RESISTANCE | THE FUTURE IS PASSÉ | EVERY MINUTE AN OCEAN | SHUT UP, HE EXPLAINED | & 20 other apothegms to live by. KOJAK YOUR ENTHUSIASM (2Q2022): ARK II | WKRP IN CINCINNATI | BUCK ROGERS | THE WHITE SHADOW | POLICE WOMAN | & 20 other Seventies (1974–1983) TV shows. KICK YOUR ENTHUSIASM (1Q2022): KUILL | CATO | COSMO | TRIXIE | VOLSTAGG | & 20 other sidekicks. NERD YOUR ENTHUSIASM (4Q2021): TIME | THE POST OFFICE | ARDUIN | DOUBT | SUMMATIONS | & 20 other nerdy passions. SWERVE YOUR ENTHUSIASM (3Q2021): WARHOL'S WALT WHITMAN | 70, GIRLS, 70 | TYRAEL'S MIGHT | SHIRATO SANPEI | THE LEON SUITES | & 20 other never-realized cultural productions. FIVE-O YOUR ENTHUSIASM (2Q2021): DARK SHADOWS | MANNIX | GET SMART | THE ADDAMS FAMILY | I DREAM OF JEANNIE | & 20 other Sixties (1964–1973) TV shows. FERB YOUR ENTHUSIASM (1Q2021): STEVEN UNIVERSE | TOP CAT | REN & STIMPY | SHE-RA AND THE PRINCESSES OF POWER | DRAGON BALL Z | & 20 other animated series. CARBONA YOUR ENTHUSIASM (2020): "Sex Bomb" | "Going Underground" | "Soft South Africans" | "Typical Girls" | "Human Fly" | & 20 other Seventies (1974–1983) punk singles. KLAATU YOU (2020 weekly): ZARDOZ | METROPOLIS | DARK STAR | SINS OF THE FLESHAPOIDS | SOLARIS | & dozens of other pre-STAR WARS sci-fi movies. CONVOY YOUR ENTHUSIASM (2019): THE TAKING OF PELHAM ONE TWO THREE | ROLLERBALL | BLACK SUNDAY | SORCERER | STRAIGHT TIME | & 20 other Seventies (1974–1983) action movies. SERIOCOMIC (2019 weekly): LITTLE LULU | VIZ | MARSUPILAMI | ERNIE POOK'S COMEEK | HELLBOY | & dozens of other comics. TUBE YOUR ENTHUSIASM (2018): LOONEY TUNES | THREE STOOGES | THE AVENGERS | ROCKY & BULLWINKLE | THE TWILIGHT ZONE | & 20 other Fifties (1954–1963) TV shows. WOWEE ZOWEE (2018 weekly): UNISEX | UNDER THE PINK | DUMMY | AMOR PROHIBIDO | HIPS AND MAKERS | & dozens of other Nineties (1994–2003) albums. KLUTE YOUR ENTHUSIASM (2017): THE KILLERS | BANDE À PART (BAND OF OUTSIDERS) | ALPHAVILLE | HARPER | BLOW-UP | & 20 other Sixties (1964–1973) neo-noir movies. #SQUADGOALS (2017 weekly): THE WILD BUNCH | BOWIE'S BAND | THE BLOOMSBURY GROUP | THE HONG KONG CAVALIERS | VI ÄR BÄST! & dozens of other squads. GROK MY ENTHUSIASM (2016 weekly): THE THEORY AND PRACTICE OF LUNCH | WEEKEND | MILLION YEAR PICNIC | LA BARONNE EMILE D'ERLANGER | THE SURVIVAL SAMPLER | & dozens more one-off enthusiasms. QUIRK YOUR ENTHUSIASM (2016): "Tainted Love" | "Metal" | "Frankie Teardrop" | "Savoir Faire" | "Broken English" | & 20 other Seventies (1974–1983) new wave singles. CROM YOUR ENTHUSIASM (2015): DARKER THAN YOU THINK | THE SWORD IN THE STONE | OUT OF THE SILENT PLANET | THIEVES' HOUSE | QUEEN OF THE BLACK COAST | & 20 other Thirties (1934–1943) fantasy novels. KERN YOUR ENTHUSIASM (2014): ALDINE ITALIC | DATA 70 | TORONTO SUBWAY | JOHNSTON'S "HAMLET" | TODD KLONE | & 20 other typefaces. HERC YOUR ENTHUSIASM (2013): "Spoonin' Rap" | "Rapper's Delight" | "Rappin' Blow" | "The Incredible Fulk" | "The Adventures of Super Rhyme" | & 20 other Seventies (1974–1983) hip-hop songs. KIRK YOUR ENTHUSIASM (2012): Justice or vengeance? | Kirk teaches his drill thrall to kiss | "KHAAAAAN!" | "No kill I" | Kirk browbeats NOMAD | & 20 other Captain Kirk scenes. KIRB YOUR ENTHUSIASM (2011): THE ETERNALS | BLACK MAGIC | DEMON | OMAC | CAPTAIN AMERICA | & 20 other Jack Kirby panels.