QUIRK YOUR ENTHUSIASM (Intro)
By: Joshua Glenn
July 31, 2016
Introducing… QUIRK YOUR ENTHUSIASM, this summer's ENTHUSIASM series, here at HILOBROW. From August 1–25, we'll publish twenty-five posts, by twenty-five talented HiLobrow contributors, celebrating and analyzing some of our favorite New Wave songs, c. 1977–1982. Please help us spread the word!
During the Seventies (1974–1983), a handful of Boomer refuseniks — including, for example, Andy Kaufman, David Bowie, Fran Lebowitz, and John Waters — courageously rejected not only their generation's epochal quest for authenticity (truthfulness of origins, attributes, commitments, sincerity), but simultaneously the cool, above-it-all, supposedly ironic position from which, historically, nobrows have always scoffed at the spectacle of authenticity-mongering. This negative-dialectical move led the Boomer refuseniks to re-discover a trail (think of the Pilgrims "discovering" the New World's farmer-less farmland, tilled by vanished and forgotten natives) originally blazed by fin-de-siecle aesthetes like Oscar Wilde and his epigones.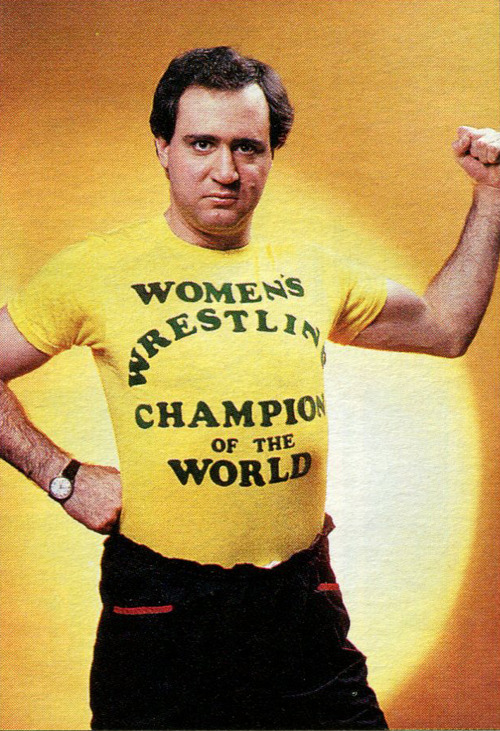 By 1979 (that is, the apex of the Seventies), the liberating possibilities of a weird, uncool, ironic-yet-passionate inauthenticity — which existentialist philosophers, rather confusingly, sometimes describe as "authenticity"; and which has also been called "camp" — were everywhere on display. We catch glimpses of this popular yet elusive weltanschauung in the awkward triumphs of Rock'n'Roll High School and Breaking Away, in the unserious braggadocio of Spoonie Gee's "Spoonin' Rap," and in the self-deflating titles of Candie Strecker's zine Sidney Suppey's Quarterly & Confused Pet Monthly and Douglas Adams's sci-fi novel The Hitchhiker's Guide to the Galaxy. All of which appeared in 1979, along with Bowie's Lodger, not to mention Kaufman's first TV inter-gender wrestling match. (Lebowitz's Metropolitan Life appeared in '78; Waters's Polyester in '81.)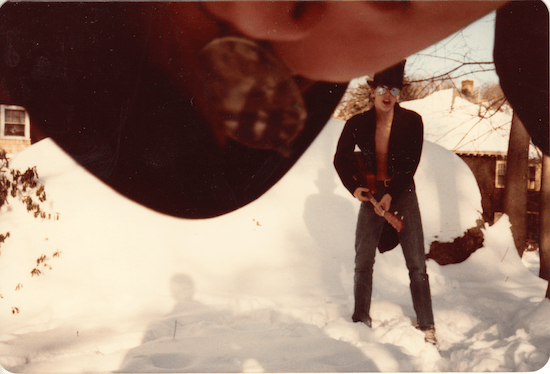 Alas, in 1979, I was only 11. I missed out on Seventies refusenik culture. Except for the music — which I heard on the radio. (And which I'd soon enough begin buying at Boston's Newbury Comics… which started selling New Wave records in 1979.) Fortunately for me, and other impressionable youth born around the same time, the most immersive and satisfying way to experience the complex joys of inauthenticity is via New Wave music of that era. (And yet, you can't really immerse yourself in New Wave — it's always pushing you out just as much as it's pulling you in.) Members of my generation were deeply marked — scarred, even — by New Wave music, forever after. We recognize each other, these days, by subtle signs and "tells."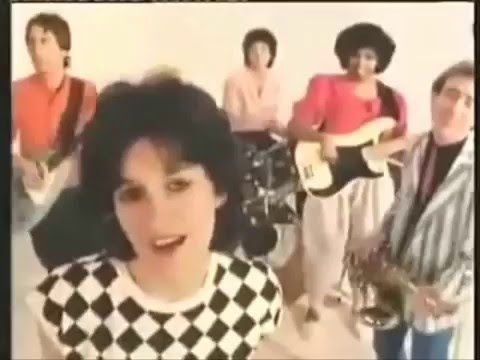 New Wave music, c. 1977–1982, dramatizes the possibility of engaged irony, passionate inauthenticity. At the level of form, what does this entail? HiLobrow friend Douglas Wolk offers one example:
In rock 'n' roll, and virtually every other kind of popular music before new wave, singers were supposed to convince their audiences that they meant what they were singing, and to convey it with dramatic intensity. New wave vocal styles could sound like they meant something totally different from what their lyrics were ostensibly communicating, or project no emotions at all. The lyrics of the Waitresses' biggest hit, "I Know What Boys Like," for instance, are about being a sexual temptress; what made their performance indelible is that Patty Donahue sang it with a blank, tone-flattening intonation that suggested she had absolutely no interest in sex or power.
When it comes to New Wave, the medium sends mixed messages. On purpose.
New Wave is dance music for freaks and geeks, who — during a brief period, during the Seventies — ruled the roost.
PS: A note on the title of this series. We are deeply opposed to the deployment of the term "quirky" by middlebrow commentators — we're looking at you, NPR — to slyly dismiss cultural productions they can't neatly categorize. However, we have no problem at all with quirk.
Here's the series lineup:

We've tried to avoid including favorite post-punk and power pop tracks, in the mix, but we haven't been entirely successful — which is appropriate, really, since these were also called "New Wave," at the time. Here's Douglas Wolk, again:
"New wave" is one of the most slippery terms in the history of pop music: its meaning has shifted repeatedly over time. It's been a near-synonym of "punk"; it's been an antithetical force to punk; it's been the historical successor to the kingdom of punk. It's stood very narrowly for a certain breed of pop song with an arrangement built around synthesizers, and very broadly for virtually every recording made by white pop musicians in the '80s that wasn't hard rock, heavy metal, adult contemporary, country or house music.
What a lineup! We're thrilled. Stay tuned…
***
MORE ENTHUSIASM SERIES at HILOBROW
NERD YOUR ENTHUSIASM (4Q2021): NERDING | ARDUIN | KLINGON CONFIDENTIAL | MAP INSERTS | TIME | & 20 other nerdy passions. SWERVE YOUR ENTHUSIASM (3Q2021): WARHOL'S WALT WHITMAN | 70, GIRLS, 70 | TYRAEL'S MIGHT | SHIRATO SANPEI | THE LEON SUITES | & 20 other never-realized cultural productions. FIVE-O YOUR ENTHUSIASM (2Q2021): DARK SHADOWS | MANNIX | GET SMART | THE ADDAMS FAMILY | I DREAM OF JEANNIE | & 20 other Sixties (1964–1973) TV shows. FERB YOUR ENTHUSIASM (1Q2021): STEVEN UNIVERSE | TOP CAT | REN & STIMPY | SHE-RA AND THE PRINCESSES OF POWER | DRAGON BALL Z | & 20 other animated series. CARBONA YOUR ENTHUSIASM (2020): "Sex Bomb" | "Going Underground" | "Soft South Africans" | "Typical Girls" | "Human Fly" | & 20 other Seventies (1974–1983) punk singles. KLAATU YOU (2020 weekly): ZARDOZ | METROPOLIS | DARK STAR | SINS OF THE FLESHAPOIDS | SOLARIS | & dozens of other pre-STAR WARS sci-fi movies. CONVOY YOUR ENTHUSIASM (2019): THE TAKING OF PELHAM ONE TWO THREE | ROLLERBALL | BLACK SUNDAY | SORCERER | STRAIGHT TIME | & 20 other Seventies (1974–1983) action movies. SERIOCOMIC (2019 weekly): LITTLE LULU | VIZ | MARSUPILAMI | ERNIE POOK'S COMEEK | HELLBOY | & dozens of other comics. TUBE YOUR ENTHUSIASM (2018): LOONEY TUNES | THREE STOOGES | THE AVENGERS | ROCKY & BULLWINKLE | THE TWILIGHT ZONE | & 20 other Fifties (1954–1963) TV shows. WOWEE ZOWEE (2018 weekly): UNISEX | UNDER THE PINK | DUMMY | AMOR PROHIBIDO | HIPS AND MAKERS | & dozens of other Nineties (1994–2003) albums. KLUTE YOUR ENTHUSIASM (2017): THE KILLERS | BANDE À PART (BAND OF OUTSIDERS) | ALPHAVILLE | HARPER | BLOW-UP | & 20 other Sixties (1964–1973) neo-noir movies. #SQUADGOALS (2017 weekly): THE WILD BUNCH | BOWIE'S BAND | THE BLOOMSBURY GROUP | THE HONG KONG CAVALIERS | VI ÄR BÄST! & dozens of other squads. GROK MY ENTHUSIASM (2016 weekly): THE THEORY AND PRACTICE OF LUNCH | WEEKEND | MILLION YEAR PICNIC | LA BARONNE EMILE D'ERLANGER | THE SURVIVAL SAMPLER | & dozens more one-off enthusiasms. QUIRK YOUR ENTHUSIASM (2016): "Tainted Love" | "Metal" | "Frankie Teardrop" | "Savoir Faire" | "Broken English" | & 20 other Seventies (1974–1983) new wave singles. CROM YOUR ENTHUSIASM (2015): DARKER THAN YOU THINK | THE SWORD IN THE STONE | OUT OF THE SILENT PLANET | THIEVES' HOUSE | QUEEN OF THE BLACK COAST | & 20 other Thirties (1934–1943) fantasy novels. KERN YOUR ENTHUSIASM (2014): ALDINE ITALIC | DATA 70 | TORONTO SUBWAY | JOHNSTON'S "HAMLET" | TODD KLONE | & 20 other typefaces. HERC YOUR ENTHUSIASM (2013): "Spoonin' Rap" | "Rapper's Delight" | "Rappin' Blow" | "The Incredible Fulk" | "The Adventures of Super Rhyme" | & 20 other Seventies (1974–1983) hip-hop songs. KIRK YOUR ENTHUSIASM (2012): Justice or vengeance? | Kirk teaches his drill thrall to kiss | "KHAAAAAN!" | "No kill I" | Kirk browbeats NOMAD | & 20 other Captain Kirk scenes. KIRB YOUR ENTHUSIASM (2011): THE ETERNALS | BLACK MAGIC | DEMON | OMAC | CAPTAIN AMERICA | & 20 other Jack Kirby panels.