Quirk Your Enthusiasm (12)
By: Molly Wright Steenson
August 12, 2016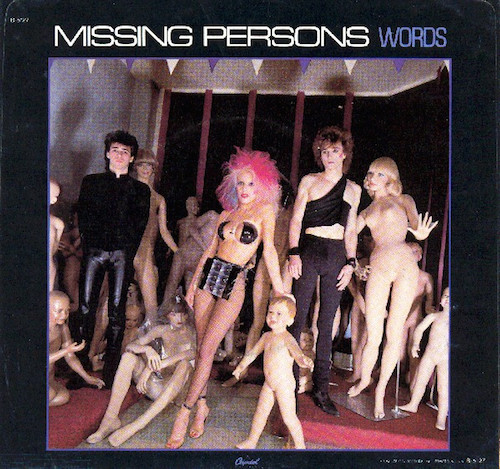 One of 25 installments in a series of posts analyzing and celebrating a few of our favorite New Wave songs from c. 1977–1982. Josh Glenn's series introduction is here, and you can listen to the QUIRK YOUR ENTHUSIASM playlist here. Enjoy!
"WORDS" | MISSING PERSONS | 1982
Long before MTV came to my neighborhood, we watched Solid Gold, where bands lip-synched their songs and the embarrassing Solid Gold dancers gyrated to them. It was the stuff of sleepovers with my best friend, and it was what introduced me to New Wave. One summer night in 1982, when I was 10 years old, I watched Missing Persons perform "Words." It was one thing to hear the song but another to see it, and it was this seeing that changed everything.
The segment started with the camera peering through the drums at Terry Bozzio's face, heavy blush drawn on his cheeks. Over four bars of Warren Cuccurullo's driving guitar chords and Patrick O'Hearn's gorgeously claustrophobic bass line, the camera panned across them, in loose suits with no shirts underneath. It all stopped at vocalist Dale Bozzio. Her hair was white floss with red, pink and blue streaks, her dark brown eyes lined black, a beauty mark on her right cheek, and expressions moving between scowl, ditz, and cyborg. She wore a clear plastic coat and over her breasts, were they fishbowls? — clear plastic balls cut in half, partly lined with something that looked like aluminum foil.
"Doo you heah me? Doo you care?" she mouthed into a tiny lollipop at the end of a wand, scowling at the camera, as the keyboards chimed along with her vocals.
"What is this?!" my best friend Gretchen gasped. "I hate her."
"I think I love her," I said, eyes wide, not quite able to swallow.
"My mouth is moving and the sound's coming out — ah!" sang Dale Bozzio, finishing the line with a squeal, then forcefully delivering the next lyrics from her gut, punctuated by guitar licks and an eerie keyboard line floating above the band. "What are words for/When no one listens anymore?" she tilted her head, singing into the lollipop. "When no one listens, there's no use talking at all."
I felt wobbly, a little sick, and totally fascinated. "Words" instantly became my favorite song, and when it came on local station WLOL, I cranked up my clock radio so loud that the song was too distorted to hear. When Missing Persons played First Avenue in Minneapolis, I asked the only 19 year-old I knew if he was going to the show. (He was.) When I stood in front of the TV that July night watching Dale Bozzio, I didn't know if I was looking at a woman, or an alien, or sex. It was probably all of those things. It felt like the future, and it turns out, that's what it was too.
***
QUIRK YOUR ENTHUSIASM: Mark Kingwell on Soft Cell's TAINTED LOVE | Joanne McNeil on Gary Numan's METAL | Devin McKinney on Suicide's FRANKIE TEARDROP | Douglas Wolk on Family Fodder's SAVOIR FAIRE | Elina Shatkin on Marianne Faithfull's BROKEN ENGLISH | Steph Burt on Altered Images' HAPPY BIRTHDAY | Greg Rowland on Jilted John's JILTED JOHN | Gordon Dahlquist on XTC's RESPECTABLE STREET | Adrienne Crew on D-Day's TOO YOUNG TO DATE | Jonathan Lethem on The Blue Nile's I LOVE THIS LIFE | Josh Glenn on Tim Curry's I DO THE ROCK | Molly Wright Steenson on Missing Persons' WORDS | Anthony Miller on The Nails' 88 LINES ABOUT 44 WOMEN | Luc Sante on The Normal's WARM LEATHERETTE | Mimi Lipson on Dolly Mixture's HOW COME YOU'RE SUCH A HIT WITH THE BOYS, JANE? | Tim Carmody on Talking Heads' LIFE DURING WARTIME | Ingrid Schorr on Ian Dury's CLEVOR TREVER | Adam McGovern on Lene Lovich's LUCKY NUMBER | Deb Chachra on Rough Trade's HIGH SCHOOL CONFIDENTIAL | Tor Aarestad on Oingo Boingo's LITTLE GIRLS | David Smay on The B-52's' DANCE THIS MESS AROUND | Jessamyn West on Blondie's HANGING ON THE TELEPHONE | Drew Daniel on The Human League's MARIANNE | Erik Davis on Tuxedomoon's TIME TO LOSE | Dan Fox on Thomas Dolby's EUROPA & THE PIRATE TWINS.
NEW WAVE HILO HEROES: Debbie Harry | Marianne Faithfull | Grace Jones | Ian Dury | Mark Mothersbaugh | Plastic Bertrand | Tim Curry | Kate Pierson | Green Gartside | David Byrne.
MORE ENTHUSIASM SERIES at HILOBROW
NERD YOUR ENTHUSIASM (4Q2021): NERDING | ARDUIN | KLINGON CONFIDENTIAL | MAP INSERTS | TIME | & 20 other nerdy passions. SWERVE YOUR ENTHUSIASM (3Q2021): WARHOL'S WALT WHITMAN | 70, GIRLS, 70 | TYRAEL'S MIGHT | SHIRATO SANPEI | THE LEON SUITES | & 20 other never-realized cultural productions. FIVE-O YOUR ENTHUSIASM (2Q2021): DARK SHADOWS | MANNIX | GET SMART | THE ADDAMS FAMILY | I DREAM OF JEANNIE | & 20 other Sixties (1964–1973) TV shows. FERB YOUR ENTHUSIASM (1Q2021): STEVEN UNIVERSE | TOP CAT | REN & STIMPY | SHE-RA AND THE PRINCESSES OF POWER | DRAGON BALL Z | & 20 other animated series. CARBONA YOUR ENTHUSIASM (2020): "Sex Bomb" | "Going Underground" | "Soft South Africans" | "Typical Girls" | "Human Fly" | & 20 other Seventies (1974–1983) punk singles. KLAATU YOU (2020 weekly): ZARDOZ | METROPOLIS | DARK STAR | SINS OF THE FLESHAPOIDS | SOLARIS | & dozens of other pre-STAR WARS sci-fi movies. CONVOY YOUR ENTHUSIASM (2019): THE TAKING OF PELHAM ONE TWO THREE | ROLLERBALL | BLACK SUNDAY | SORCERER | STRAIGHT TIME | & 20 other Seventies (1974–1983) action movies. SERIOCOMIC (2019 weekly): LITTLE LULU | VIZ | MARSUPILAMI | ERNIE POOK'S COMEEK | HELLBOY | & dozens of other comics. TUBE YOUR ENTHUSIASM (2018): LOONEY TUNES | THREE STOOGES | THE AVENGERS | ROCKY & BULLWINKLE | THE TWILIGHT ZONE | & 20 other Fifties (1954–1963) TV shows. WOWEE ZOWEE (2018 weekly): UNISEX | UNDER THE PINK | DUMMY | AMOR PROHIBIDO | HIPS AND MAKERS | & dozens of other Nineties (1994–2003) albums. KLUTE YOUR ENTHUSIASM (2017): THE KILLERS | BANDE À PART (BAND OF OUTSIDERS) | ALPHAVILLE | HARPER | BLOW-UP | & 20 other Sixties (1964–1973) neo-noir movies. #SQUADGOALS (2017 weekly): THE WILD BUNCH | BOWIE'S BAND | THE BLOOMSBURY GROUP | THE HONG KONG CAVALIERS | VI ÄR BÄST! & dozens of other squads. GROK MY ENTHUSIASM (2016 weekly): THE THEORY AND PRACTICE OF LUNCH | WEEKEND | MILLION YEAR PICNIC | LA BARONNE EMILE D'ERLANGER | THE SURVIVAL SAMPLER | & dozens more one-off enthusiasms. QUIRK YOUR ENTHUSIASM (2016): "Tainted Love" | "Metal" | "Frankie Teardrop" | "Savoir Faire" | "Broken English" | & 20 other Seventies (1974–1983) new wave singles. CROM YOUR ENTHUSIASM (2015): DARKER THAN YOU THINK | THE SWORD IN THE STONE | OUT OF THE SILENT PLANET | THIEVES' HOUSE | QUEEN OF THE BLACK COAST | & 20 other Thirties (1934–1943) fantasy novels. KERN YOUR ENTHUSIASM (2014): ALDINE ITALIC | DATA 70 | TORONTO SUBWAY | JOHNSTON'S "HAMLET" | TODD KLONE | & 20 other typefaces. HERC YOUR ENTHUSIASM (2013): "Spoonin' Rap" | "Rapper's Delight" | "Rappin' Blow" | "The Incredible Fulk" | "The Adventures of Super Rhyme" | & 20 other Seventies (1974–1983) hip-hop songs. KIRK YOUR ENTHUSIASM (2012): Justice or vengeance? | Kirk teaches his drill thrall to kiss | "KHAAAAAN!" | "No kill I" | Kirk browbeats NOMAD | & 20 other Captain Kirk scenes. KIRB YOUR ENTHUSIASM (2011): THE ETERNALS | BLACK MAGIC | DEMON | OMAC | CAPTAIN AMERICA | & 20 other Jack Kirby panels.