Quirk Your Enthusiasm (11)
By: Joshua Glenn
August 11, 2016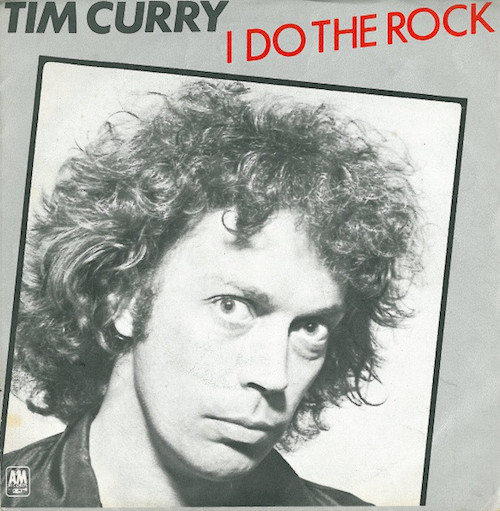 One of 25 installments in a series of posts analyzing and celebrating a few of our favorite New Wave songs from c. 1977–1982. Josh Glenn's series introduction is here, and you can listen to the QUIRK YOUR ENTHUSIASM playlist here. Enjoy!
"I DO THE ROCK" | TIM CURRY | 1979
In-between his career-defining turn, in The Rocky Horror Picture Show, as a sweet transvestite from Transsexual (a planet in the Transylvania-ha-ha galaxy), and a lesser-known but equally uncanny performance as late-night DJ Johnny LaGuardia, in the proto-riot grrrl movie Times Square, Tim Curry recorded "I Do the Rock" — a rock'n'roll anthem, complete with wailing sax, that pokes fun at the rockist worldview. (In the '80s, the "I Do the Rock" video was often played before midnight screenings of Rocky Horror, in which Curry's glam character assassinates Eddie, an avatar of authentic rock'n'roll, with an axe.) Through these campy provocations, Curry articulated and performed for us the possibility of an unnerving, enticing cultural-political mode… one that preserved-yet-destroyed the authentico-rockist cultural politics of the Sixties. Nice!
If the cover of the Beatles' Sgt. Pepper's Lonely Hearts Club album asked us, in idealistic Sixties fashion, to imagine a trans-historical community of outsider artists, intellectuals, actors, gurus, and athletes, then "I Do the Rock" dismisses the glamorous spell cast by such figures, via devastating couplets. Literature: "Gertrude's hanging pictures/Alice making tea/Me, I do the only thing that still/Makes sense to me." Rock'n'roll: "Rodney [Stewart]'s feeling sexy/Mick is really frightfully bold/Me, I do the only thing that stops me growing old." Philosophy: "I'm afraid philosophy/Is just too much responsibility for me." Celebrity: "It must be really frightful/To attract publicity." Politics: "I could never get the hang of ideology." Instead of subscribing to any of these supposedly liberating ways of life, Curry does the rock. Note: In the true tradition of Oscar Wilde, Curry articulates a passionate, yet simultaneously ironic ethos. He doesn't rock… he does the rock.
So how does one do the rock? Curry recognizes the temptation, for misfits and outsiders, to withdraw into a protective subculture… and he warns against doing so. (Consider Frank N. Furter and Johnny LaGuardia, each of whose role it is to provoke tribes of misfits until they rebel against his diktats.) At the level of form, the song's chugging, "Werewolves of London"-esque forward momentum is itself an appeal to keep going, ever forward. Doing the rock is life-affirming, mind-expanding: "stimulating, stimulating." At the end, Curry urges us to be fearless (cf. the title of the album on which this song first appeared) when it comes to tearing the roof off our cherished assumptions: "Sunshine, sunshine!/Oh, we got the top down now!/If you don't have the top down, pull the top down!" Still — if you watch the video — even these encouraging final sentiments are delivered with a knowing smile. We're going to have to figure out how to do the rock ourselves.
***
QUIRK YOUR ENTHUSIASM: Mark Kingwell on Soft Cell's TAINTED LOVE | Joanne McNeil on Gary Numan's METAL | Devin McKinney on Suicide's FRANKIE TEARDROP | Douglas Wolk on Family Fodder's SAVOIR FAIRE | Elina Shatkin on Marianne Faithfull's BROKEN ENGLISH | Steph Burt on Altered Images' HAPPY BIRTHDAY | Greg Rowland on Jilted John's JILTED JOHN | Gordon Dahlquist on XTC's RESPECTABLE STREET | Adrienne Crew on D-Day's TOO YOUNG TO DATE | Jonathan Lethem on The Blue Nile's I LOVE THIS LIFE | Josh Glenn on Tim Curry's I DO THE ROCK | Molly Wright Steenson on Missing Persons' WORDS | Anthony Miller on The Nails' 88 LINES ABOUT 44 WOMEN | Luc Sante on The Normal's WARM LEATHERETTE | Mimi Lipson on Dolly Mixture's HOW COME YOU'RE SUCH A HIT WITH THE BOYS, JANE? | Tim Carmody on Talking Heads' LIFE DURING WARTIME | Ingrid Schorr on Ian Dury's CLEVOR TREVER | Adam McGovern on Lene Lovich's LUCKY NUMBER | Deb Chachra on Rough Trade's HIGH SCHOOL CONFIDENTIAL | Tor Aarestad on Oingo Boingo's LITTLE GIRLS | David Smay on The B-52's' DANCE THIS MESS AROUND | Jessamyn West on Blondie's HANGING ON THE TELEPHONE | Drew Daniel on The Human League's MARIANNE | Erik Davis on Tuxedomoon's TIME TO LOSE | Dan Fox on Thomas Dolby's EUROPA & THE PIRATE TWINS.
NEW WAVE HILO HEROES: Debbie Harry | Marianne Faithfull | Grace Jones | Ian Dury | Mark Mothersbaugh | Plastic Bertrand | Tim Curry | Kate Pierson | Green Gartside | David Byrne.
MORE ENTHUSIASM SERIES at HILOBROW
NERD YOUR ENTHUSIASM (4Q2021): NERDING | ARDUIN | KLINGON CONFIDENTIAL | MAP INSERTS | TIME | & 20 other nerdy passions. SWERVE YOUR ENTHUSIASM (3Q2021): WARHOL'S WALT WHITMAN | 70, GIRLS, 70 | TYRAEL'S MIGHT | SHIRATO SANPEI | THE LEON SUITES | & 20 other never-realized cultural productions. FIVE-O YOUR ENTHUSIASM (2Q2021): DARK SHADOWS | MANNIX | GET SMART | THE ADDAMS FAMILY | I DREAM OF JEANNIE | & 20 other Sixties (1964–1973) TV shows. FERB YOUR ENTHUSIASM (1Q2021): STEVEN UNIVERSE | TOP CAT | REN & STIMPY | SHE-RA AND THE PRINCESSES OF POWER | DRAGON BALL Z | & 20 other animated series. CARBONA YOUR ENTHUSIASM (2020): "Sex Bomb" | "Going Underground" | "Soft South Africans" | "Typical Girls" | "Human Fly" | & 20 other Seventies (1974–1983) punk singles. KLAATU YOU (2020 weekly): ZARDOZ | METROPOLIS | DARK STAR | SINS OF THE FLESHAPOIDS | SOLARIS | & dozens of other pre-STAR WARS sci-fi movies. CONVOY YOUR ENTHUSIASM (2019): THE TAKING OF PELHAM ONE TWO THREE | ROLLERBALL | BLACK SUNDAY | SORCERER | STRAIGHT TIME | & 20 other Seventies (1974–1983) action movies. SERIOCOMIC (2019 weekly): LITTLE LULU | VIZ | MARSUPILAMI | ERNIE POOK'S COMEEK | HELLBOY | & dozens of other comics. TUBE YOUR ENTHUSIASM (2018): LOONEY TUNES | THREE STOOGES | THE AVENGERS | ROCKY & BULLWINKLE | THE TWILIGHT ZONE | & 20 other Fifties (1954–1963) TV shows. WOWEE ZOWEE (2018 weekly): UNISEX | UNDER THE PINK | DUMMY | AMOR PROHIBIDO | HIPS AND MAKERS | & dozens of other Nineties (1994–2003) albums. KLUTE YOUR ENTHUSIASM (2017): THE KILLERS | BANDE À PART (BAND OF OUTSIDERS) | ALPHAVILLE | HARPER | BLOW-UP | & 20 other Sixties (1964–1973) neo-noir movies. #SQUADGOALS (2017 weekly): THE WILD BUNCH | BOWIE'S BAND | THE BLOOMSBURY GROUP | THE HONG KONG CAVALIERS | VI ÄR BÄST! & dozens of other squads. GROK MY ENTHUSIASM (2016 weekly): THE THEORY AND PRACTICE OF LUNCH | WEEKEND | MILLION YEAR PICNIC | LA BARONNE EMILE D'ERLANGER | THE SURVIVAL SAMPLER | & dozens more one-off enthusiasms. QUIRK YOUR ENTHUSIASM (2016): "Tainted Love" | "Metal" | "Frankie Teardrop" | "Savoir Faire" | "Broken English" | & 20 other Seventies (1974–1983) new wave singles. CROM YOUR ENTHUSIASM (2015): DARKER THAN YOU THINK | THE SWORD IN THE STONE | OUT OF THE SILENT PLANET | THIEVES' HOUSE | QUEEN OF THE BLACK COAST | & 20 other Thirties (1934–1943) fantasy novels. KERN YOUR ENTHUSIASM (2014): ALDINE ITALIC | DATA 70 | TORONTO SUBWAY | JOHNSTON'S "HAMLET" | TODD KLONE | & 20 other typefaces. HERC YOUR ENTHUSIASM (2013): "Spoonin' Rap" | "Rapper's Delight" | "Rappin' Blow" | "The Incredible Fulk" | "The Adventures of Super Rhyme" | & 20 other Seventies (1974–1983) hip-hop songs. KIRK YOUR ENTHUSIASM (2012): Justice or vengeance? | Kirk teaches his drill thrall to kiss | "KHAAAAAN!" | "No kill I" | Kirk browbeats NOMAD | & 20 other Captain Kirk scenes. KIRB YOUR ENTHUSIASM (2011): THE ETERNALS | BLACK MAGIC | DEMON | OMAC | CAPTAIN AMERICA | & 20 other Jack Kirby panels.