Charles Dickens
By: Tor Aarestad
February 7, 2014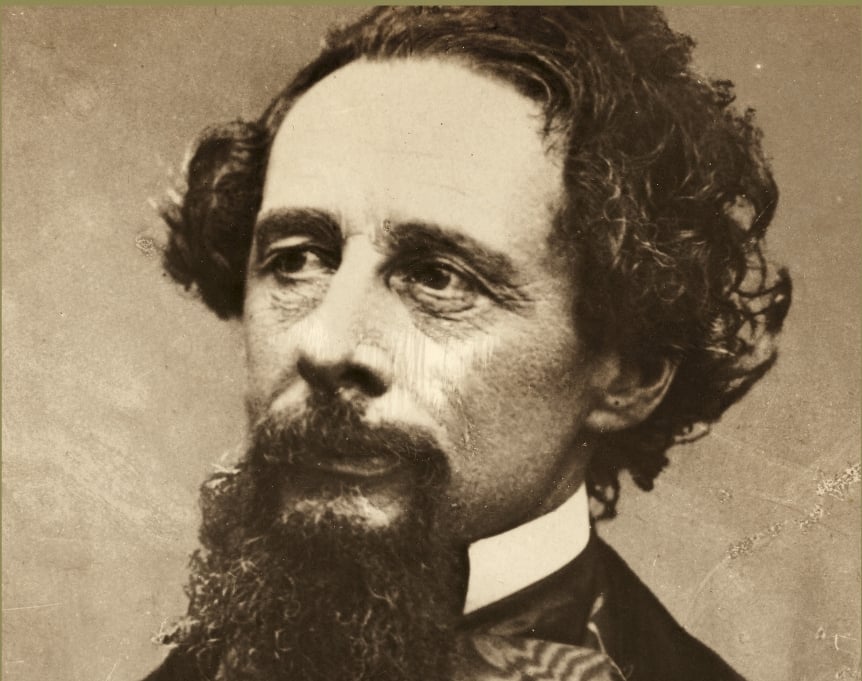 CHARLES DICKENS (1812–70) had the great good fortune to find his feet as a writer in public, for pay. Commissioned to create narratives to accompany a series of sporting plates, the plates instead became the illustrations for his grand picaresque, The Pickwick Papers. Dickens took advantage of this novel form, serial publication for a mass audience, to experiment in style: e.g., a horror tale told in earnest, Shakespearean cases of mistaken identity, a duel, and the following poem, attributed to Mrs. Leo Hunter.
"Ode to an expiring Frog:"
'Can I view thee, panting, lying
On thy stomach, without sighing;
Can I unmoved see thee dying;
On a log,
Expiring Frog!:
'Say, have fiends in shape of boys,
With wild halloo, and brutal noise,
Hunted thee from marshy joys,
With a dog,
Expiring Frog!'
Much of the best of the later, satirical Dickens emerges first in Pickwick: the black-humored irony (so evident in Oliver Twist); the rivers of prose, endless divagations and narrative eddies. Not to mention the lurid characters/caricatures, outfitted with bespoke verbal tics: from Alfred Jingle's disjointed koans (which today's reader might interpret as robospam) to Uriah Heep's wheedling false humility to the great Betsey Trotwood's tourettic "Janet! Donkeys!", to the Panglossian Wilkins Macawber.
When topped with all that dark humor, Dickens's social messages — to expose the inequities of capitalism in the faces of the working classes, and to show the absurd effects of calcified institutions — went down easily.
***
On his or her birthday, HiLobrow irregularly pays tribute to one of our high-, low-, no-, or hilobrow heroes. Also born this date: John Taine, Alejandro Jodorowsky, Alfred Adler, Buster Crabbe.
READ MORE about members of the Autotelic Generation (1805–14).