Crom Your Enthusiasm (25)
By: John Holbo
August 27, 2015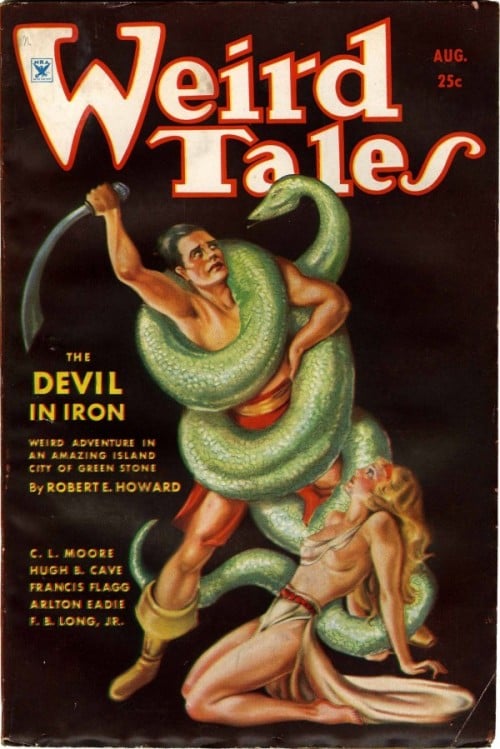 One of 25 installments in a series of posts analyzing and celebrating a few of our favorite fantasy novels from the Thirties (1934–1943). Enjoy!
"CONAN" MYTHOS | ROBERT E. HOWARD | 1932–36
Conan may be an anti-hero. Maybe better to call him an anti-hobbit?
Hobbits are dragged from their holes into epic quests. Hobbits are homebodies — nobodies, really. By convention, this singularly capacitates them to take resilient, world-significant action. Conan, by contrast, is active — seizing the day, the crown, the comely wench. His larger-than-life Somebodiness suits him to the purely reactive role he always plays when the mask is pulled back to reveal the skull. We humans are nothing, in light of what lurks beneath.
Just as there are no Tolkien novels about hobbits doing what hobbits do — potter about — there are no Howard stories about Conan doing what he does — slaughter a lot. "Crush your enemies. See them driven before you. Hear the lamentations of their women." We remember those lines from the first film. Conan's anti-philosophy of barbarism, in Howard's own words, was wordier, but comes to the same: "Let me live deep while I live; let me know the rich juices of red meat and stinging wine on my palate, the hot embrace of white arms, the mad exultation of battle when the blue blades flame and crimson, and I am content. Let teachers and priests and philosophers brood over questions of reality and illusion. I know this: if life is illusion, then I am no less an illusion, and being thus, the illusion is real to me. I live, I burn with life, I love, I slay, and am content."
We never see it.
Contented hobbits are boring. Contented barbarians are bullies. There can be no Conan story about our hero cruelly cleaving hordes of helpless humans. True, he claws his way to the kingship of Aquilonia, but only so the palace can serve as a backdrop for a desperate night-fight against Thoth-Amon's demon. He is last man standing on a snowfield of Vanir and Aesir warriors — because where else would a wintry weird appear to beguile him to unnatural doom? He reaves the Black Coast for fun and profit, luscious queen at his side — as prelude to getting upriver on the black waters of Zarkheba, which is death.
Every tale confronts Conan with the philosopher's fear that The Truth is Too Inhuman For Humanity. Conan survives each tale by sidestepping that, by being more beast than man.
It's not just the serpent god Set's fault, but Crom's, that Cimmerian enthusiasms must be curbed in beastly fashion.
"Better to be silent than to call his attention to you; he will send you dooms, not fortune! He is grim and loveless, but at birth he breathes power to strive and slay into a man's soul. What else shall men ask of the gods?"
Conan swears by a Lovecraftian entity.
We do not give enough sincere thanks to Crom for keeping Conan fun — that is, on the run. This is a world in which natural-born beasts contend with unnatural ones. No room for humanity. It's quite satisfying.
***
CROM YOUR ENTHUSIASM (2015): Erik Davis on Jack Williamson's DARKER THAN YOU THINK | Sara Ryan on T.H. White's THE SWORD IN THE STONE | Mark Kingwell on C.S. Lewis's OUT OF THE SILENT PLANET | David Smay on Fritz Leiber's THIEVES' HOUSE | Natalie Zutter on Robert E. Howard's QUEEN OF THE BLACK COAST | James Parker on J.R.R. Tolkien's THE HOBBIT | Adrienne Crew on Dion Fortune's THE SEA PRIESTESS | Gabriel Boyer on Clark Ashton Smith's ZOTHIQUE stories | John Hilgart on H.P. Lovecraft's THE CASE OF CHARLES DEXTER WARD | Barbara Bogaev on William Sloane's TO WALK THE NIGHT | Rob Wringham on Flann O'Brien's THE THIRD POLICEMAN | Dan Fox on Hergé's THE SEVEN CRYSTAL BALLS | Flourish Klink on C.S. Lewis's PERELANDRA | Tor Aarestad on L. Sprague de Camp and Fletcher Pratt's THE ROARING TRUMPET | Anthony Miller on H.P. Lovecraft's THE SHADOW OVER INNSMOUTH | Suzanne Fischer on E.R. Eddison's MISTRESS OF MISTRESSES | Molly Sauter on Herbert Read's THE GREEN CHILD | Diana Leto on Edgar Rice Burroughs's TARZAN AND THE LION MAN | Joshua Glenn on Robert E. Howard's THE HOUR OF THE DRAGON | Andrew Hultkrans on H.P. Lovecraft's AT THE MOUNTAINS OF MADNESS | Lynn Peril on Fritz Leiber's CONJURE WIFE | Gordon Dahlquist on H.P. Lovecraft's THE SHADOW OUT OF TIME | Adam McGovern on C.L. Moore's JIREL OF JOIRY stories | Tom Nealon on Fritz Leiber's TWO SOUGHT ADVENTURE | John Holbo on Robert E. Howard's CONAN MYTHOS.
***
KERN YOUR ENTHUSIASM (2014): ALDINE ITALIC | DATA 70 | TORONTO SUBWAY | JOHNSTON'S "HAMLET" | TODD KLONE | GILL SANS | AKZIDENZ-GROTESK | CALIFORNIA BRAILLE | SHE'S NOT THERE | FAUX DEVANAGARI | FUTURA | JENSON'S ROMAN | SAVANNAH SIGN | TRADE GOTHIC BOLD CONDENSED NO. 20 | KUMON WORKSHEET | ELECTRONIC DISPLAY | DIPLOMA REGULAR | SCREAM QUEEN | CHICAGO | CHINESE SHIPPING BOX | SHATTER | COMIC SANS | WILKINS'S REAL CHARACTER | HERMÈS vs. HOTDOG | GOTHAM.
HERC YOUR ENTHUSIASM (2013): "Spoonin' Rap" | "Rapper's Delight" | "Rappin' Blow" | "The Incredible Fulk" | "The Adventures of Super Rhyme" | "That's the Joint" | "Freedom" | "Rapture" | "The New Rap Language" | "Jazzy Sensation (Bronx Version)" | "Can I Get a Soul Clap" | "The Adventures of Grandmaster Flash on the Wheels of Steel" | "Making Cash Money" | "The Message" | "Pak Jam" | "Buffalo Gals" | "Ya Mama" | "No Sell Out" | "Death Mix Live, Pt. 2" | "White Lines (Don't Do It)" | "Here We Go (Live at the Funhouse)" | "Rockit" | "The Coldest Rap" | "The Dream Team is in the House" | The Lockers.
KIRK YOUR ENTHUSIASM (2012): Justice or vengeance? | Kirk teaches his drill thrall to kiss | "KHAAAAAN!" | "No kill I" | Kirk browbeats NOMAD | Kirk's eulogy for Spock| The joke is on Kirk | Kirk vs. Decker | Good Kirk vs. Evil Kirk | Captain Camelot | Koon-ut-kal-if-fee | Federation exceptionalism | Wizard fight | A million things you can't have | Debating in a vacuum | Klingon diplomacy | "We… the PEOPLE" | Brinksmanship on the brink | Captain Smirk | Sisko meets Kirk | Noninterference policy | Kirk's countdown | Kirk's ghost | Watching Kirk vs. Gorn | How Spock wins
KIRB YOUR ENTHUSIASM (2011): THE ETERNALS | BLACK MAGIC | DEMON | OMAC | CAPTAIN AMERICA | KAMANDI | MACHINE MAN | SANDMAN | THE X-MEN | THE FANTASTIC FOUR | TALES TO ASTONISH | YOUNG LOVE | STRANGE TALES | MISTER MIRACLE | BLACK PANTHER | THOR | JIMMY OLSEN | DEVIL DINOSAUR | THE AVENGERS | TALES OF SUSPENSE | THE NEW GODS | REAL CLUE | THE FOREVER PEOPLE | JOURNEY INTO MYSTERY | 2001: A SPACE ODYSSEY