FERB YOUR ENTHUSIASM (22)
By: Michael Grasso
March 15, 2021
One in a series of 25 enthusiastic posts, contributed by 25 HILOBROW friends and regulars, on the topic of our favorite animated TV series.
*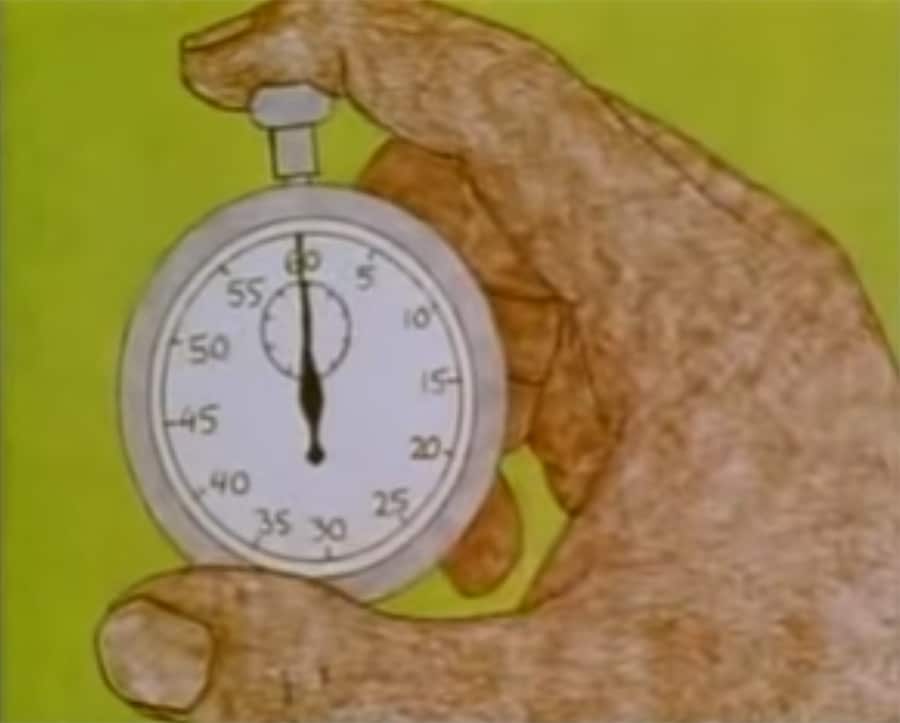 COSMIC CLOCK | AL JARNOW | 1979
I sometimes wonder if I consistently overrate the eeriness of children's television programming of my youth. Then I remember Al Jarnow's "Cosmic Clock."
This two-minute animation segment appeared on PBS's 1980 children's science series 3-2-1 Contact, which was seen in reruns throughout the early 1980s. 3-2-1 Contact's filtering of scientific concepts through lenses like art and music made it eminently rewatchable: the perfect series for a precocious science-mad grade schooler like me.
"Cosmic Clock" takes a cue from animations such as Charles and Ray Eames's "Powers of Ten" to teach us a lesson in scale. But, as the narrator of "Cosmic Clock" says at the outset, "We are going to take a trip… not in space, but in time." As the kid on the hillside clicks his stopwatch and his dog dashes off, we're off: on an exponentially accelerating trip into the future. Natural rhythms — the tides, the phases of the moon, the seasons — soon give way to man-made ones. "The town becomes a city," futuristic towers bloom, rise and fall, as our protagonist grows old and the "camera" conspicuously pans away as he reaches the end of his merely human lifespan.
It's then that the natural landscape's primacy returns; the last vestiges of humanity are swept away in ice ages and huge tectonic changes; eventually, even planet Earth itself disappears as the narrator intones the end mark of our trip: "One billion years!" Our avatar returns, young and vital again, at the end of the two minutes, clicking off his stopwatch, but our journey to the literal end of the Earth remains in our memories, forever.
Why is "Cosmic Clock" so traumatically memorable? It's not just its subject: the inexorable (and constantly accelerating) march of time. It's the aesthetics. The sound design — both the constant inescapable ticking of the stopwatch and synthesized music both familiar (a "Deck The Halls" motif when winter arrives) and uncanny (weird sounds played as the futuristic tower blocks appear). The animation style starts off inoffensive, familiar, homey, like many of the era's public television cartoon segments. By the end of "Cosmic Clock," we've seen alien sights that no human being alive in 1980 would ever be around to witness.
I once showed "Cosmic Clock" to a millennial friend of mine, who said instantly after viewing, "Michael, this… this explains so much." Her jest about the creepiness of my generation's TV programming hides an undeniable kernel of truth: it had a penchant for scaring the pants off us. Jarnow, an experimental animator whose films appeared in art cinemas and museums and on PBS, created art much like other producers of children's programming in the 1970s and '80s, works that didn't talk down to us as a kid audience, that let our imaginations fill in the blanks: a true constructivist pedagogy. The reason I remember "Cosmic Clock" by heart even today, 40 years later, isn't only because it was eerie and scary; it's because an adult trusted me to learn — and process the meaning of that learning — myself.
***
FERB YOUR ENTHUSIASM: SERIES INTRODUCTION by Josh Glenn | Miranda Mellis on STEVEN UNIVERSE | Luc Sante on TOP CAT | Peggy Nelson on PINK PANTHER | Charlie Mitchell on COWBOY BEBOP | Mimi Lipson on THE FLINTSTONES | Sam Glenn on BIG MOUTH | Mandy Keifetz on ROAD RUNNER | Ramona Lyons on SHE-RA | Holly Interlandi on DRAGON BALL Z | Max Glenn on ADVENTURE TIME | Joe Alterio on REN & STIMPY | Josh Glenn on SPEED RACER | Adam McGovern on KIMBA THE WHITE LION | Jonathan Pinchera on SAMURAI JACK | Lynn Peril on JONNY QUEST | Stephanie Burt on X-MEN THE ANIMATED SERIES and X-MEN: EVOLUTION | Elizabeth Foy Larsen on THE JETSONS | Adam Netburn on NARUTO | Madeline Ashby on AVATAR: THE LAST AIRBENDER | Tom Nealon on TRANSFORMERS | Sara Ryan on BOJACK HORSEMAN | Michael Grasso on COSMIC CLOCK | Erin M. Routson on BEAVIS & BUTTHEAD | Deborah Wassertzug on DARIA | Lydia Millet on BOB'S BURGERS.
MORE ENTHUSIASM at HILOBROW
STOOGE YOUR ENTHUSIASM (4Q2023): MOVE ON FAST | 96 TEARS | SHE CRACKED | WHAT A WAY TO DIE | PSYCHOTIC REACTION | & 20 other Sixties (1964–1973) proto-punk songs. CURVE YOUR ENTHUSIASM (3Q2023): PIZZA PURISM | BOY BANDS | THE '86 METS | LOVE ISLAND UK | ELTON JOHN | & 20 other reconsidered enthusiasms. TEEN YOUR ENTHUSIASM (2Q2023): ANDY GIBB | VALERIE BERTINELLI | KIM WILDE | ARLO GUTHRIE | MIKE PATTON | & 20 other heartthrobs from our adolescences. DOLLY YOUR ENTHUSIASM (1Q2023): WE FOUND IT | TOGETHER AGAIN | SUNDAY MORNIN' COMIN' DOWN | BAD CASE OF THE BLUES | FANCY | & 20 other Sixties (1964–1973) Country records. KILL YOUR ENTHUSIASM (4Q2022): LT. TASHA YAR | JOYCE SUMMERS | COL. HENRY BLAKE | MRS. LANDINGHAM | ALEX KAMAL | & 20 other TV deaths. BLURB YOUR ENTHUSIASM (3Q2022): LEFT-CORNER BRICK | JOY IS RESISTANCE | THE FUTURE IS PASSÉ | EVERY MINUTE AN OCEAN | SHUT UP, HE EXPLAINED | & 20 other apothegms to live by. KOJAK YOUR ENTHUSIASM (2Q2022): ARK II | WKRP IN CINCINNATI | BUCK ROGERS | THE WHITE SHADOW | POLICE WOMAN | & 20 other Seventies (1974–1983) TV shows. KICK YOUR ENTHUSIASM (1Q2022): KUILL | CATO | COSMO | TRIXIE | VOLSTAGG | & 20 other sidekicks. NERD YOUR ENTHUSIASM (4Q2021): TIME | THE POST OFFICE | ARDUIN | DOUBT | SUMMATIONS | & 20 other nerdy passions. SWERVE YOUR ENTHUSIASM (3Q2021): WARHOL'S WALT WHITMAN | 70, GIRLS, 70 | TYRAEL'S MIGHT | SHIRATO SANPEI | THE LEON SUITES | & 20 other never-realized cultural productions. FIVE-O YOUR ENTHUSIASM (2Q2021): DARK SHADOWS | MANNIX | GET SMART | THE ADDAMS FAMILY | I DREAM OF JEANNIE | & 20 other Sixties (1964–1973) TV shows. FERB YOUR ENTHUSIASM (1Q2021): STEVEN UNIVERSE | TOP CAT | REN & STIMPY | SHE-RA AND THE PRINCESSES OF POWER | DRAGON BALL Z | & 20 other animated series. CARBONA YOUR ENTHUSIASM (2020): "Sex Bomb" | "Going Underground" | "Soft South Africans" | "Typical Girls" | "Human Fly" | & 20 other Seventies (1974–1983) punk singles. KLAATU YOU (2020 weekly): ZARDOZ | METROPOLIS | DARK STAR | SINS OF THE FLESHAPOIDS | SOLARIS | & dozens of other pre-STAR WARS sci-fi movies. CONVOY YOUR ENTHUSIASM (2019): THE TAKING OF PELHAM ONE TWO THREE | ROLLERBALL | BLACK SUNDAY | SORCERER | STRAIGHT TIME | & 20 other Seventies (1974–1983) action movies. SERIOCOMIC (2019 weekly): LITTLE LULU | VIZ | MARSUPILAMI | ERNIE POOK'S COMEEK | HELLBOY | & dozens of other comics. TUBE YOUR ENTHUSIASM (2018): LOONEY TUNES | THREE STOOGES | THE AVENGERS | ROCKY & BULLWINKLE | THE TWILIGHT ZONE | & 20 other Fifties (1954–1963) TV shows. WOWEE ZOWEE (2018 weekly): UNISEX | UNDER THE PINK | DUMMY | AMOR PROHIBIDO | HIPS AND MAKERS | & dozens of other Nineties (1994–2003) albums. KLUTE YOUR ENTHUSIASM (2017): THE KILLERS | BANDE À PART (BAND OF OUTSIDERS) | ALPHAVILLE | HARPER | BLOW-UP | & 20 other Sixties (1964–1973) neo-noir movies. #SQUADGOALS (2017 weekly): THE WILD BUNCH | BOWIE'S BAND | THE BLOOMSBURY GROUP | THE HONG KONG CAVALIERS | VI ÄR BÄST! & dozens of other squads. GROK MY ENTHUSIASM (2016 weekly): THE THEORY AND PRACTICE OF LUNCH | WEEKEND | MILLION YEAR PICNIC | LA BARONNE EMILE D'ERLANGER | THE SURVIVAL SAMPLER | & dozens more one-off enthusiasms. QUIRK YOUR ENTHUSIASM (2016): "Tainted Love" | "Metal" | "Frankie Teardrop" | "Savoir Faire" | "Broken English" | & 20 other Seventies (1974–1983) new wave singles. CROM YOUR ENTHUSIASM (2015): DARKER THAN YOU THINK | THE SWORD IN THE STONE | OUT OF THE SILENT PLANET | THIEVES' HOUSE | QUEEN OF THE BLACK COAST | & 20 other Thirties (1934–1943) fantasy novels. KERN YOUR ENTHUSIASM (2014): ALDINE ITALIC | DATA 70 | TORONTO SUBWAY | JOHNSTON'S "HAMLET" | TODD KLONE | & 20 other typefaces. HERC YOUR ENTHUSIASM (2013): "Spoonin' Rap" | "Rapper's Delight" | "Rappin' Blow" | "The Incredible Fulk" | "The Adventures of Super Rhyme" | & 20 other Seventies (1974–1983) hip-hop songs. KIRK YOUR ENTHUSIASM (2012): Justice or vengeance? | Kirk teaches his drill thrall to kiss | "KHAAAAAN!" | "No kill I" | Kirk browbeats NOMAD | & 20 other Captain Kirk scenes. KIRB YOUR ENTHUSIASM (2011): THE ETERNALS | BLACK MAGIC | DEMON | OMAC | CAPTAIN AMERICA | & 20 other Jack Kirby panels.