FETISHES (16)
By: Wayne Chambliss
May 17, 2019
The seventh PROJECT:OBJECT volume is a 25-part series of true stories about fetishes. That is to say: objects with which we are obsessed, to which we are devoted, and from the influence of which we cannot escape.
*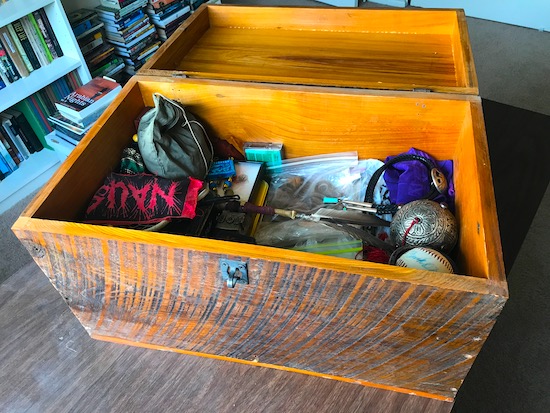 I've been hauling a heavy wooden chest around the country with me for twenty-five years. It was built by a lesbian performance artist from Arkansas to fit the dimensions of an old black-leather house call bag I used to keep my mojo in, but gave to a Crow gal named Otter-Woman-Who-Stands-at-the-Center to store hers. Within a year, the bag — and her medicine — was flooded with shit water from a burst pipe. But I'd kept the box, which is now filled — matryoshka-style — with many, many fetishes: My last & first words as a poet. A flensed and disarticulated otter penis. The mat of silver hair I cut from my grandmother's corpse. A decade of fingernail clippings. A baseball signed by Negro Leagues all-timer Buck O'Neil. Bags of dried pussy willow, bear root, and medicinal clay from the banks of a Bighorn cirque. A malevolent demon statuette. A sacred scrunchie. Crumbled crimson seal wax for a letter I never had the courage to mail. Pantyhose from an incident that resulted in a temporary, but near-total, loss of genital dermis. A Turkish ward against the evil eye. An icon painting, on driftwood, of me at senior prom. The knife used to carve a scar cartoon on my back immediately prior to a situation that resulted — ultimately — in my comforting one of Helmut Newton's models in court. Minor numismatic treasures. Magical rings. The (mildly) radioactive pen I kept a diary with in the Zone of Alienation. A pine needle cluster from the center of the world. Talismanic stones: from the ruins of Plato's Academy, from the entrance to hell. A birthstone (for multicellular organisms) that formed in the ocean contemporaneously with the first eukaryotes 1.7 billion years ago. A stone gifted to me by the ghost of Edogawa Ranpo. So many stones. A bone — of unknown species — from the oracular complex of the Cumaen Sibyl. Fossils. Shells. Crushed insects (one, framed). My Grace Kelly stamp. My postcard of Ingrid Bergman. Two dream catchers, retired after particularly nasty oneiric episodes. Guitar-shrapnel I caught in the face at an Acid Mothers Temple concert. The compass I won in a crooked card game with a guy named Little Elk — just before losing my way in life, utterly. Childhood audio diaries. Alchemical paraphernalia. The pewter pill box a lover claimed to have stolen for me from an African museum. Evidence of other crimes.
And so on.
I've added to it, now and then, but I regard the contents of this chest as a single, singular, mass — the arrangement, smells, colors, textures of which I've sought to preserve more-or-less intact through 35-40 moves, and have never unpacked for another living soul before now (although I could sometimes swear there were ghosts peeking over my shoulders when I cracked into it). Should I choose death, or sense its approach, I'll burn the chest — and everything in it — on a beach somewhere. In the meantime, a word of advice: always open the lid of Pandora's box from behind.
*
FETISHES: INTRODUCTION | Josh Foer on DEATH MASK | Beth Lisick on MURDERED-OUT KFC BUCKET | Ramona Lyons on RABBIT BOX | Friederike Paetzold on OLD HANDS | Katya Apekina on MISSISSIPPI WATER | Matthew Daniel on PIPE CLEANER FIGURE | Christina Couch on LEECH ACTION FIGURE | Kenneth Goldsmith on THEWLIS SOCK | Matthew Sharpe on GLASSES | Katrina Brown Hunt on DAY OF THE DEAD FIGURINE | Niela Orr on IVERSON SNEAKERS | Toni Schlesinger on CLOUD ERASE BOARD | Carlo Rotella on TONE BAR | Hilary Greenbaum on FAMILY PHOTO | Mimi Lipson on CLAWFOOT TUB | Wayne Chambliss on MATRYOSHKA CHEST | Chelsea Barabas on SWITCHBLADE | Ciara O'Rourke on MOLLY McINTIRE DOLL | Kelli Anderson on MIURA-ORI FOLD | Shawn Wolfe on BOX OF AYDS | Alyssa Giacobbe on LOVE NOTE | Marc Weidenbaum on DUMMY JACK | Abby Rapoport on MAGNATILES | Bryn Smith on DUCK UMBRELLA | Kerry Lauerman on WALL ORGANIZER.
FOSSILS: INTRODUCTION | Allegra Huston on SKATAWAY JACKET | Kevin Obsatz on HOMEMADE NUNCHUKS | Ian Bogost on DESKTOP TELEPHONE | Jeff Lewonczyk on CHA-CHA JACKET SCRAP | Kelly Horan on VOLVO KEY | & 20 MORE.
FLAIR: INTRODUCTION | Cliff Kuang on ROLEX DATEJUST | Ethan Zuckerman on LAPTOP STICKERS | Ann Shoket on LEATHER JACKET | Kembrew McLeod on KEMBREW MERCH | Paola Antonelli on MERMAID TEARS | & 20 MORE.
LOST OBJECTS (vol. 1): INTRODUCTION | Kate Bernheimer on MULLET WIG (ill. Amy Evans) | Dan Piepenbring on COLOGNE (ill. Josh Neufeld) | Doug Dorst on STRATOCASTER (ill. John Holbo) | Paul Lukas on VANILLA BEAN (ill. Allison Bamcat) | Mimi Lipson on DODGE DART (ill. Mister Reusch) | & 20 MORE.
ILLICIT OBJECTS: INTRODUCTION | Kio Stark on PEEPSHOW TOKEN | Sari Wilson on TOMBSTONE PARTS | Annalee Newitz on CAR-BOMB REMNANT | Tito Bottitta on MOONINITE DEVICE | Eric Bennett on DIRTY MAGAZINE | & 20 MORE.
TALISMANIC OBJECTS: INTRODUCTION | Veda Hille on CROCHET SHEEP | Gary Panter on DINOSAUR BONES | Jami Attenberg on SELENITE CRYSTAL | Annie Nocenti on MINIATURE DICE | Wayne Curtis on CLOCK WINDING KEY | & 20 MORE.
POLITICAL OBJECTS: INTRODUCTION | Luc Sante on CAMPAIGN PAMPHLETS | Lydia Millet on PVC POLAR BEAR | Ben Greenman on MATCHBOX CAR | Rob Baedeker on PRESIDENTS PLACEMAT | L.A. Kauffman on WHEATPASTE POSTER | & 20 MORE.
SIGNIFICANT OBJECTS at HILOBROW: PROJECT:OBJECT homepage | PROJECT:OBJECT newsletter | PROJECT:OBJECT objects (Threadless shop — all profits donated to the ACLU) | POLITICAL OBJECTS series (1Q2017) | TALISMANIC OBJECTS series (2Q2017) | ILLICIT OBJECTS series (3Q2017) | LOST OBJECTS vol. 1 series (4Q2017) | FLAIR series (2Q2018) | FOSSIL series (4Q2018) | FETISHES series (2Q2019) | LOST OBJECTS vol. 2 series (4Q2019) | MOVIE OBJECTS series (2Q2020). ALSO SEE: SIGNIFICANT OBJECTS website | SIGNIFICANT OBJECTS collection, ed. Rob Walker and Josh Glenn (Fantagraphics, 2012) | TAKING THINGS SERIOUSLY, ed. Josh Glenn (Princeton Architectural Press, 2007) | TAKING THINGS SERIOUSLY excerpts.