FETISHES (24)
By: Bryn Smith
June 11, 2019
The seventh PROJECT:OBJECT volume is a 25-part series of true stories about fetishes. That is to say: objects with which we are obsessed, to which we are devoted, and from the influence of which we cannot escape.
*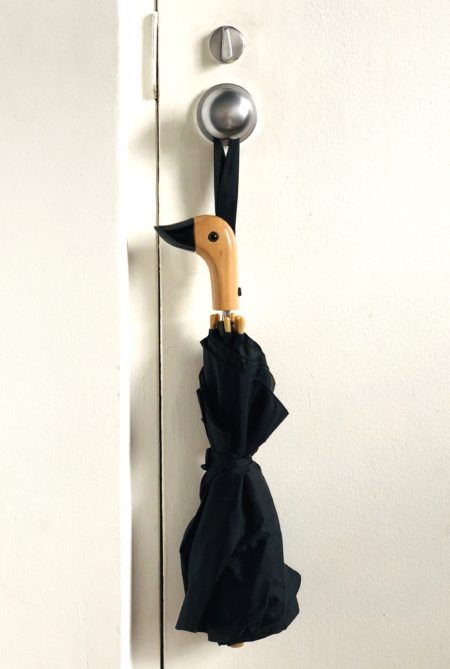 "Walk in the rain like a duck swims in water." This is the promise of the Deluxe Duck Umbrella — a relatively inexpensive, 100% nylon parasol, the defining feature of which is its waggish handle. Shaped like the head of duck and made from wood, the curved hilt sits comfortably in the hand whether it's swinging jauntily by my side (before the rain), or held aloft (during a storm). In either position (rain or shine), I palm the duck's crown, wrapping my fingers loosely around its beak and neck. Two beady black eyes make the likeness complete. My mind starts to wander.
I don't really remember how it all started. But this waterfowl-enhanced umbrella has been my "go-to" since at least the early aughts. I bought my first — and all subsequent replacements — in the bowels of the 5 Avenue / 53 Street subway station, at a subterranean Midtown shoe repair shop with odd hours and a Dunkin' Donuts next door. It's the kind of store you don't notice at first. Or maybe even at second.
While perhaps a relatively uncomplicated purchase for most people, in New York — the city I've called home for 17 years — the quality of your umbrella can make or break your day, and ultimately your spirit. As a city dweller I spend a lot of my time amongst steel and glass, sure, but an equally large (and perhaps surprising) portion is spent walking around outdoors — commuting from home to the subway, to work and back again. Day after day after day, I walk the dog, get groceries, run out for beer or to the pharmacy, take the dog out again — no matter how inclement the weather. A good umbrella is a faithful companion against the wet, dark night. A good umbrella that's also a duck? Not only does it keep me dry, but it gives me a certain joie de vivre as I go about my day.
Nestled gracefully between the cheapest option (readily available, but far too disposable) and its designer counterpart (expensive but too precious for the job at hand, plus I'll probably leave it in a cab and be out $150), the Deluxe Duck Umbrella, occupies a unique middle ground. It's a workhorse with a charming mug, and I can't tell you the number of times that stupid little duck face, sticking out of my bag, or hanging on the front door has brought me, or someone I care about, an unexpected moment of happiness. Strangers often smile when they see it, and it's criminally easy to spot in any coat check, "Oh, mine's the duck." I've only lost a few over the years, and it's always just a matter of time before I make the pilgrimage and start all over again. I guess it's something I've got figured out, and most days, that's more than enough.
*
FETISHES: INTRODUCTION | Josh Foer on DEATH MASK | Beth Lisick on MURDERED-OUT KFC BUCKET | Ramona Lyons on RABBIT BOX | Friederike Paetzold on OLD HANDS | Katya Apekina on MISSISSIPPI WATER | Matthew Daniel on PIPE CLEANER FIGURE | Christina Couch on LEECH ACTION FIGURE | Kenneth Goldsmith on THEWLIS SOCK | Matthew Sharpe on GLASSES | Katrina Brown Hunt on DAY OF THE DEAD FIGURINE | Niela Orr on IVERSON SNEAKERS | Toni Schlesinger on CLOUD ERASE BOARD | Carlo Rotella on TONE BAR | Hilary Greenbaum on FAMILY PHOTO | Mimi Lipson on CLAWFOOT TUB | Wayne Chambliss on MATRYOSHKA CHEST | Chelsea Barabas on SWITCHBLADE | Ciara O'Rourke on MOLLY McINTIRE DOLL | Kelli Anderson on MIURA-ORI FOLD | Shawn Wolfe on BOX OF AYDS | Alyssa Giacobbe on LOVE NOTE | Marc Weidenbaum on DUMMY JACK | Abby Rapoport on MAGNATILES | Bryn Smith on DUCK UMBRELLA | Kerry Lauerman on WALL ORGANIZER.
FOSSILS: INTRODUCTION | Allegra Huston on SKATAWAY JACKET | Kevin Obsatz on HOMEMADE NUNCHUKS | Ian Bogost on DESKTOP TELEPHONE | Jeff Lewonczyk on CHA-CHA JACKET SCRAP | Kelly Horan on VOLVO KEY | & 20 MORE.
FLAIR: INTRODUCTION | Cliff Kuang on ROLEX DATEJUST | Ethan Zuckerman on LAPTOP STICKERS | Ann Shoket on LEATHER JACKET | Kembrew McLeod on KEMBREW MERCH | Paola Antonelli on MERMAID TEARS | & 20 MORE.
LOST OBJECTS (vol. 1): INTRODUCTION | Kate Bernheimer on MULLET WIG (ill. Amy Evans) | Dan Piepenbring on COLOGNE (ill. Josh Neufeld) | Doug Dorst on STRATOCASTER (ill. John Holbo) | Paul Lukas on VANILLA BEAN (ill. Allison Bamcat) | Mimi Lipson on DODGE DART (ill. Mister Reusch) | & 20 MORE.
ILLICIT OBJECTS: INTRODUCTION | Kio Stark on PEEPSHOW TOKEN | Sari Wilson on TOMBSTONE PARTS | Annalee Newitz on CAR-BOMB REMNANT | Tito Bottitta on MOONINITE DEVICE | Eric Bennett on DIRTY MAGAZINE | & 20 MORE.
TALISMANIC OBJECTS: INTRODUCTION | Veda Hille on CROCHET SHEEP | Gary Panter on DINOSAUR BONES | Jami Attenberg on SELENITE CRYSTAL | Annie Nocenti on MINIATURE DICE | Wayne Curtis on CLOCK WINDING KEY | & 20 MORE.
POLITICAL OBJECTS: INTRODUCTION | Luc Sante on CAMPAIGN PAMPHLETS | Lydia Millet on PVC POLAR BEAR | Ben Greenman on MATCHBOX CAR | Rob Baedeker on PRESIDENTS PLACEMAT | L.A. Kauffman on WHEATPASTE POSTER | & 20 MORE.
SIGNIFICANT OBJECTS at HILOBROW: PROJECT:OBJECT homepage | PROJECT:OBJECT newsletter | PROJECT:OBJECT objects (Threadless shop — all profits donated to the ACLU) | POLITICAL OBJECTS series (1Q2017) | TALISMANIC OBJECTS series (2Q2017) | ILLICIT OBJECTS series (3Q2017) | LOST OBJECTS vol. 1 series (4Q2017) | FLAIR series (2Q2018) | FOSSIL series (4Q2018) | FETISHES series (2Q2019) | LOST OBJECTS vol. 2 series (4Q2019) | MOVIE OBJECTS series (2Q2020). ALSO SEE: SIGNIFICANT OBJECTS website | SIGNIFICANT OBJECTS collection, ed. Rob Walker and Josh Glenn (Fantagraphics, 2012) | TAKING THINGS SERIOUSLY, ed. Josh Glenn (Princeton Architectural Press, 2007) | TAKING THINGS SERIOUSLY excerpts.