FETISHES (25)
By: Kerry Lauerman
June 14, 2019
The seventh PROJECT:OBJECT volume is a 25-part series of true stories about fetishes. That is to say: objects with which we are obsessed, to which we are devoted, and from the influence of which we cannot escape.
*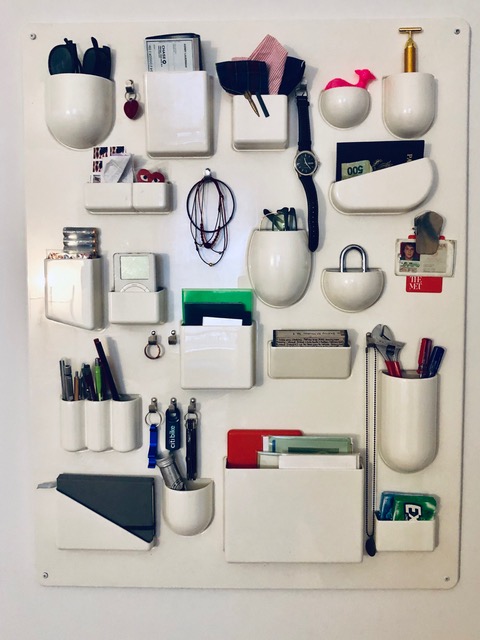 When I splurged at the beginning of this century on Dorothee Becker's Uten.Silo wall organizer, I told myself it would look nice, but more importantly, that it would be incredibly practical, ordering my life in sensible, stylish fashion. The rare object on any of my walls, it was a vision of white-on-white Apple chic. And it promised to make even the smallest detritus of life — the crap usually in my messenger bag and kitchen junk drawer — appear thoughtful and curated.
That felt very much like a statement because, for many of us who grew up in the '70s or '80s, surrounded by carved wooden bric-a-brac or Hummel figurines or Holly Hobbie art or god knows what, we preferred simple-bordering-on-ascetic. Way before the "radical uncluttering" of today, we craved a harsh, blank, unsentimental canvas. The macramé-ed and framed photo-collaged walls of our youth were stripped bare and turned chalk white. They became the backdrop of every shelter magazine, whose enthusiasm now turned to over-designed everyday items like that still-ubiquitous teardrop Method hand soap bottle, say, and everything iPod. And, of course, the hard plastic simplicity of Vitra's 2002 reissue of the Uten.Silo.
With the irrational exuberance of the time, I also imagined the organizer as a sunny prompt for some new lover, who would awaken to see it gleaming on my wall and be so impressed that he would be compelled to ask about it, about me. My iconoclasm (Where'd you ever find a Sputnik-era steel tie-clip in the shape of a rocket?), cleverness (Look! Your Moleskine fits perfectly in that slot!) and exquisite taste (I've never seen a more beautiful gold-plated cat comb. Ever.) — all right there, just casually cobbled together in a wall sculpture that could pass for a nurse's station in a surgical ward.
As far as I can remember, as I've dragged it around and posted it to walls in four different apartments, it's impressed precisely no one, generating maybe one noncommittal, "that's a nice idea." And at times, when I let it go — adding banal items like an oversized Band-Aid box or roll of masking tape that don't conform to Becker's exacting dimensions — it just looks like crap, a kitchen junk drawer that's been projectile-vomited. But when it's been edited, and all my little treasures are in place, it feels right. I feel right. And no, it's not all completely useful (I've never worn a tie clip in my life). But don't you dare call it bric-a-brac.
*
FETISHES: INTRODUCTION | Josh Foer on DEATH MASK | Beth Lisick on MURDERED-OUT KFC BUCKET | Ramona Lyons on RABBIT BOX | Friederike Paetzold on OLD HANDS | Katya Apekina on MISSISSIPPI WATER | Matthew Daniel on PIPE CLEANER FIGURE | Christina Couch on LEECH ACTION FIGURE | Kenneth Goldsmith on THEWLIS SOCK | Matthew Sharpe on GLASSES | Katrina Brown Hunt on DAY OF THE DEAD FIGURINE | Niela Orr on IVERSON SNEAKERS | Toni Schlesinger on CLOUD ERASE BOARD | Carlo Rotella on TONE BAR | Hilary Greenbaum on FAMILY PHOTO | Mimi Lipson on CLAWFOOT TUB | Wayne Chambliss on MATRYOSHKA CHEST | Chelsea Barabas on SWITCHBLADE | Ciara O'Rourke on MOLLY McINTIRE DOLL | Kelli Anderson on MIURA-ORI FOLD | Shawn Wolfe on BOX OF AYDS | Alyssa Giacobbe on LOVE NOTE | Marc Weidenbaum on DUMMY JACK | Abby Rapoport on MAGNATILES | Bryn Smith on DUCK UMBRELLA | Kerry Lauerman on WALL ORGANIZER.
FOSSILS: INTRODUCTION | Allegra Huston on SKATAWAY JACKET | Kevin Obsatz on HOMEMADE NUNCHUKS | Ian Bogost on DESKTOP TELEPHONE | Jeff Lewonczyk on CHA-CHA JACKET SCRAP | Kelly Horan on VOLVO KEY | & 20 MORE.
FLAIR: INTRODUCTION | Cliff Kuang on ROLEX DATEJUST | Ethan Zuckerman on LAPTOP STICKERS | Ann Shoket on LEATHER JACKET | Kembrew McLeod on KEMBREW MERCH | Paola Antonelli on MERMAID TEARS | & 20 MORE.
LOST OBJECTS (vol. 1): INTRODUCTION | Kate Bernheimer on MULLET WIG (ill. Amy Evans) | Dan Piepenbring on COLOGNE (ill. Josh Neufeld) | Doug Dorst on STRATOCASTER (ill. John Holbo) | Paul Lukas on VANILLA BEAN (ill. Allison Bamcat) | Mimi Lipson on DODGE DART (ill. Mister Reusch) | & 20 MORE.
ILLICIT OBJECTS: INTRODUCTION | Kio Stark on PEEPSHOW TOKEN | Sari Wilson on TOMBSTONE PARTS | Annalee Newitz on CAR-BOMB REMNANT | Tito Bottitta on MOONINITE DEVICE | Eric Bennett on DIRTY MAGAZINE | & 20 MORE.
TALISMANIC OBJECTS: INTRODUCTION | Veda Hille on CROCHET SHEEP | Gary Panter on DINOSAUR BONES | Jami Attenberg on SELENITE CRYSTAL | Annie Nocenti on MINIATURE DICE | Wayne Curtis on CLOCK WINDING KEY | & 20 MORE.
POLITICAL OBJECTS: INTRODUCTION | Luc Sante on CAMPAIGN PAMPHLETS | Lydia Millet on PVC POLAR BEAR | Ben Greenman on MATCHBOX CAR | Rob Baedeker on PRESIDENTS PLACEMAT | L.A. Kauffman on WHEATPASTE POSTER | & 20 MORE.
SIGNIFICANT OBJECTS at HILOBROW: PROJECT:OBJECT homepage | PROJECT:OBJECT newsletter | PROJECT:OBJECT objects (Threadless shop — all profits donated to the ACLU) | POLITICAL OBJECTS series (1Q2017) | TALISMANIC OBJECTS series (2Q2017) | ILLICIT OBJECTS series (3Q2017) | LOST OBJECTS vol. 1 series (4Q2017) | FLAIR series (2Q2018) | FOSSIL series (4Q2018) | FETISHES series (2Q2019) | LOST OBJECTS vol. 2 series (4Q2019) | MOVIE OBJECTS series (2Q2020). ALSO SEE: SIGNIFICANT OBJECTS website | SIGNIFICANT OBJECTS collection, ed. Rob Walker and Josh Glenn (Fantagraphics, 2012) | TAKING THINGS SERIOUSLY, ed. Josh Glenn (Princeton Architectural Press, 2007) | TAKING THINGS SERIOUSLY excerpts.