FETISHES (4)
By: Friederike Paetzold
April 11, 2019
The seventh PROJECT:OBJECT volume is a 25-part series of true stories about fetishes. That is to say: objects with which we are obsessed, to which we are devoted, and from the influence of which we cannot escape.
*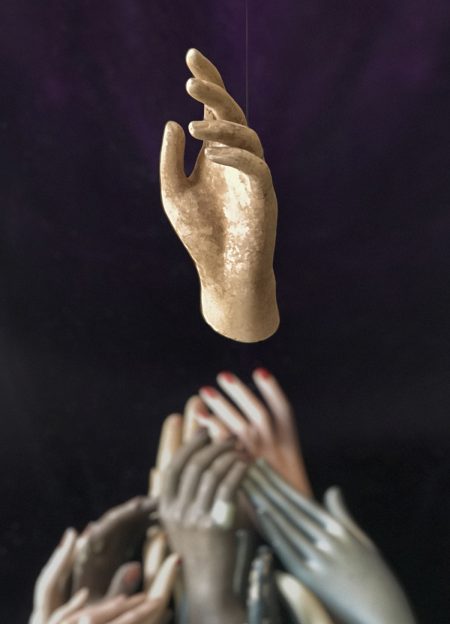 It rests quietly on my coffee table most of the day, self-contained. It's creepily disembodied, yet sweetly disarming — humorous even (think Thing T. Thing). Picking it up gives me a wee frisson, like holding a peach-colored tarantula. I feel an upwelling of disquiet and affection: that's the power held in my hand, my vintage mannequin hand, that is.
This hand is one among many that I have collected over the years. Some are ladylike, others totally Mod, a few ridiculously Jazz Hand-y; my collection of second-hand hands covers a wide gamut of period styles. With the original bodies and heads gone (and all their make-up and hairstyling with them), each orphan hand only obliquely expresses its decade's aesthetic. Yet the differences are striking, making them curious bits of cultural taxonomy. I keep them in small piles like heaps of natural history specimens, creating a quiet cacophony of gestures. But they aren't simply style history conversation pieces. Even sans eyes and mouths — those expected locations of expression — each hand holds a kind of somatic personality and presence. Somewhere in my subconscious, they feel like intimate shards of my self. Growing up drawing and painting and now designing for a living, I sense them as scattered talismans of my desire to always be making and creating with my mitts.
But back to the one lying alone on the coffee table, the one I give the upper hand to. It's the most reticent one, with the accumulated patina and damage of surviving nine or ten decades. Its metal wrist joint sticks out of a beat-up wood base like a Don Martin cartoon amputation. The rubbery skin material is cracked, most dramatically where the fingers start to curve gently inwards. It's suffered greatly, yet has the most tranquil gesture; dreamily greeting you as if from an undersea trench, or gradually recalling the echo of a memory. This one, which really deserves to be named one day like a pet, has become a touchstone of accidental inspiration; it reminds me that the ravages of time and the decay of the body will not destroy the aura of a beautiful gesture.
*
FETISHES: INTRODUCTION | Josh Foer on DEATH MASK | Beth Lisick on MURDERED-OUT KFC BUCKET | Ramona Lyons on RABBIT BOX | Friederike Paetzold on OLD HANDS | Katya Apekina on MISSISSIPPI WATER | Matthew Daniel on PIPE CLEANER FIGURE | Christina Couch on LEECH ACTION FIGURE | Kenneth Goldsmith on THEWLIS SOCK | Matthew Sharpe on GLASSES | Katrina Brown Hunt on DAY OF THE DEAD FIGURINE | Niela Orr on IVERSON SNEAKERS | Toni Schlesinger on CLOUD ERASE BOARD | Carlo Rotella on TONE BAR | Hilary Greenbaum on FAMILY PHOTO | Mimi Lipson on CLAWFOOT TUB | Wayne Chambliss on MATRYOSHKA CHEST | Chelsea Barabas on SWITCHBLADE | Ciara O'Rourke on MOLLY McINTIRE DOLL | Kelli Anderson on MIURA-ORI FOLD | Shawn Wolfe on BOX OF AYDS | Alyssa Giacobbe on LOVE NOTE | Marc Weidenbaum on DUMMY JACK | Abby Rapoport on MAGNATILES | Bryn Smith on DUCK UMBRELLA | Kerry Lauerman on WALL ORGANIZER.
FOSSILS: INTRODUCTION | Allegra Huston on SKATAWAY JACKET | Kevin Obsatz on HOMEMADE NUNCHUKS | Ian Bogost on DESKTOP TELEPHONE | Jeff Lewonczyk on CHA-CHA JACKET SCRAP | Kelly Horan on VOLVO KEY | & 20 MORE.
FLAIR: INTRODUCTION | Cliff Kuang on ROLEX DATEJUST | Ethan Zuckerman on LAPTOP STICKERS | Ann Shoket on LEATHER JACKET | Kembrew McLeod on KEMBREW MERCH | Paola Antonelli on MERMAID TEARS | & 20 MORE.
LOST OBJECTS (vol. 1): INTRODUCTION | Kate Bernheimer on MULLET WIG (ill. Amy Evans) | Dan Piepenbring on COLOGNE (ill. Josh Neufeld) | Doug Dorst on STRATOCASTER (ill. John Holbo) | Paul Lukas on VANILLA BEAN (ill. Allison Bamcat) | Mimi Lipson on DODGE DART (ill. Mister Reusch) | & 20 MORE.
ILLICIT OBJECTS: INTRODUCTION | Kio Stark on PEEPSHOW TOKEN | Sari Wilson on TOMBSTONE PARTS | Annalee Newitz on CAR-BOMB REMNANT | Tito Bottitta on MOONINITE DEVICE | Eric Bennett on DIRTY MAGAZINE | & 20 MORE.
TALISMANIC OBJECTS: INTRODUCTION | Veda Hille on CROCHET SHEEP | Gary Panter on DINOSAUR BONES | Jami Attenberg on SELENITE CRYSTAL | Annie Nocenti on MINIATURE DICE | Wayne Curtis on CLOCK WINDING KEY | & 20 MORE.
POLITICAL OBJECTS: INTRODUCTION | Luc Sante on CAMPAIGN PAMPHLETS | Lydia Millet on PVC POLAR BEAR | Ben Greenman on MATCHBOX CAR | Rob Baedeker on PRESIDENTS PLACEMAT | L.A. Kauffman on WHEATPASTE POSTER | & 20 MORE.
SIGNIFICANT OBJECTS at HILOBROW: PROJECT:OBJECT homepage | PROJECT:OBJECT newsletter | PROJECT:OBJECT objects (Threadless shop — all profits donated to the ACLU) | POLITICAL OBJECTS series (1Q2017) | TALISMANIC OBJECTS series (2Q2017) | ILLICIT OBJECTS series (3Q2017) | LOST OBJECTS vol. 1 series (4Q2017) | FLAIR series (2Q2018) | FOSSIL series (4Q2018) | FETISHES series (2Q2019) | LOST OBJECTS vol. 2 series (4Q2019) | MOVIE OBJECTS series (2Q2020). ALSO SEE: SIGNIFICANT OBJECTS website | SIGNIFICANT OBJECTS collection, ed. Rob Walker and Josh Glenn (Fantagraphics, 2012) | TAKING THINGS SERIOUSLY, ed. Josh Glenn (Princeton Architectural Press, 2007) | TAKING THINGS SERIOUSLY excerpts.