ALWAYS SOMEWHERE ELSE
By: Wayne Chambliss
December 1, 2021
One in a series of posts about Naples, by HILOBROW friend Wayne Chambliss.
BLOOD SIMPLE | MONMOUTH STRIKES AGAIN | LOVE'S LABOUR'S MISLAID | THE EXPERIMENTALIST | ALWAYS SOMEWHERE ELSE | ARE YOU A CHICKEN? | HAMMER OF THE GOTHS | PLACES OF THE HEART.
*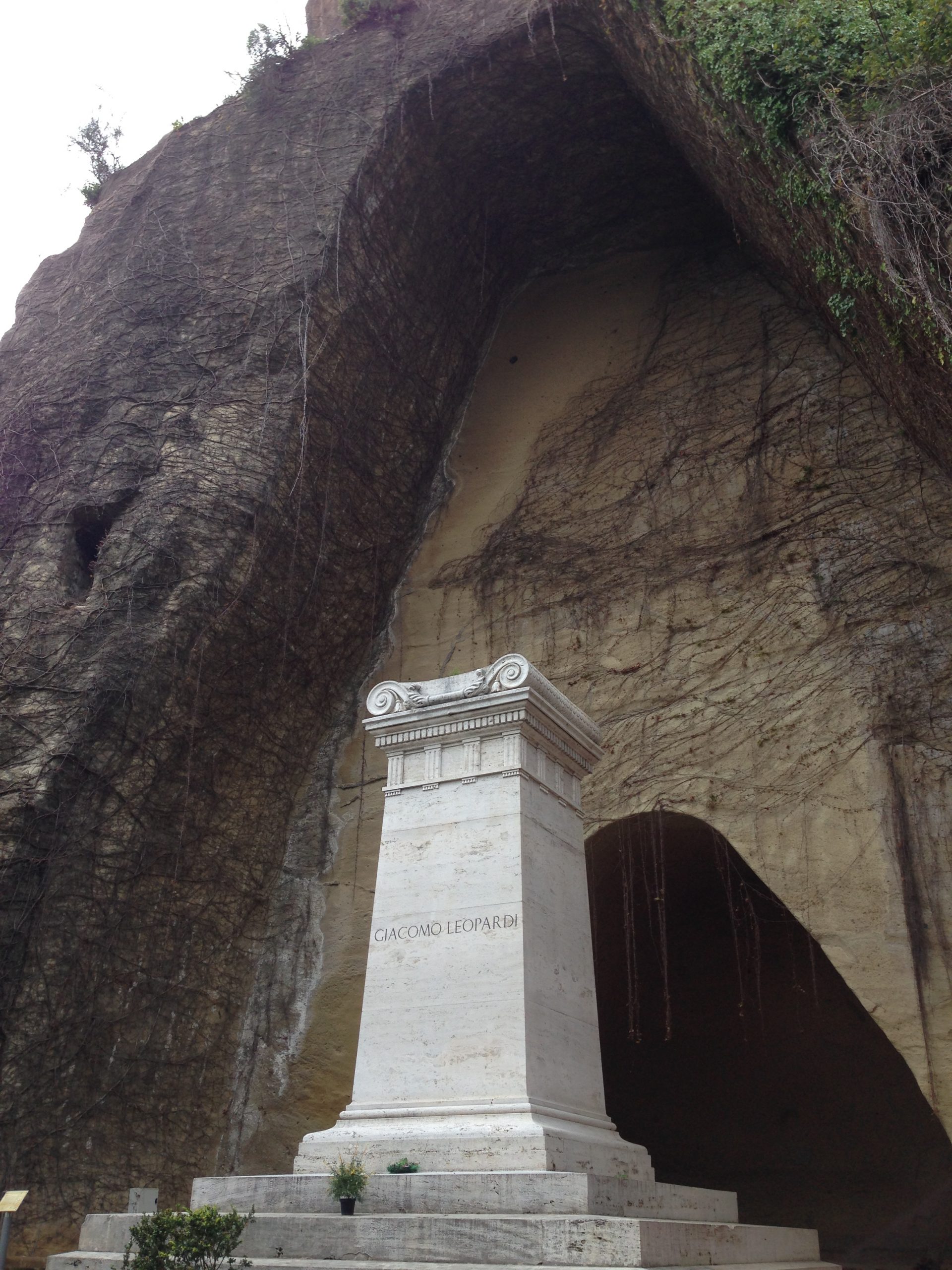 "…Ahi ahi, s'asside
Sull'alte prue la negra cura, e sotto
Ogni clima, ogni ciel, si chiama indarno
Felicità, vive tristezza e regna."
Down the Saint Anthony Ramps — a switchblading roadlet that drops you hundreds of vertical feet in a matter of minutes, shielded from view below by a dirty white waterfall of architecture spilling down a cliffside dihedral of soft yellow stone into the sea — past the best pizza in Naples, and therefore the world, Da Pasqualino (the one at 78, Piazza Sannazaro; not the other one), across the tracks of Stazione di Napoli Mergellina into Piedigrotta, below the so-called Tomb of Virgil, lies the so-called tomb of Giacomo Leopardi.
There is no doubt that Leopardi — catslapped by contemporaries for his cosmic pessimism: "There is no God because I am a hunchback, I am a hunchback because there is no God…", but inarguably the greatest Italian poet since Cecco Angiolieri (I jest. Since Tasso, let's say)* — died in Naples on the 14th of June, 1837. Whether he did so from cholera, which was in season, "heart dropsy", or an overabundance of confetti di Sulmona (sugared almonds with a touch of cinnamon inside — after Publius Ovidius Naso, the second most famous export of Sulmona, and the more frequently consumed — of which the deceased is reported to have eaten nearly three pounds the morning he died) is unclear.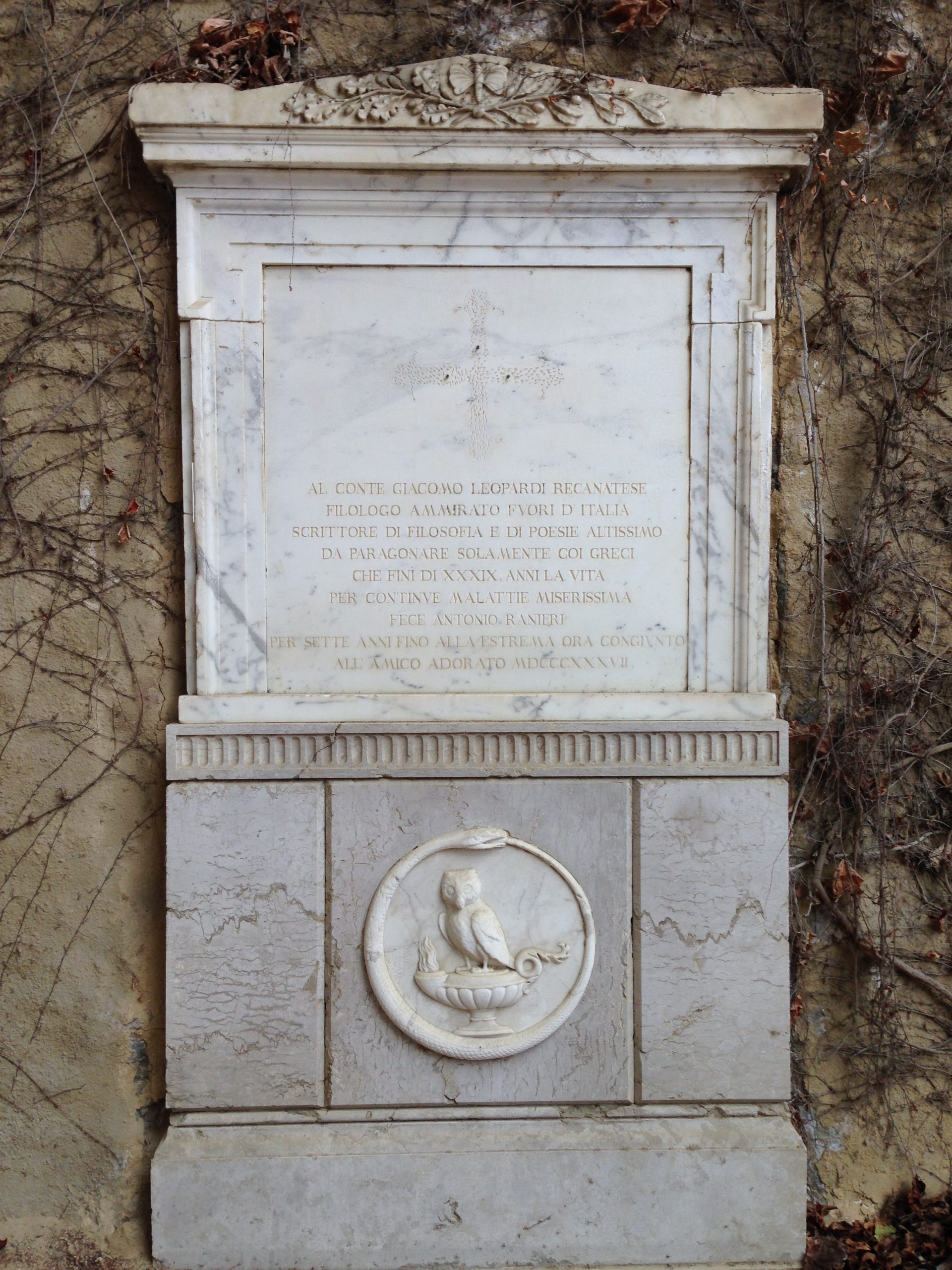 Also unclear: whose bones were disinterred from San Vitale before the Fascists leveled it in 1939. By that time, Leopardi's original tomb inside the church had been declared a national monument. But not inviolate. Prior to their relocation to Parco Vergiliano, the remains were examined: a pair of outsized femurs, no spine or ribcage, no skull, and one shoe. Given the epidemic protocols in place at the time of Leopardi's death, it's likely his corpse was dumped at the Fontanelle charnel house**, or the one in Poggioreale, whatever special consideration his buddy Antonio Ranieri later claimed to have arranged by bribing the doctor and priests.
But who knows for sure? Naples is a place of magical indeterminacy. Wave functions don't collapse out of superposition there, not fully. Not ever. Maybe that's why Leopardi grew to loathe the city. It's why I love it.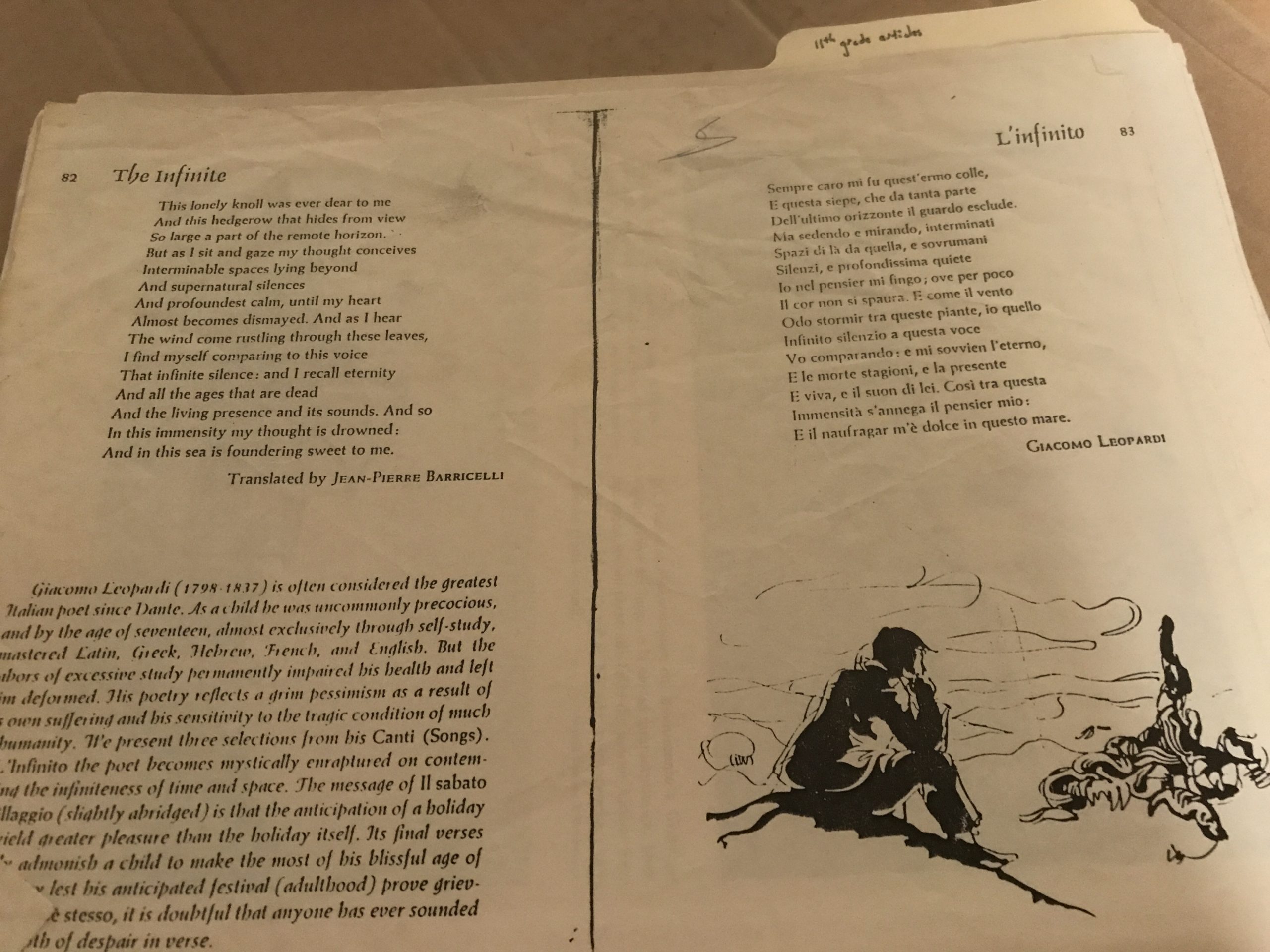 *I could offer multiple proofs, but one will suffice. The concluding lines of "L'infinito":
…Così tra questa

immensità s'annega il pensier mio:

e il naufragar m'è dolce in questo mare.
Quod erat demonstrandum.
**By means of stone stairs, a prosthetic elevator, and a rat-king of thoroughfares more like a topology problem set than city streets, one descends into Sanità and Materdei for a walk among the tombs: Paleochristian catacombs and the immense hypogean charnel house of Fontanelle, where the bones of more than 140,000 indigents and plague victims are arranged architecturally, as with a giant arch composed mainly of femurs framing a life-sized Christ.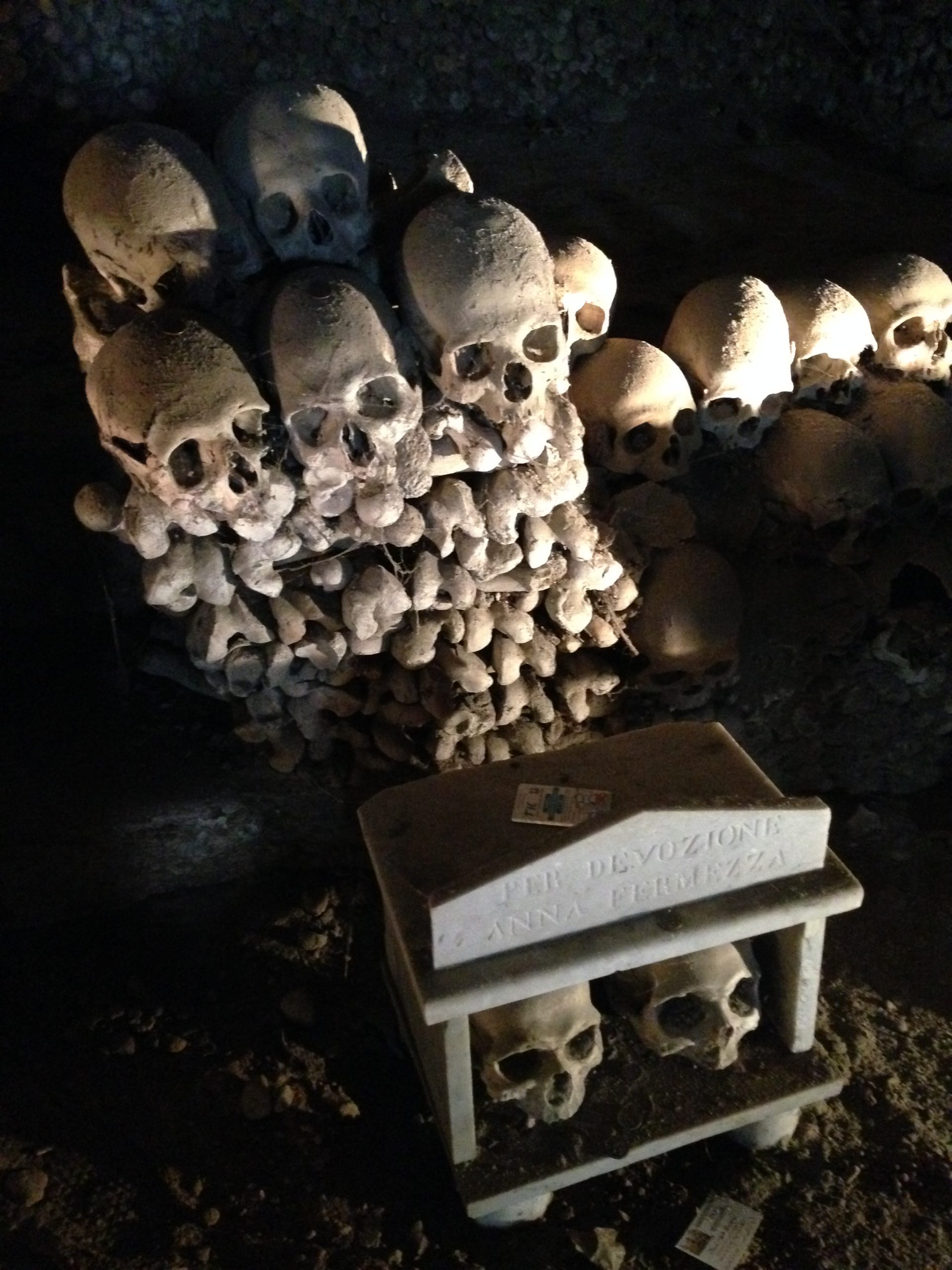 The last time I was down there, I re-emerged from the cave in the early afternoon feeling peckish and asked the watchman where to eat. He pointed across the street at an open door, where a no-nonsense woman in her shirtsleeves named Filumena fed me pasta pomodoro, fresh bread, and Peroni in her kitchen for pennies, as neighbors popped by occasionally to chat or to watch a few minutes of a soap on the TV, and a pair of local auto mechanics played a blitzkrieg hand of scopa while polishing off their lunch. Pasolini grasped something vital about Naples, I think, when he decided to set his Decameron there — filling its crumbling, grassed-in voids and constricted alleys, its subterranean passageways and crypts, and other fragments of ancient (or merely antique) ruin with filthy, leering, snarling, sweating, swearing, guffawing, shouting, gesticulating, violent, raunchy, ineradicable LIFE.
***
ALSO SEE: Wayne Chambliss on RADIOACTIVE TRINITITE | THE RIDE-ALONG | MATRYOSHKA CHEST. Tom Nealon on JENSON'S ROMAN | GARUM | POSCA. Joshua Glenn on BEASTLY NUISANCE (ARGONAUTICA) | James Parker's bastardizations of THE KALEVALA | Matthew Battles on ALDINE ITALIC | Toby Ferris on ANATOMY OF NORBITON: AETIOLOGICAL | Flourish Klink on THE LIFE AND DEATH OF PATROCLUS SON OF MENOETIUS | Gordon Dahlquist on FELLINI SATYRICON.