FETISHES (19)
By: Kelli Anderson
May 26, 2019
The seventh PROJECT:OBJECT volume is a 25-part series of true stories about fetishes. That is to say: objects with which we are obsessed, to which we are devoted, and from the influence of which we cannot escape.
*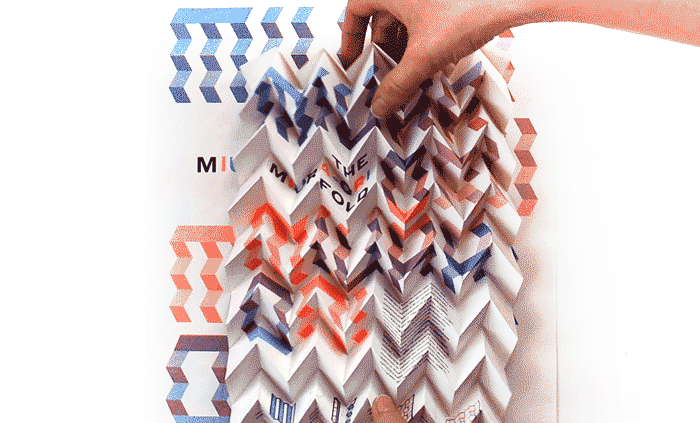 My favorite object is handheld and made from paper. It can be rescued from a recycling bin, folded, and tucked into a pocket — until called upon to satisfy a burning urge to fidget.
It also has superpowers that have transported it far beyond its humble origins… all the way into outer space.
The Miura-ori fold converts an inert sheet into a paper-thin, elastic, multi-directional paper spring. When pulled left/right, a normal piece of paper responds lifelessly, at best, and springs a tear, at worst. With the Miura-ori, on the other hand, the same sheet responds to this same tug with an exaggerated choreography of simultaneous, scissor-like animations.
Like any gadget that amplifies the operator's gesture into a full-blown chorus, it is also: really fun to play with. And because deployment and retraction follow the same path, it remains ordered and predictable. It offers tactile reassurance that things can indeed be complex without being chaotic. It's a comforting object.
As a graphic designer, printing on a Muira-ori-folded surface is a pleasing roll of the dice. While normal paper lays flat — an exposed, unobstructed plain — the Muira-ori surface creates sculptural terrain that systematically shows and hides its facets depending on where the viewer is positioned, like a lenticular image. (I recently made one that looks orange from one angle and blue from the opposing angle.)
To make a Miura-ori for your own pocket and experiments:
Pre-fold a piece of paper with evenly spaced vertical columns.
Score evenly spaced rows that zig-zag, so that they change directions each time they hit a column.
Now make it 3-dimensional by folding each crease in an opposing direction (mountain, then valley, then mountain, then valley).
The object resulting from this preparation is considered a metamaterial. This concept comes via mathematic topology: The shape possesses a negative Poisson's Ratio, meaning that, when pulled left/right, its surface also simultaneously stretches up/down. This behavior is rarely found in nature, and is cumbersome to engineer with traditional mechanical parts, but is useful in applications where compactness, deployability, and minimizing motors is desirable.
Which is how the hundreds-of-years-old craft of origami found its way out into orbit.
Koryo Miura, the astrophysicist and origami practitioner who discovered the Muira-ori fold (the name translates literally to "Miura's basket-weave") worked for Japan's space program in the1980 and '90s. In 1995, the Space Flyer Unit launched from the ground as a compact structure, deploying itself into a massive, thin "space platform" of angle-shifting solar panels once in orbit.
The Miura-ori reminds us that non-dominant tech — yesterday's mechanisms that didn't win out in technological history — return to us as today's "craft." Indigenous knotted textiles were the world's first Google sheets. Woven warp-and-weft computation got us to the moon. Feeling the Miura-ori's mechanical power in my hand, I can't help but daydream about what — for example — cars might look like, had folds triumphed over linkages in the last Industrial Revolution.
*
ALSO SEE: LAWS OF THE UNIVERSE: The Miura Fold
FETISHES: INTRODUCTION | Josh Foer on DEATH MASK | Beth Lisick on MURDERED-OUT KFC BUCKET | Ramona Lyons on RABBIT BOX | Friederike Paetzold on OLD HANDS | Katya Apekina on MISSISSIPPI WATER | Matthew Daniel on PIPE CLEANER FIGURE | Christina Couch on LEECH ACTION FIGURE | Kenneth Goldsmith on THEWLIS SOCK | Matthew Sharpe on GLASSES | Katrina Brown Hunt on DAY OF THE DEAD FIGURINE | Niela Orr on IVERSON SNEAKERS | Toni Schlesinger on CLOUD ERASE BOARD | Carlo Rotella on TONE BAR | Hilary Greenbaum on FAMILY PHOTO | Mimi Lipson on CLAWFOOT TUB | Wayne Chambliss on MATRYOSHKA CHEST | Chelsea Barabas on SWITCHBLADE | Ciara O'Rourke on MOLLY McINTIRE DOLL | Kelli Anderson on MIURA-ORI FOLD | Shawn Wolfe on BOX OF AYDS | Alyssa Giacobbe on LOVE NOTE | Marc Weidenbaum on DUMMY JACK | Abby Rapoport on MAGNATILES | Bryn Smith on DUCK UMBRELLA | Kerry Lauerman on WALL ORGANIZER.
FOSSILS: INTRODUCTION | Allegra Huston on SKATAWAY JACKET | Kevin Obsatz on HOMEMADE NUNCHUKS | Ian Bogost on DESKTOP TELEPHONE | Jeff Lewonczyk on CHA-CHA JACKET SCRAP | Kelly Horan on VOLVO KEY | & 20 MORE.
FLAIR: INTRODUCTION | Cliff Kuang on ROLEX DATEJUST | Ethan Zuckerman on LAPTOP STICKERS | Ann Shoket on LEATHER JACKET | Kembrew McLeod on KEMBREW MERCH | Paola Antonelli on MERMAID TEARS | & 20 MORE.
LOST OBJECTS (vol. 1): INTRODUCTION | Kate Bernheimer on MULLET WIG (ill. Amy Evans) | Dan Piepenbring on COLOGNE (ill. Josh Neufeld) | Doug Dorst on STRATOCASTER (ill. John Holbo) | Paul Lukas on VANILLA BEAN (ill. Allison Bamcat) | Mimi Lipson on DODGE DART (ill. Mister Reusch) | & 20 MORE.
ILLICIT OBJECTS: INTRODUCTION | Kio Stark on PEEPSHOW TOKEN | Sari Wilson on TOMBSTONE PARTS | Annalee Newitz on CAR-BOMB REMNANT | Tito Bottitta on MOONINITE DEVICE | Eric Bennett on DIRTY MAGAZINE | & 20 MORE.
TALISMANIC OBJECTS: INTRODUCTION | Veda Hille on CROCHET SHEEP | Gary Panter on DINOSAUR BONES | Jami Attenberg on SELENITE CRYSTAL | Annie Nocenti on MINIATURE DICE | Wayne Curtis on CLOCK WINDING KEY | & 20 MORE.
POLITICAL OBJECTS: INTRODUCTION | Luc Sante on CAMPAIGN PAMPHLETS | Lydia Millet on PVC POLAR BEAR | Ben Greenman on MATCHBOX CAR | Rob Baedeker on PRESIDENTS PLACEMAT | L.A. Kauffman on WHEATPASTE POSTER | & 20 MORE.
SIGNIFICANT OBJECTS at HILOBROW: PROJECT:OBJECT homepage | PROJECT:OBJECT newsletter | PROJECT:OBJECT objects (Threadless shop — all profits donated to the ACLU) | POLITICAL OBJECTS series (1Q2017) | TALISMANIC OBJECTS series (2Q2017) | ILLICIT OBJECTS series (3Q2017) | LOST OBJECTS vol. 1 series (4Q2017) | FLAIR series (2Q2018) | FOSSIL series (4Q2018) | FETISHES series (2Q2019) | LOST OBJECTS vol. 2 series (4Q2019) | MOVIE OBJECTS series (2Q2020). ALSO SEE: SIGNIFICANT OBJECTS website | SIGNIFICANT OBJECTS collection, ed. Rob Walker and Josh Glenn (Fantagraphics, 2012) | TAKING THINGS SERIOUSLY, ed. Josh Glenn (Princeton Architectural Press, 2007) | TAKING THINGS SERIOUSLY excerpts.