FETISHES (18)
By: Ciara O'Rourke
May 23, 2019
The seventh PROJECT:OBJECT volume is a 25-part series of true stories about fetishes. That is to say: objects with which we are obsessed, to which we are devoted, and from the influence of which we cannot escape.
*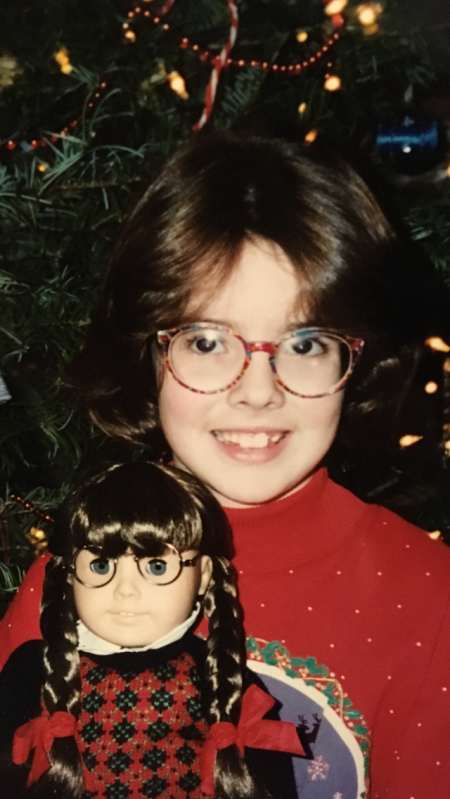 Most of my friends had American Girl dolls when I was in elementary school, and one girl, my best friend, had several. Kneeling on the plush carpet of her bedroom, a space as big as my living room, I watched her secure a bonnet around the neck of Felicity, a doll dressed like a young girl in colonial Williamsburg. Kirsten, the pioneer from Sweden, was wearing her white Santa Lucia costume complete with a candle crown. Samantha's shiny Victorian hair spilled out from under the cover of her canopy bed. My friend slept in something similar.
Back home, I had a baby doll with a soft, worn body and a plastic head that my sister had colored with markers. Her name was Sarah, and she didn't come with a historical backstory or book series like the American Girls. They cost $115 each including a paperback. Accessories and extra outfits were more.
Though nothing in my life suggested that we struggled, I spent much of my childhood worrying that we didn't have enough money. What would we do if we couldn't afford food? We didn't have a Victory Garden like the World War II-era doll, Molly McIntire, or sugar and butter rations to make turnips more palatable (see: Meet Molly: An American Girl, chapter one).
And yet, I badly wanted a Molly doll of my own. Our eyes were different colors but she had brown hair and glasses, like me. And, I believed, owning this toy girl in saddle shoes would cement my social status. I was in third grade and I wanted to belong among the wealthy friends I always felt a few steps behind.
Molly was under the tree at Christmas. Her braids were tied with red ribbons and her white shirt collar curled over a sweater. Molly's bed was more modest than Samantha's, but Santa had not seen fit to give me the $40 twin or her evening accoutrements like a small lamp and miniature hot water bottle and Nancy Drew book ($18). Instead, I dressed Molly in striped pajamas ($20), her robe and red slippers ($20), and stood her in a stand (included).
I could see her from my own bed, where I adopted the doll's same vacant expression after I took off my glasses to sleep. Without a prescription the world blurred and it was in that dark that she started to take on a more menacing shape. I squinted to make sure her fuzzy silhouette was still there. I held my breath hoping she wouldn't move.
Eventually my fear that the doll would come to life overwhelmed my guilt that my mother had spent so much money on a gift I no longer wanted. I asked her to hide Molly in the closet. I fretted about the doll's feelings stuffed behind spare sheets, and then I wondered about my mom's.
Finally, though, she suggested donating Molly for another girl to enjoy. "Someone who couldn't afford one," she said.
Someone, I thought, like us.
*
FETISHES: INTRODUCTION | Josh Foer on DEATH MASK | Beth Lisick on MURDERED-OUT KFC BUCKET | Ramona Lyons on RABBIT BOX | Friederike Paetzold on OLD HANDS | Katya Apekina on MISSISSIPPI WATER | Matthew Daniel on PIPE CLEANER FIGURE | Christina Couch on LEECH ACTION FIGURE | Kenneth Goldsmith on THEWLIS SOCK | Matthew Sharpe on GLASSES | Katrina Brown Hunt on DAY OF THE DEAD FIGURINE | Niela Orr on IVERSON SNEAKERS | Toni Schlesinger on CLOUD ERASE BOARD | Carlo Rotella on TONE BAR | Hilary Greenbaum on FAMILY PHOTO | Mimi Lipson on CLAWFOOT TUB | Wayne Chambliss on MATRYOSHKA CHEST | Chelsea Barabas on SWITCHBLADE | Ciara O'Rourke on MOLLY McINTIRE DOLL | Kelli Anderson on MIURA-ORI FOLD | Shawn Wolfe on BOX OF AYDS | Alyssa Giacobbe on LOVE NOTE | Marc Weidenbaum on DUMMY JACK | Abby Rapoport on MAGNATILES | Bryn Smith on DUCK UMBRELLA | Kerry Lauerman on WALL ORGANIZER.
FOSSILS: INTRODUCTION | Allegra Huston on SKATAWAY JACKET | Kevin Obsatz on HOMEMADE NUNCHUKS | Ian Bogost on DESKTOP TELEPHONE | Jeff Lewonczyk on CHA-CHA JACKET SCRAP | Kelly Horan on VOLVO KEY | & 20 MORE.
FLAIR: INTRODUCTION | Cliff Kuang on ROLEX DATEJUST | Ethan Zuckerman on LAPTOP STICKERS | Ann Shoket on LEATHER JACKET | Kembrew McLeod on KEMBREW MERCH | Paola Antonelli on MERMAID TEARS | & 20 MORE.
LOST OBJECTS (vol. 1): INTRODUCTION | Kate Bernheimer on MULLET WIG (ill. Amy Evans) | Dan Piepenbring on COLOGNE (ill. Josh Neufeld) | Doug Dorst on STRATOCASTER (ill. John Holbo) | Paul Lukas on VANILLA BEAN (ill. Allison Bamcat) | Mimi Lipson on DODGE DART (ill. Mister Reusch) | & 20 MORE.
ILLICIT OBJECTS: INTRODUCTION | Kio Stark on PEEPSHOW TOKEN | Sari Wilson on TOMBSTONE PARTS | Annalee Newitz on CAR-BOMB REMNANT | Tito Bottitta on MOONINITE DEVICE | Eric Bennett on DIRTY MAGAZINE | & 20 MORE.
TALISMANIC OBJECTS: INTRODUCTION | Veda Hille on CROCHET SHEEP | Gary Panter on DINOSAUR BONES | Jami Attenberg on SELENITE CRYSTAL | Annie Nocenti on MINIATURE DICE | Wayne Curtis on CLOCK WINDING KEY | & 20 MORE.
POLITICAL OBJECTS: INTRODUCTION | Luc Sante on CAMPAIGN PAMPHLETS | Lydia Millet on PVC POLAR BEAR | Ben Greenman on MATCHBOX CAR | Rob Baedeker on PRESIDENTS PLACEMAT | L.A. Kauffman on WHEATPASTE POSTER | & 20 MORE.
SIGNIFICANT OBJECTS at HILOBROW: PROJECT:OBJECT homepage | PROJECT:OBJECT newsletter | PROJECT:OBJECT objects (Threadless shop — all profits donated to the ACLU) | POLITICAL OBJECTS series (1Q2017) | TALISMANIC OBJECTS series (2Q2017) | ILLICIT OBJECTS series (3Q2017) | LOST OBJECTS vol. 1 series (4Q2017) | FLAIR series (2Q2018) | FOSSIL series (4Q2018) | FETISHES series (2Q2019) | LOST OBJECTS vol. 2 series (4Q2019) | MOVIE OBJECTS series (2Q2020). ALSO SEE: SIGNIFICANT OBJECTS website | SIGNIFICANT OBJECTS collection, ed. Rob Walker and Josh Glenn (Fantagraphics, 2012) | TAKING THINGS SERIOUSLY, ed. Josh Glenn (Princeton Architectural Press, 2007) | TAKING THINGS SERIOUSLY excerpts.