THE EXPERIMENTALIST
By: Wayne Chambliss
November 26, 2021
One in a series of posts about Naples, by HILOBROW friend Wayne Chambliss.
BLOOD SIMPLE | MONMOUTH STRIKES AGAIN | LOVE'S LABOUR'S MISLAID | THE EXPERIMENTALIST | ALWAYS SOMEWHERE ELSE | ARE YOU A CHICKEN? | HAMMER OF THE GOTHS | PLACES OF THE HEART.
*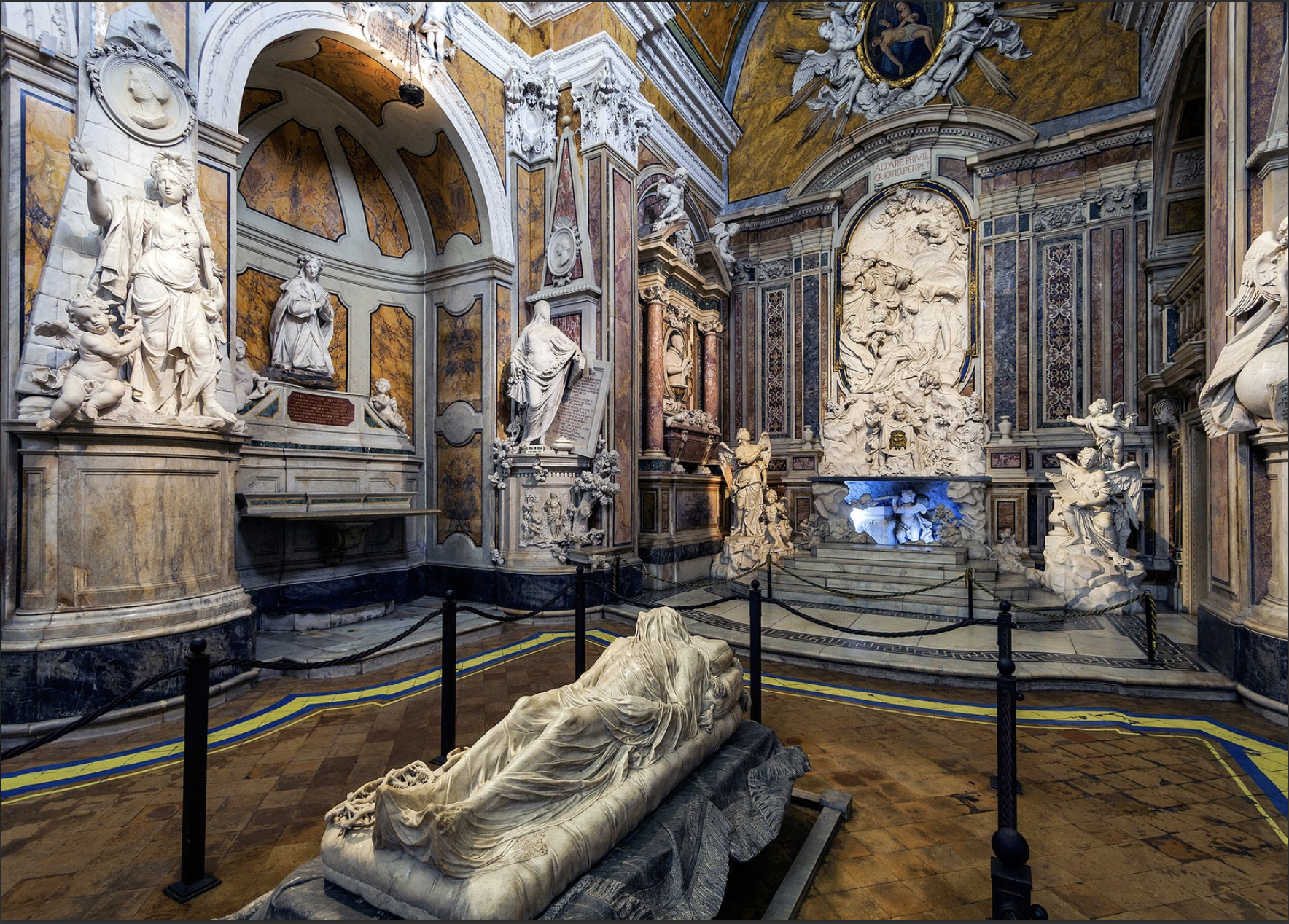 Cappella Sansevero de' Sangri — opposite the palazzo where Carlo Gesualdo committed (a few of) his terrible crimes* — contains five of the most remarkable statues in Italy. Three are wrought, impossibly, from marble; no one really knows what the two in the basement are made of. These and other astonishments were produced during the chapel's 1749-1771 restoration under the extremely specific direction of its namesake, Raimondo di Sangro, seventh Prince of Sansevero: the Neapolitan Dr. Faustus.
A product of the Jesuit's Collegium Romanum (and its Kircherian museum, natch), at age 16 Raimondo cut ahead of his pappy in the line of princely succession** and went on to become an accomplished soldier and military theorist, inventor and engineer, alchemist, publisher, translator, and first Grand Master of Neapolitan Masonry (for which he was excommunicated but later restored to the faith by another insatiable polymath, Benedict XIV) — i.e., a maximalist. He built underground laboratories for experimental chemistry, hydrostatics and mechanics, multicolor typesetting, pyrotechnics, &c., and supposedly rode about the city in an amphibious carriage with paddle wheels and cork horses. Unfortunately, di Sangro destroyed his workshops, notes, and prototypes before he died, so we don't have much solid evidence with which to firm up the fog of legend surrounding the man. What we do have is the Cappella Sansevero, the family chapel which, for the last twenty-two years of his life, Raimondo devoted his considerable talents, energies, and resources to transforming into something truly, ravishingly, weird. That much, at least, is set in stone.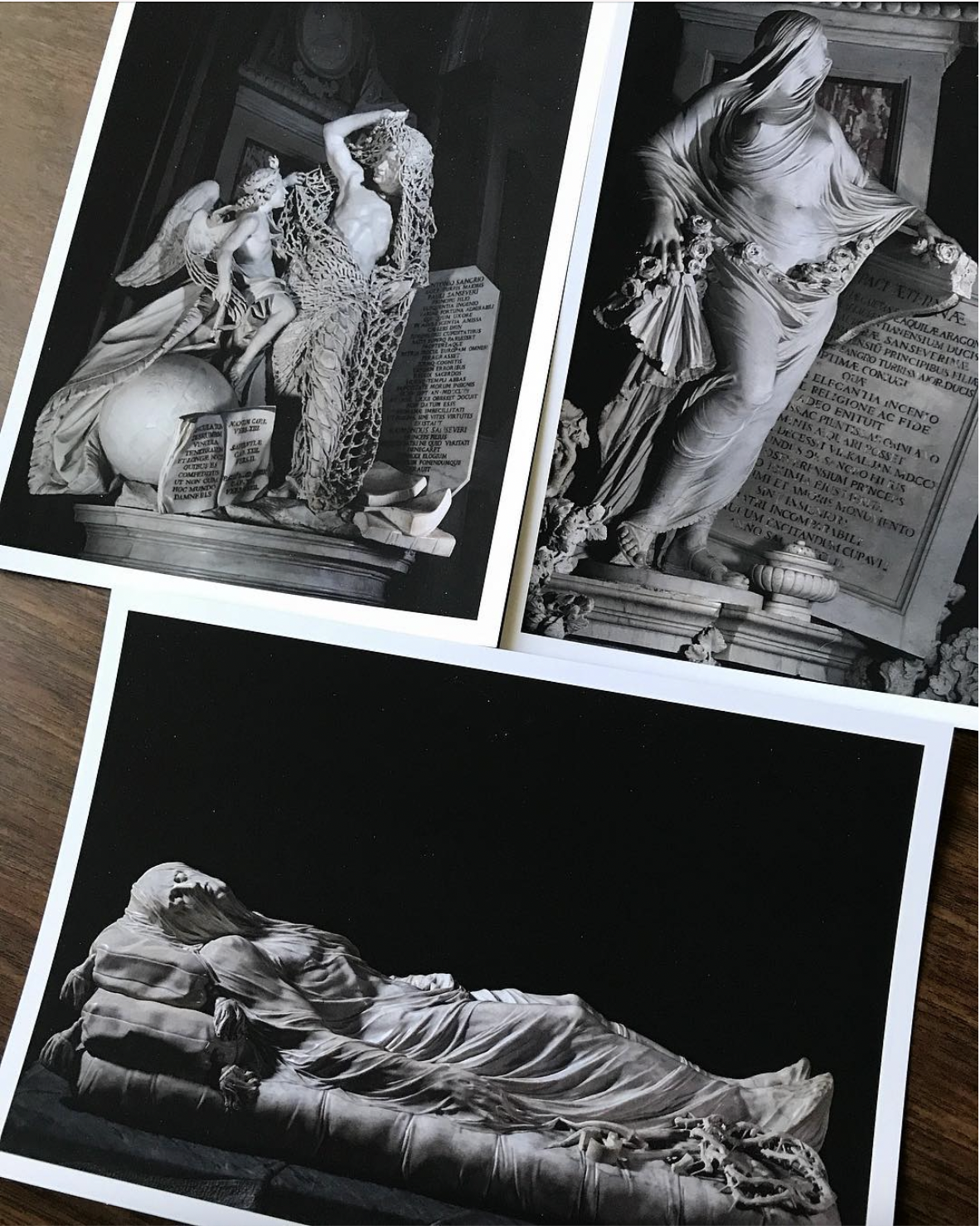 Although the Cappella Sansevero was probably not, as rumor would eventually have it, built on an ancient site of Isis worship, its restoration did coincide with the unearthing of a nearly intact temple of Isis at Pompeii — one of the first structures recovered at the behest of di Sangro's longtime friend, Charles Bourbon — which might account for some peculiar resonances in and around the chapel. How should Antonio Corradini's sculpture Modesty (aka Veiled Truth) be read, for instance? The answer, as with any esoteric content, depends on the observer's degree of initiation. The thing is at once allegorical of personal (i.e., an Oedipal complex sublimated unto sublimity), Christian, and orders of Masonic (where's the Hiram Abiff?!) meaning. It is also clearly a nod to the veiled Isis at Sais, sister-wife of Osiris***, the inscription beneath which, according to the 5th-century Neoplatonist Proclus, amending Plutarch, once read: "I am all that has been and is and shall be; and no one has ever lifted my garment. The fruit of my womb was the sun." Her virgin birth of Ra prefigured Mary's of Christ: links in a long chain of solar deities produced by parthenogenesis.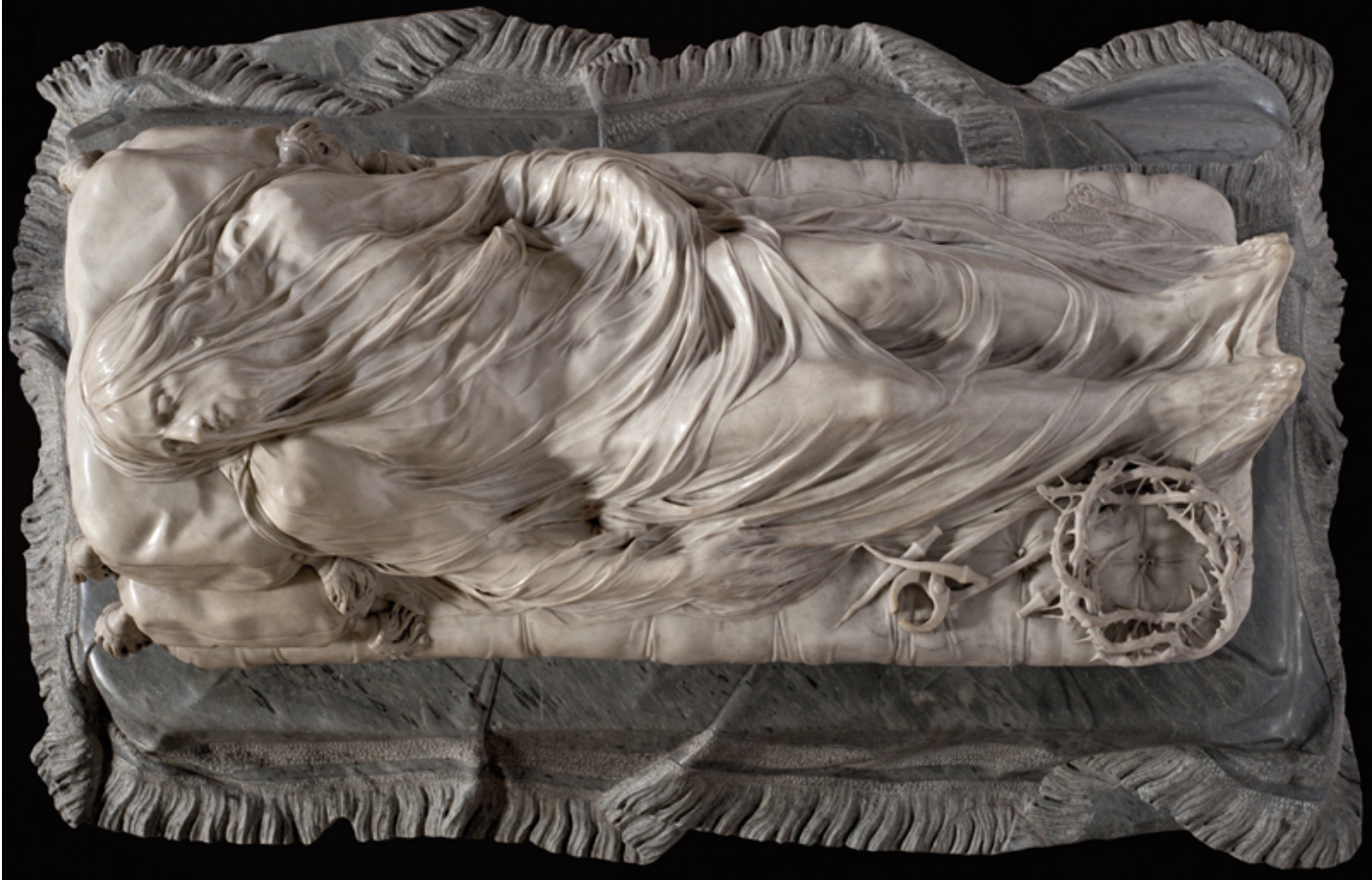 But I digress. And haven't left room to discuss The Veiled Christ of Giuseppe Sanmartino — a sculpture so good that Antonio Canova (another would-be Faust?) once declared he'd give up ten years of his life to have carved it. So good, the veil was believed to be the result of an alchemical mineralization process. So good that di Sangro was rumored to have blinded Sanmartino afterward to prevent him from sculpting again.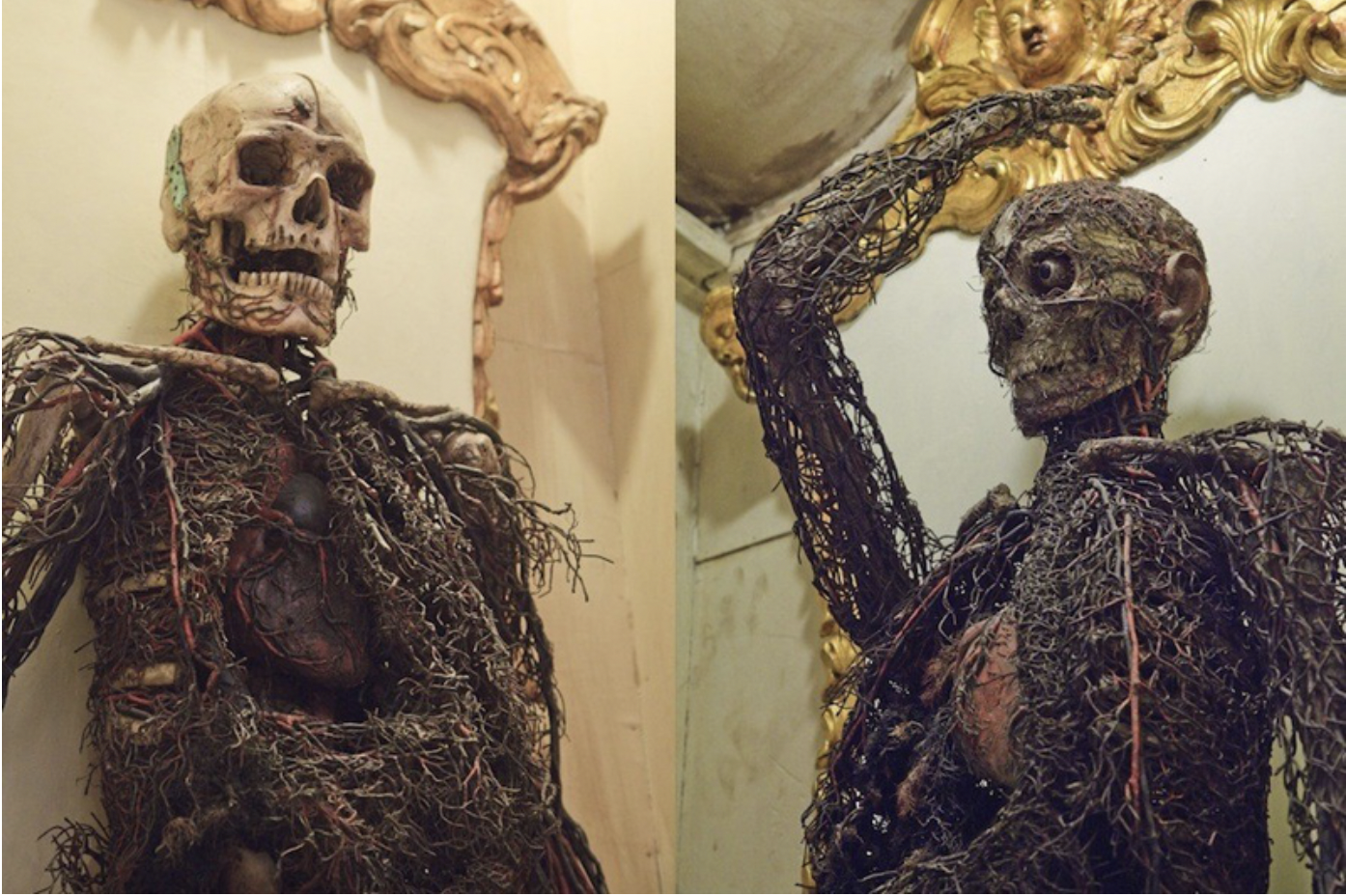 Or the fact that di Sangro either figured out how to plasticize the vasculature of human bodies two centuries before Gunther von Hagens did or else discovered a sculptor of alien genius who could simulate it.
Or so much else. Pity.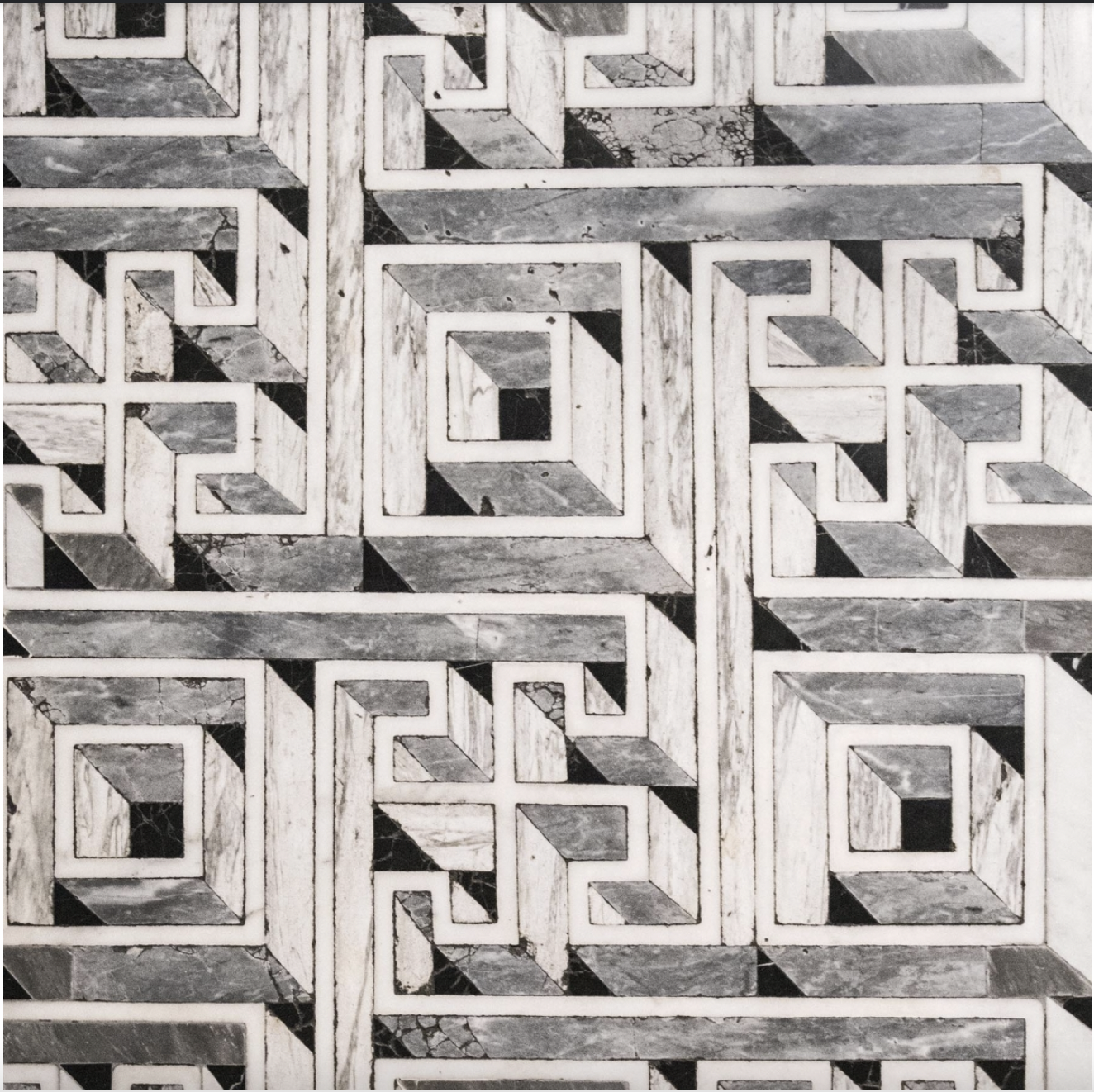 When the prince died in 1771, the chapel was in the process of being tiled, floor to ceiling, to look like the maze world of Hellraiser 2. I'm not sure the labyrinth was meant to be completed before his death, however. Benedetto Croce reports a local legend about an abortive resurrection attempt (to do with Raimondo ordering a slave to chop him to pieces, put the meat in a magical box, and instruct the rest of the di Sangros as to when he'd finish reconstituting himself and they could open its lid — instructions they ignored, obviously, opening the box prematurely and causing his screaming, half-fused carcass to be yanked into hell). A maze, after all, isn't actually for one's getting out of, but for preventing their escape.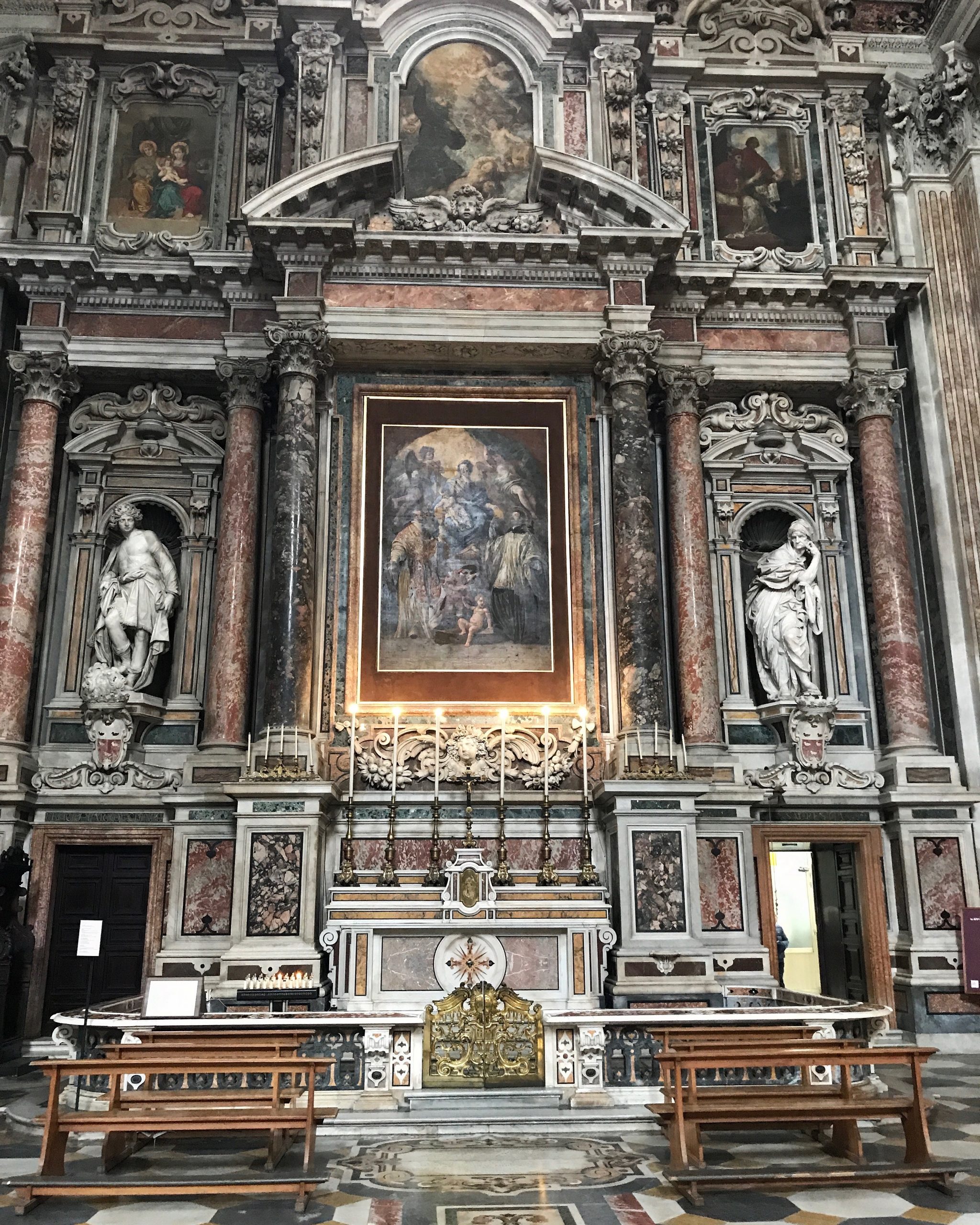 *Ever heard of Carlo Gesualdo? The experimental 16th-century composer was a musical Expressionist three centuries before his time. He used a sort of chromatic language that wouldn't be heard again until Wagner, as well as word paintings and other wild stuff. He was also a notorious murderer. His wife, Donna Maria d'Avalos, was a once-in-a-generation sexpot whose first two husbands died of "an excess of connubial bliss", and who may also have been the model for the Mona Lisa. At some point during their marriage she took a lover — a cross-dressing aristo with legendary sexual stamina named Fabrizio Carafa. Carlo heard word and set a trap, caught them in flagrante delicto in the Palazzo Sansevero, and tore them to pieces. When he was done, he staggered out, exclaimed, "I can't believe she's dead!", dashed back into the room, and stabbed her twenty-eight more times. Then dragged the bodies into the street in front of the house, where a passing monk is supposed to have defiled the wife's corpse. In the wake of these horrors, the composer — also Prince of Venosa, btw — fled for his castle outside the city and cut down every tree surrounding it for miles, so he could more clearly see if anyone was approaching for vengeance. Doubting the paternity of his second son, the child was swung from a rope out a window until he starved to death.
At some point, Carlo remarried, procured access to an even richer, more cultured, court, and went on to produce his famous madrigals, Tenebrae, etc. He also got embroiled in the witchcraft trial and execution of two of his servants. And probably died of infections from the prodigious daily flagellations he kept twelve men on staff for at the castle. This is his tomb in Gesù Nuovo. When we went to the church asking about it, the volunteer seemed confused. Finally, she understood who we were after. "Ahh! You mean the guy who killed those people!" she exclaimed, pointing us in the right direction. As if we were talking about something from the news last week instead of 1590. I've said it before, I know, but: Naples.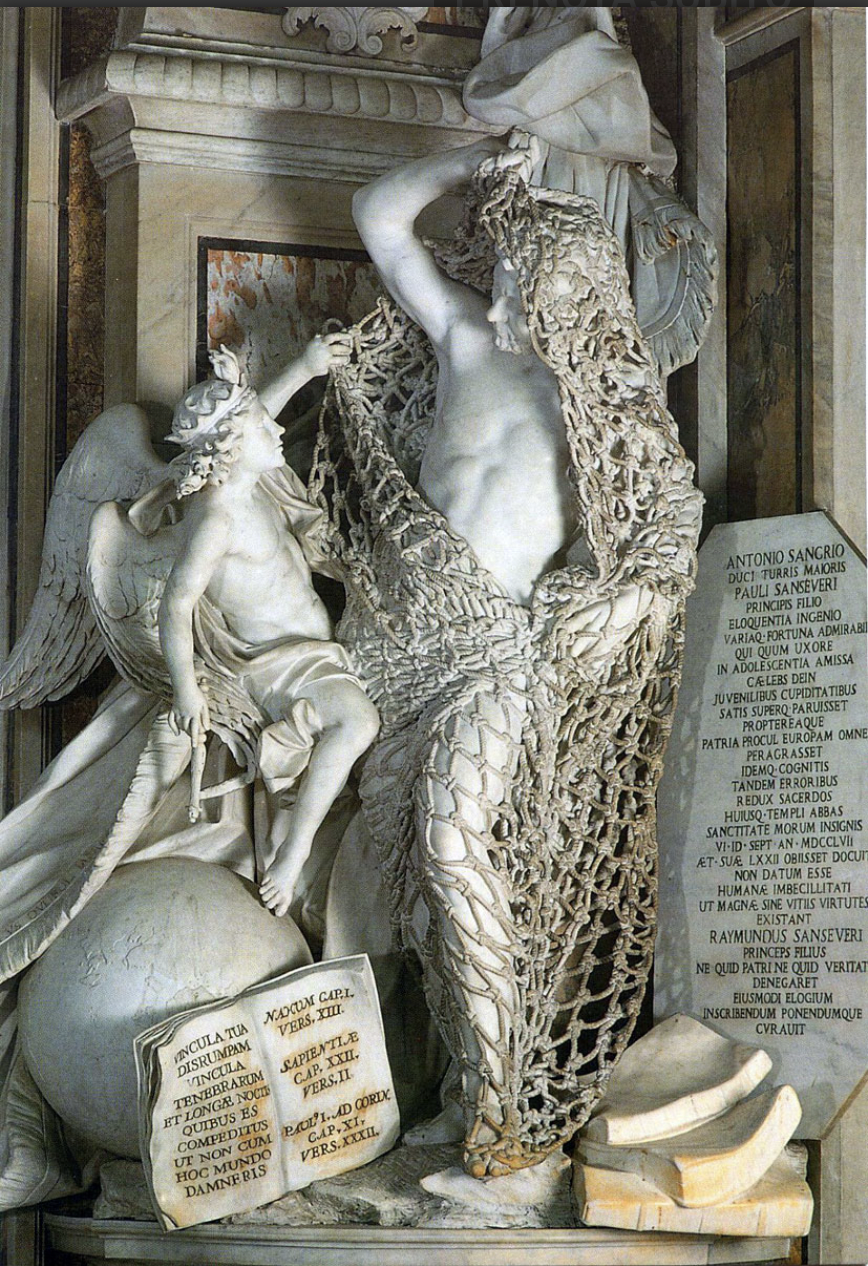 **Raimondo's mother died eleven months after giving birth to him. Sometime thereafter, his father, Antonio di Sangro, Duke of Torremaggiore and legitimate heir to the principate of his father, Paolo (sixth Prince of Sansevero and a Knight of the Golden Fleece), took a fancy to a young woman. Her father, for whatever reason, didn't approve of the match. So Antonio killed him. Then, after the Mayor of Sansevero charged Antonio with murder, he fled to the Habsburg court in Vienna, waited until he was exonerated, rode back to Sansevero and killed the Mayor too. That was a bit much, even by the standards of 18th-century Naples, so he beat a retreat to a Roman monastery, yielded the family titles and property up to young Raimondo, and hunkered down to a life of legally immunized Christian contemplation.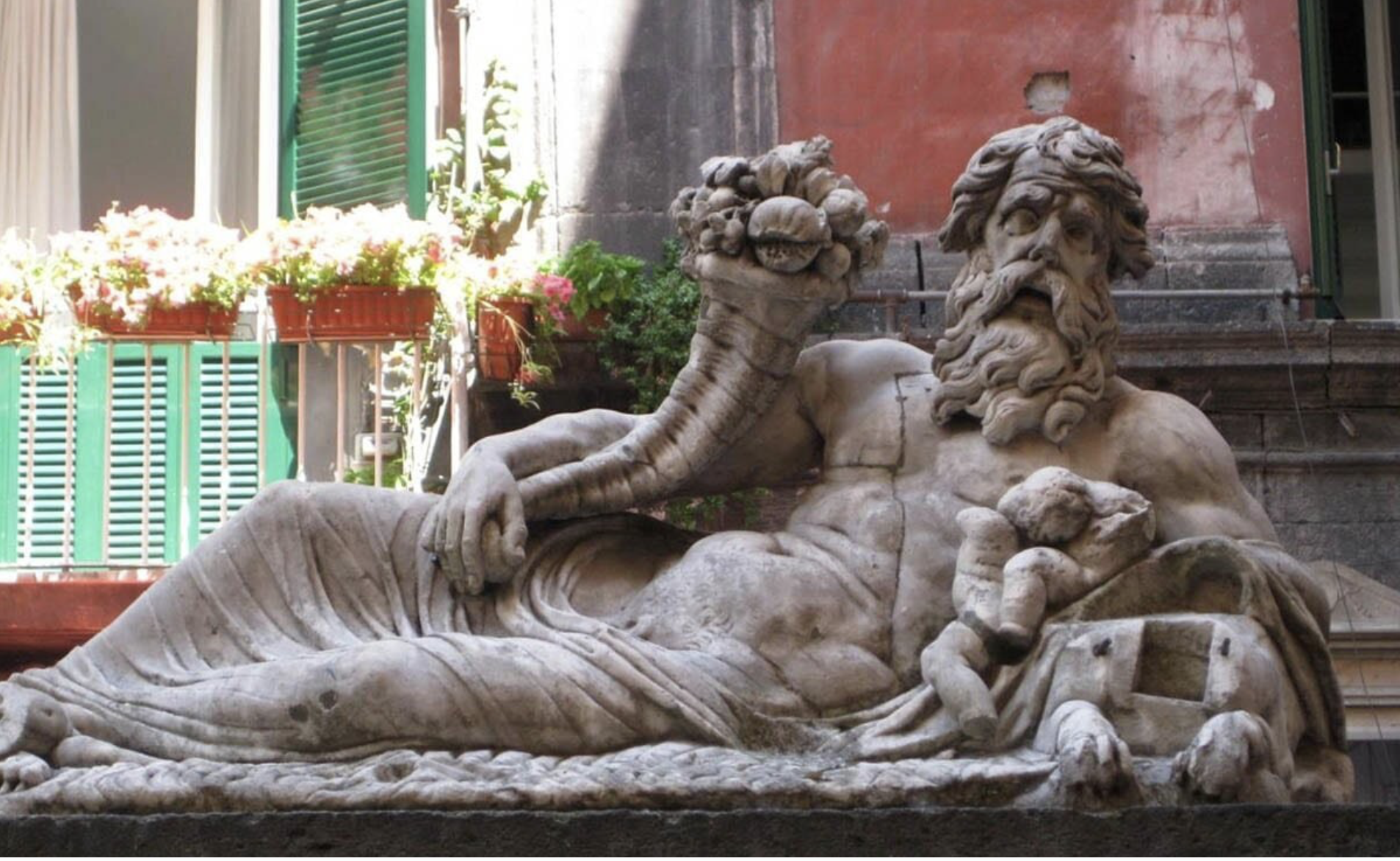 ***Behind the Palazzo Sansevero is the statue of Nile (and the best vinyl shop in the city — Tattoo Records). Which puts me in mind of the Nile fish (the medjed — a species of elephantfish worshipped at Per-Medjed, later Oxyrhynchus, Egypt) that is supposed to have eaten the penis of Osiris. Something curious must have happened as that powerful pecker passed through a piscine digestive tract: Oxyrhynchus is where, a hundred years ago, fragments of The Gospel of Thomas first surfaced. As far as Team Ichthys mascots go, the medjed is pretty great. Like all Mormyrinae, it has an enormous brain for its size (3.1% of its body mass, as compared to 2% in humans), which consumes an ungodly amount of bodily available oxygen: as much as 60% of the total O2 consumed by the fish, as compared to 20% in human brains. Most of the energy generated by that consumption is put to work producing and interpreting electrical fields through a variety of adaptations for sophisticated electroreception in the medjed's gigantocerebellum. I mean, if you're going to feed the multitude and one course is metaphorical fish, it might as well be something theophagus with a huge fucking brain that sees and speaks electrically in ways that enable it to survive, age after age, down in the mud.
***
ALSO SEE: Wayne Chambliss on RADIOACTIVE TRINITITE | THE RIDE-ALONG | MATRYOSHKA CHEST. Tom Nealon on JENSON'S ROMAN | GARUM | POSCA. Joshua Glenn on BEASTLY NUISANCE (ARGONAUTICA) | James Parker's bastardizations of THE KALEVALA | Matthew Battles on ALDINE ITALIC | Toby Ferris on ANATOMY OF NORBITON: AETIOLOGICAL | Flourish Klink on THE LIFE AND DEATH OF PATROCLUS SON OF MENOETIUS | Gordon Dahlquist on FELLINI SATYRICON.