FETISHES (11)
By: Niela Orr
May 2, 2019
The seventh PROJECT:OBJECT volume is a 25-part series of true stories about fetishes. That is to say: objects with which we are obsessed, to which we are devoted, and from the influence of which we cannot escape.
*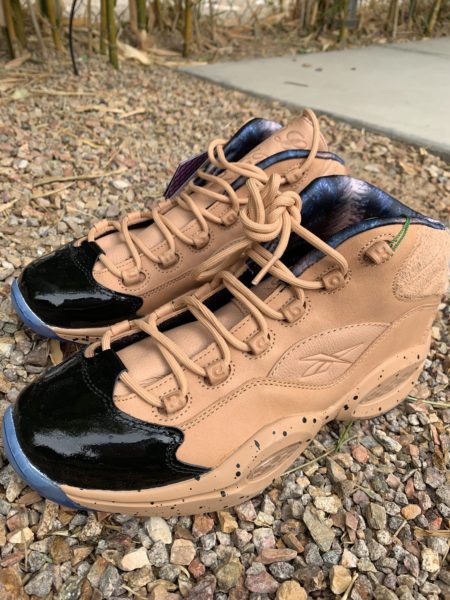 I was in a moment of personal transition — moving from Philly to Las Vegas for a writing residency — when I splurged on the Melody Ehsani Iverson Questions, a redesign of Allen Iverson's signature Reebok Questions. They're a collaboration with the LA fashion designer Ehsani, who is becoming known for exploring the legacies of oft-misunderstood black icons like Iverson and Lauryn Hill. She uses soft, vegetable tan leather and rough-sounding polyamide fabric to create thrilling contrasts that hint at celebrity personas and their complicated layers.
The Questions' name is a cheeky reference to Iverson's nom de play, "The Answer," but it ended up subversive, invoking more about his mind and famous evocation — "Practice? We talkin' 'bout practice?" — which would come years later, after the shoe's 1996 premiere. Iverson, The Answer, is more of an asker. Iverson is more open than a mouth that gives way to a wagging tongue, or the analogue of that organ you'll find in a basketball shoe, wide and ready for you to step into. This is especially true of the Questions' luxurious texture, which invites you to sink in like quicksand, or the slowly dawning realization that the '90s and all they connote has been over for a very long time.
The Ehsani Questions feel like space shoes on my usually boot-and-vegan-shoe-bedecked feet. Their camel and navy blue colorway recalls a groovy lava lamp planet in a sci-fi film, or the abutment of Vegas's sand-colored strip malls and the black mountains that peak behind them mid-afternoon, when the sky makes them look more indigo. The shoes are the shade of some tailored suits Iverson might have worn to a Virginia courthouse in the mid-'90s, when he was on trial for supposedly "maiming a mob" at a Hampton bowling alley in 1993. His 15-year conviction was later overturned, and he was free to become what he became.
Even though I didn't really have the money, I purchased the shoes as a hometown souvenir. I bought them on my phone while I was in the airport waiting to board my plane, on what felt like a whim, but which was really the result of years of harboring desire. I'm not a sneakerhead; rather, I have long pined for A.I.'s form of artistic practice, which is some combo of moving with determination, being aware of one's humility, embodying confidence, and rigorously interrogating what's around you. This includes arbitrariness and its ills, the idle hands of NBA bureaucrats and bad dressers.
I don't think I'll wear the Questions too many times in Vegas, because the taupe-colored dirt and pebbles that line the city's xeriscaped streets will inevitably find their way onto my shoes. The sand might render the debossed version of Iverson's "Hold My Own" tat, printed on the sneaker's tongue, illegible. But then again some erasure might make them more true-to-form, because every time someone raises a quizzical eyebrow at the muddied lettering, they'll have to stitch the meaning together.
Present-day Philly basketball culture is all about "The Process," or the Sixers' gradual installment of a winning culture and ultimately a championship after years and years of tanking for valued draft picks. I grew up in the city during Iverson's reign — the team's "Answer" era — and it feels strange yet linguistically satisfying to move from a state of definitiveness to one all about being in the unfolding of something.
*
FETISHES: INTRODUCTION | Josh Foer on DEATH MASK | Beth Lisick on MURDERED-OUT KFC BUCKET | Ramona Lyons on RABBIT BOX | Friederike Paetzold on OLD HANDS | Katya Apekina on MISSISSIPPI WATER | Matthew Daniel on PIPE CLEANER FIGURE | Christina Couch on LEECH ACTION FIGURE | Kenneth Goldsmith on THEWLIS SOCK | Matthew Sharpe on GLASSES | Katrina Brown Hunt on DAY OF THE DEAD FIGURINE | Niela Orr on IVERSON SNEAKERS | Toni Schlesinger on CLOUD ERASE BOARD | Carlo Rotella on TONE BAR | Hilary Greenbaum on FAMILY PHOTO | Mimi Lipson on CLAWFOOT TUB | Wayne Chambliss on MATRYOSHKA CHEST | Chelsea Barabas on SWITCHBLADE | Ciara O'Rourke on MOLLY McINTIRE DOLL | Kelli Anderson on MIURA-ORI FOLD | Shawn Wolfe on BOX OF AYDS | Alyssa Giacobbe on LOVE NOTE | Marc Weidenbaum on DUMMY JACK | Abby Rapoport on MAGNATILES | Bryn Smith on DUCK UMBRELLA | Kerry Lauerman on WALL ORGANIZER.
FOSSILS: INTRODUCTION | Allegra Huston on SKATAWAY JACKET | Kevin Obsatz on HOMEMADE NUNCHUKS | Ian Bogost on DESKTOP TELEPHONE | Jeff Lewonczyk on CHA-CHA JACKET SCRAP | Kelly Horan on VOLVO KEY | & 20 MORE.
FLAIR: INTRODUCTION | Cliff Kuang on ROLEX DATEJUST | Ethan Zuckerman on LAPTOP STICKERS | Ann Shoket on LEATHER JACKET | Kembrew McLeod on KEMBREW MERCH | Paola Antonelli on MERMAID TEARS | & 20 MORE.
LOST OBJECTS (vol. 1): INTRODUCTION | Kate Bernheimer on MULLET WIG (ill. Amy Evans) | Dan Piepenbring on COLOGNE (ill. Josh Neufeld) | Doug Dorst on STRATOCASTER (ill. John Holbo) | Paul Lukas on VANILLA BEAN (ill. Allison Bamcat) | Mimi Lipson on DODGE DART (ill. Mister Reusch) | & 20 MORE.
ILLICIT OBJECTS: INTRODUCTION | Kio Stark on PEEPSHOW TOKEN | Sari Wilson on TOMBSTONE PARTS | Annalee Newitz on CAR-BOMB REMNANT | Tito Bottitta on MOONINITE DEVICE | Eric Bennett on DIRTY MAGAZINE | & 20 MORE.
TALISMANIC OBJECTS: INTRODUCTION | Veda Hille on CROCHET SHEEP | Gary Panter on DINOSAUR BONES | Jami Attenberg on SELENITE CRYSTAL | Annie Nocenti on MINIATURE DICE | Wayne Curtis on CLOCK WINDING KEY | & 20 MORE.
POLITICAL OBJECTS: INTRODUCTION | Luc Sante on CAMPAIGN PAMPHLETS | Lydia Millet on PVC POLAR BEAR | Ben Greenman on MATCHBOX CAR | Rob Baedeker on PRESIDENTS PLACEMAT | L.A. Kauffman on WHEATPASTE POSTER | & 20 MORE.
SIGNIFICANT OBJECTS at HILOBROW: PROJECT:OBJECT homepage | PROJECT:OBJECT newsletter | PROJECT:OBJECT objects (Threadless shop — all profits donated to the ACLU) | POLITICAL OBJECTS series (1Q2017) | TALISMANIC OBJECTS series (2Q2017) | ILLICIT OBJECTS series (3Q2017) | LOST OBJECTS vol. 1 series (4Q2017) | FLAIR series (2Q2018) | FOSSIL series (4Q2018) | FETISHES series (2Q2019) | LOST OBJECTS vol. 2 series (4Q2019) | MOVIE OBJECTS series (2Q2020). ALSO SEE: SIGNIFICANT OBJECTS website | SIGNIFICANT OBJECTS collection, ed. Rob Walker and Josh Glenn (Fantagraphics, 2012) | TAKING THINGS SERIOUSLY, ed. Josh Glenn (Princeton Architectural Press, 2007) | TAKING THINGS SERIOUSLY excerpts.