FETISHES (6)
By: Matthew Daniel
April 17, 2019
The seventh PROJECT:OBJECT volume is a 25-part series of true stories about fetishes. That is to say: objects with which we are obsessed, to which we are devoted, and from the influence of which we cannot escape.
*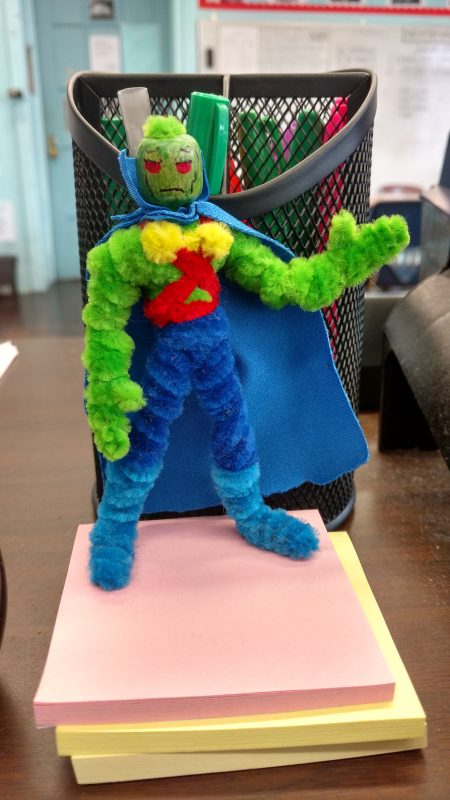 My first foray into the teaching profession came in the realm of special education. My degree prepared me for many of the practicalities of teaching: how to lesson plan, how to organize a classroom, and how to walk into a room with an unearned air of confidence and a persuasive smile. The wide swath of behavioral adventures I encountered during my special education tenure, however, was a necessary shock and awe campaign that managed to contextualize the road ahead and harden my resolve. One of the more self-possessed students I encountered then was a unique case. He would decline to participate verbally in any situation not an emergency, generally only offering a yes or no nod as acknowledgment. His energies, instead, went toward an activity he found more fruitful — the construction of superhero figurines using pipe cleaners. As a burgeoning teacher looking for any way to connect with detached students, I was elated. I made several attempts to get him to share his craft with the class. A lesson on building action figures taught by a fellow student? Home run. With a single nod no, he declined to expose his intellectual property to the group. Instead, he struck up a booming business at school: ten dollars per figure, no teacher discounts. My first buy was the Martian Manhunter, J'onn J'onzz.
In comics lore, the Martian Manhunter is the last of his kind; an alien adrift in a universe he doesn't and maybe will never understand. He's lauded and respected for the heroic things he does, but operates on his own with no real, tangible support. After rougher days in education, I can strangely relate. Teaching is ritual and that is both the profession's downfall and saving grace. Each day, you see the same faces in the same room, preach the merits of the same subject, and fight the same battles as best you can. The endpoint of this daily ceremony is most often the teacher desk. Amid stacks of papers to be graded and endless other to-dos, that is where J'onn Jonzz has sat each year of my career. I take the figure into my hands, straightening the loose, fraying fabric cape around the shoulders and run my fingers along the tightly fitted, carefully shaped pipe cleaners constituting his body. The figure is a reminder of why I chose to become a teacher in the first place, and its pull grows increasingly strong in the afternoons. It has been a challenging semester and my work/life balance has suffered. I have a therapy appointment to get to soon, in which I'll discuss the same set of frustrations that has plagued my life as an educator from the start. I look the Martian in the eyes for longer than I should and gently set him back down. From my desk, he has observed the ups and downs of many semesters. Leaning back in my chair, I'm not sure how many more I have left.
*
FETISHES: INTRODUCTION | Josh Foer on DEATH MASK | Beth Lisick on MURDERED-OUT KFC BUCKET | Ramona Lyons on RABBIT BOX | Friederike Paetzold on OLD HANDS | Katya Apekina on MISSISSIPPI WATER | Matthew Daniel on PIPE CLEANER FIGURE | Christina Couch on LEECH ACTION FIGURE | Kenneth Goldsmith on THEWLIS SOCK | Matthew Sharpe on GLASSES | Katrina Brown Hunt on DAY OF THE DEAD FIGURINE | Niela Orr on IVERSON SNEAKERS | Toni Schlesinger on CLOUD ERASE BOARD | Carlo Rotella on TONE BAR | Hilary Greenbaum on FAMILY PHOTO | Mimi Lipson on CLAWFOOT TUB | Wayne Chambliss on MATRYOSHKA CHEST | Chelsea Barabas on SWITCHBLADE | Ciara O'Rourke on MOLLY McINTIRE DOLL | Kelli Anderson on MIURA-ORI FOLD | Shawn Wolfe on BOX OF AYDS | Alyssa Giacobbe on LOVE NOTE | Marc Weidenbaum on DUMMY JACK | Abby Rapoport on MAGNATILES | Bryn Smith on DUCK UMBRELLA | Kerry Lauerman on WALL ORGANIZER.
FOSSILS: INTRODUCTION | Allegra Huston on SKATAWAY JACKET | Kevin Obsatz on HOMEMADE NUNCHUKS | Ian Bogost on DESKTOP TELEPHONE | Jeff Lewonczyk on CHA-CHA JACKET SCRAP | Kelly Horan on VOLVO KEY | & 20 MORE.
FLAIR: INTRODUCTION | Cliff Kuang on ROLEX DATEJUST | Ethan Zuckerman on LAPTOP STICKERS | Ann Shoket on LEATHER JACKET | Kembrew McLeod on KEMBREW MERCH | Paola Antonelli on MERMAID TEARS | & 20 MORE.
LOST OBJECTS (vol. 1): INTRODUCTION | Kate Bernheimer on MULLET WIG (ill. Amy Evans) | Dan Piepenbring on COLOGNE (ill. Josh Neufeld) | Doug Dorst on STRATOCASTER (ill. John Holbo) | Paul Lukas on VANILLA BEAN (ill. Allison Bamcat) | Mimi Lipson on DODGE DART (ill. Mister Reusch) | & 20 MORE.
ILLICIT OBJECTS: INTRODUCTION | Kio Stark on PEEPSHOW TOKEN | Sari Wilson on TOMBSTONE PARTS | Annalee Newitz on CAR-BOMB REMNANT | Tito Bottitta on MOONINITE DEVICE | Eric Bennett on DIRTY MAGAZINE | & 20 MORE.
TALISMANIC OBJECTS: INTRODUCTION | Veda Hille on CROCHET SHEEP | Gary Panter on DINOSAUR BONES | Jami Attenberg on SELENITE CRYSTAL | Annie Nocenti on MINIATURE DICE | Wayne Curtis on CLOCK WINDING KEY | & 20 MORE.
POLITICAL OBJECTS: INTRODUCTION | Luc Sante on CAMPAIGN PAMPHLETS | Lydia Millet on PVC POLAR BEAR | Ben Greenman on MATCHBOX CAR | Rob Baedeker on PRESIDENTS PLACEMAT | L.A. Kauffman on WHEATPASTE POSTER | & 20 MORE.
SIGNIFICANT OBJECTS at HILOBROW: PROJECT:OBJECT homepage | PROJECT:OBJECT newsletter | PROJECT:OBJECT objects (Threadless shop — all profits donated to the ACLU) | POLITICAL OBJECTS series (1Q2017) | TALISMANIC OBJECTS series (2Q2017) | ILLICIT OBJECTS series (3Q2017) | LOST OBJECTS vol. 1 series (4Q2017) | FLAIR series (2Q2018) | FOSSIL series (4Q2018) | FETISHES series (2Q2019) | LOST OBJECTS vol. 2 series (4Q2019) | MOVIE OBJECTS series (2Q2020). ALSO SEE: SIGNIFICANT OBJECTS website | SIGNIFICANT OBJECTS collection, ed. Rob Walker and Josh Glenn (Fantagraphics, 2012) | TAKING THINGS SERIOUSLY, ed. Josh Glenn (Princeton Architectural Press, 2007) | TAKING THINGS SERIOUSLY excerpts.