FETISHES (21)
By: Alyssa Giacobbe
June 2, 2019
The seventh PROJECT:OBJECT volume is a 25-part series of true stories about fetishes. That is to say: objects with which we are obsessed, to which we are devoted, and from the influence of which we cannot escape.
*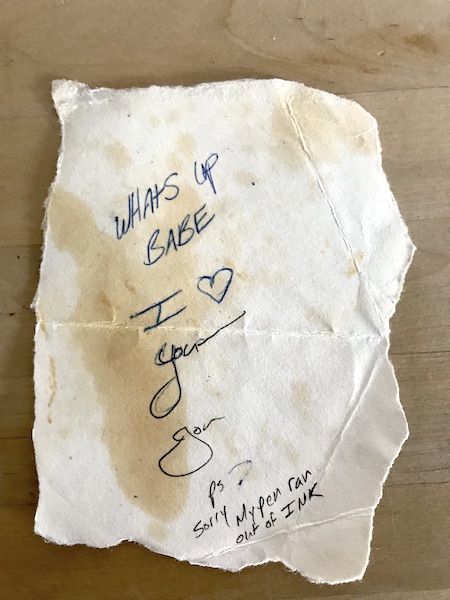 My preoccupation with longing started early, with a love note I typed out to Andy Choi, the neighbor boy and older brother of Ryan, with whom I'd build leaf forts in the backyard. I didn't send it. I was never going to. Instead, I stuffed it into a decorative basket in our guest room, then lied when my mom found it, saying it was just for fun, for no one in particular, Andy who? or probably I tried to tell her I didn't write it at all.
Some half-dozen years later, I found myself on the receiving end of someone's longing, and love missive, my very first. It felt strange; for so many years, the pining was my job. I'd returned home to my parents' gray cul-de-sac colonial from a night out with girlfriends to find a grease-stained scrap of paper tucked beneath the wipers of my car, a red Jeep Wrangler they'd gotten me when I turned 16. I'd asked for the car, it was what I wanted, but, then, the longing was the thing, and I was sort of embarrassed to actually get it. I already felt like an imposter, and a bit of a cliché, having worked hard to overcome my middle school mediocrity to become the 16-year-old girl I thought everyone wanted me to be: class vice president, prom queen, a varsity athlete, even though I was only average-pretty and far too timid with a field hockey stick to really be any good. I wanted to stand out. I wanted to fit in. I wanted to be anyone, everyone, else.
The note, predictably, did not pass my friends' romantic test and so it did not pass mine. It said nothing profound, they said, it was not properly punctuated. Its former life seemed to have been a French fry bag. But that's not why I thought it, and he, weren't good enough. That was because I wasn't good enough, and if he liked me, neither was he. I broke up with him soon after.
I return to this greasy old note again and again, whenever I feel myself missing that old familiar, comfortable wistfulness. But it also serves as a warning. I'm not that 16-year-old girl anymore, thank god, except when I am, and that note, that boy, would not be the last time I let something, and someone, go in the name of people-pleasing, or because getting what I thought I wanted meant it wasn't, in fact, worth getting.
Recently, he and I reconnected — 20 years and many unshared milestones later. Seeing him sparked in me a version of the longing I had not felt for a while, like the note come to life. I was content in my marriage, my career, my life. I was happy. Wasn't I? I suddenly wasn't sure. For a minute, things got complicated. But, then, I was wise enough now to know: The longing was the thing. The possibility was enough.
*
FETISHES: INTRODUCTION | Josh Foer on DEATH MASK | Beth Lisick on MURDERED-OUT KFC BUCKET | Ramona Lyons on RABBIT BOX | Friederike Paetzold on OLD HANDS | Katya Apekina on MISSISSIPPI WATER | Matthew Daniel on PIPE CLEANER FIGURE | Christina Couch on LEECH ACTION FIGURE | Kenneth Goldsmith on THEWLIS SOCK | Matthew Sharpe on GLASSES | Katrina Brown Hunt on DAY OF THE DEAD FIGURINE | Niela Orr on IVERSON SNEAKERS | Toni Schlesinger on CLOUD ERASE BOARD | Carlo Rotella on TONE BAR | Hilary Greenbaum on FAMILY PHOTO | Mimi Lipson on CLAWFOOT TUB | Wayne Chambliss on MATRYOSHKA CHEST | Chelsea Barabas on SWITCHBLADE | Ciara O'Rourke on MOLLY McINTIRE DOLL | Kelli Anderson on MIURA-ORI FOLD | Shawn Wolfe on BOX OF AYDS | Alyssa Giacobbe on LOVE NOTE | Marc Weidenbaum on DUMMY JACK | Abby Rapoport on MAGNATILES | Bryn Smith on DUCK UMBRELLA | Kerry Lauerman on WALL ORGANIZER.
FOSSILS: INTRODUCTION | Allegra Huston on SKATAWAY JACKET | Kevin Obsatz on HOMEMADE NUNCHUKS | Ian Bogost on DESKTOP TELEPHONE | Jeff Lewonczyk on CHA-CHA JACKET SCRAP | Kelly Horan on VOLVO KEY | & 20 MORE.
FLAIR: INTRODUCTION | Cliff Kuang on ROLEX DATEJUST | Ethan Zuckerman on LAPTOP STICKERS | Ann Shoket on LEATHER JACKET | Kembrew McLeod on KEMBREW MERCH | Paola Antonelli on MERMAID TEARS | & 20 MORE.
LOST OBJECTS (vol. 1): INTRODUCTION | Kate Bernheimer on MULLET WIG (ill. Amy Evans) | Dan Piepenbring on COLOGNE (ill. Josh Neufeld) | Doug Dorst on STRATOCASTER (ill. John Holbo) | Paul Lukas on VANILLA BEAN (ill. Allison Bamcat) | Mimi Lipson on DODGE DART (ill. Mister Reusch) | & 20 MORE.
ILLICIT OBJECTS: INTRODUCTION | Kio Stark on PEEPSHOW TOKEN | Sari Wilson on TOMBSTONE PARTS | Annalee Newitz on CAR-BOMB REMNANT | Tito Bottitta on MOONINITE DEVICE | Eric Bennett on DIRTY MAGAZINE | & 20 MORE.
TALISMANIC OBJECTS: INTRODUCTION | Veda Hille on CROCHET SHEEP | Gary Panter on DINOSAUR BONES | Jami Attenberg on SELENITE CRYSTAL | Annie Nocenti on MINIATURE DICE | Wayne Curtis on CLOCK WINDING KEY | & 20 MORE.
POLITICAL OBJECTS: INTRODUCTION | Luc Sante on CAMPAIGN PAMPHLETS | Lydia Millet on PVC POLAR BEAR | Ben Greenman on MATCHBOX CAR | Rob Baedeker on PRESIDENTS PLACEMAT | L.A. Kauffman on WHEATPASTE POSTER | & 20 MORE.
SIGNIFICANT OBJECTS at HILOBROW: PROJECT:OBJECT homepage | PROJECT:OBJECT newsletter | PROJECT:OBJECT objects (Threadless shop — all profits donated to the ACLU) | POLITICAL OBJECTS series (1Q2017) | TALISMANIC OBJECTS series (2Q2017) | ILLICIT OBJECTS series (3Q2017) | LOST OBJECTS vol. 1 series (4Q2017) | FLAIR series (2Q2018) | FOSSIL series (4Q2018) | FETISHES series (2Q2019) | LOST OBJECTS vol. 2 series (4Q2019) | MOVIE OBJECTS series (2Q2020). ALSO SEE: SIGNIFICANT OBJECTS website | SIGNIFICANT OBJECTS collection, ed. Rob Walker and Josh Glenn (Fantagraphics, 2012) | TAKING THINGS SERIOUSLY, ed. Josh Glenn (Princeton Architectural Press, 2007) | TAKING THINGS SERIOUSLY excerpts.