FETISHES (13)
By: Carlo Rotella
May 8, 2019
The seventh PROJECT:OBJECT volume is a 25-part series of true stories about fetishes. That is to say: objects with which we are obsessed, to which we are devoted, and from the influence of which we cannot escape.
*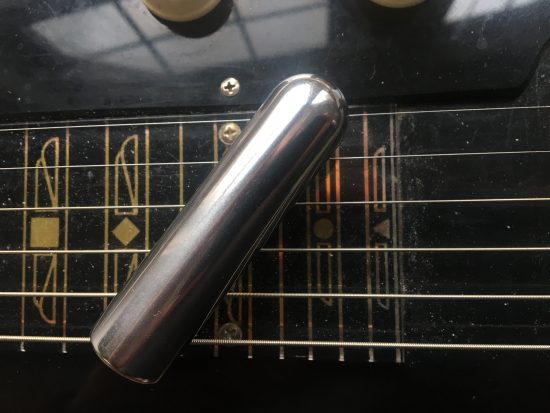 As far back as I can remember, I had dreams in which I'd realize that I could play some unpromising surface — a car trunk, aluminum siding, a stone wall, an overstuffed chair arm — like a musical instrument. I'd discover that if I moved my fingers on it just right I could get a ringing tone out of the thing, and I'd figure out how to fashion notes, an erratic melody.
Playing piano and violin as a child scratched only some of the deep itch expressed by the dreams. In adolescence I switched to electric guitar, and bending the strings scratched more of the itch, but I kept having the dreams. Decades later, having wearied of trudging back and forth in a Chicago blues groove that had become a rut, I took up the lap steel guitar. When I did, the dreams stopped, and have never recurred.
You sit, rest the lap steel face-up across your thighs, pluck the strings with your right hand, and fret it with a tone bar held in your left. Sometimes it feels to me as if the tone bar, a smooth hunk of stainless steel that you slide across the strings with a light touch and an undersea-slow vibrato, is really the instrument, and the lap steel just the terrain on which it moves.
I play in an A6 tuning especially suited to honky tonk, Western swing, and Hawaiian music, and I use a Dunlop 918 tone bar, which has a bullet nose that you can dip down like a fingertip to touch just one or two strings: This one, here, and that one, there. It took me a while to get used to the bullet bar. I started out with more rectangular bars that were slot-dimpled along their sides so that they seemed to jump into my grip. They were easier to maneuver on the neck. The Dunlop, round and featureless except for its snub nose, took some getting used to, but now everything else feels unnatural.
The Dunlop has the compact heft of a marble chess piece or a full beer, a combination of dense weight and cool surface that communicates instantly to your brain that your hand has seized the right tool for the job. Its machined smoothness promises the smeariness of sound you'd be likely to produce if you were trying to figure out by trial and error how to play a car trunk or a stone wall in a dream, but it also implies the precision of technique you must develop to play the lap steel properly.
Playing with a tone bar really is, as the lap steel virtuoso Jerry Byrd said, like playing the guitar with one finger — but it's a magic finger that can make an electrified plank sing. Nobody plays the lap steel because they want to shred at formidable speeds. They play it because to put the tone bar on the strings is to draw sweet music out of the mute, resistant materials of the world.
*
FETISHES: INTRODUCTION | Josh Foer on DEATH MASK | Beth Lisick on MURDERED-OUT KFC BUCKET | Ramona Lyons on RABBIT BOX | Friederike Paetzold on OLD HANDS | Katya Apekina on MISSISSIPPI WATER | Matthew Daniel on PIPE CLEANER FIGURE | Christina Couch on LEECH ACTION FIGURE | Kenneth Goldsmith on THEWLIS SOCK | Matthew Sharpe on GLASSES | Katrina Brown Hunt on DAY OF THE DEAD FIGURINE | Niela Orr on IVERSON SNEAKERS | Toni Schlesinger on CLOUD ERASE BOARD | Carlo Rotella on TONE BAR | Hilary Greenbaum on FAMILY PHOTO | Mimi Lipson on CLAWFOOT TUB | Wayne Chambliss on MATRYOSHKA CHEST | Chelsea Barabas on SWITCHBLADE | Ciara O'Rourke on MOLLY McINTIRE DOLL | Kelli Anderson on MIURA-ORI FOLD | Shawn Wolfe on BOX OF AYDS | Alyssa Giacobbe on LOVE NOTE | Marc Weidenbaum on DUMMY JACK | Abby Rapoport on MAGNATILES | Bryn Smith on DUCK UMBRELLA | Kerry Lauerman on WALL ORGANIZER.
FOSSILS: INTRODUCTION | Allegra Huston on SKATAWAY JACKET | Kevin Obsatz on HOMEMADE NUNCHUKS | Ian Bogost on DESKTOP TELEPHONE | Jeff Lewonczyk on CHA-CHA JACKET SCRAP | Kelly Horan on VOLVO KEY | & 20 MORE.
FLAIR: INTRODUCTION | Cliff Kuang on ROLEX DATEJUST | Ethan Zuckerman on LAPTOP STICKERS | Ann Shoket on LEATHER JACKET | Kembrew McLeod on KEMBREW MERCH | Paola Antonelli on MERMAID TEARS | & 20 MORE.
LOST OBJECTS (vol. 1): INTRODUCTION | Kate Bernheimer on MULLET WIG (ill. Amy Evans) | Dan Piepenbring on COLOGNE (ill. Josh Neufeld) | Doug Dorst on STRATOCASTER (ill. John Holbo) | Paul Lukas on VANILLA BEAN (ill. Allison Bamcat) | Mimi Lipson on DODGE DART (ill. Mister Reusch) | & 20 MORE.
ILLICIT OBJECTS: INTRODUCTION | Kio Stark on PEEPSHOW TOKEN | Sari Wilson on TOMBSTONE PARTS | Annalee Newitz on CAR-BOMB REMNANT | Tito Bottitta on MOONINITE DEVICE | Eric Bennett on DIRTY MAGAZINE | & 20 MORE.
TALISMANIC OBJECTS: INTRODUCTION | Veda Hille on CROCHET SHEEP | Gary Panter on DINOSAUR BONES | Jami Attenberg on SELENITE CRYSTAL | Annie Nocenti on MINIATURE DICE | Wayne Curtis on CLOCK WINDING KEY | & 20 MORE.
POLITICAL OBJECTS: INTRODUCTION | Luc Sante on CAMPAIGN PAMPHLETS | Lydia Millet on PVC POLAR BEAR | Ben Greenman on MATCHBOX CAR | Rob Baedeker on PRESIDENTS PLACEMAT | L.A. Kauffman on WHEATPASTE POSTER | & 20 MORE.
SIGNIFICANT OBJECTS at HILOBROW: PROJECT:OBJECT homepage | PROJECT:OBJECT newsletter | PROJECT:OBJECT objects (Threadless shop — all profits donated to the ACLU) | POLITICAL OBJECTS series (1Q2017) | TALISMANIC OBJECTS series (2Q2017) | ILLICIT OBJECTS series (3Q2017) | LOST OBJECTS vol. 1 series (4Q2017) | FLAIR series (2Q2018) | FOSSIL series (4Q2018) | FETISHES series (2Q2019) | LOST OBJECTS vol. 2 series (4Q2019) | MOVIE OBJECTS series (2Q2020). ALSO SEE: SIGNIFICANT OBJECTS website | SIGNIFICANT OBJECTS collection, ed. Rob Walker and Josh Glenn (Fantagraphics, 2012) | TAKING THINGS SERIOUSLY, ed. Josh Glenn (Princeton Architectural Press, 2007) | TAKING THINGS SERIOUSLY excerpts.