FETISHES (3)
By: Ramona Lyons
April 8, 2019
The seventh PROJECT:OBJECT volume is a 25-part series of true stories about fetishes. That is to say: objects with which we are obsessed, to which we are devoted, and from the influence of which we cannot escape.
*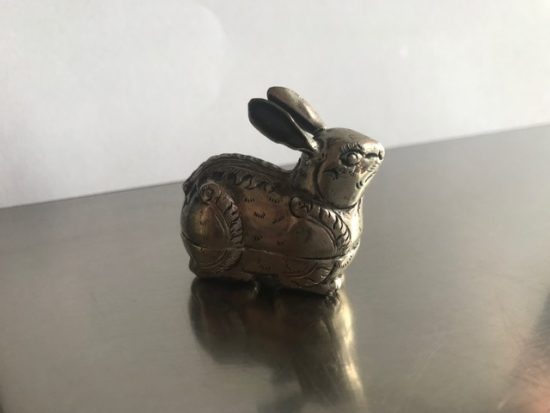 Traveling in Chiang Mai, Thailand many years ago, I stumbled upon a tiny vintage silver rabbit box in a small shop. I thought it'd be a nice gift for my mother, who has a soft spot for animal figurines. It was also an unexpected gift for her, since she often negates whimsy for the sake of practicality, and would never buy such a thing for herself. I thought she'd be delighted by it. I was delighted by it. I should have known that'd be trouble.
I tucked the little rabbit away in my suitcase, pleased with my choice and the ease with which I'd acquired it. The next day I checked my case just to see if it was still in the corner where I'd tucked it away. The day after, I double-checked. And so on — until this day. I never gave that little silver rabbit to my mother, though there have been plenty of gifting occasions that would have been perfect. Instead, I wrapped it in a square of silk and shifted it to my jewelry box for "safekeeping."
Just to step back for a moment, I'm not into any other "cute" little animal-shaped things; cow-shaped creamers and adorable kitty miniatures feel like objects of misplaced sentimentality that make me cringe. But the rabbit box has become a kind of beautiful worry-stone for me. Its curved, engraved surfaces are delicate and intricate, the mark of a singular hand. It has detailed paws and a stylized but beautifully rendered line of fur that ruffles down its back. The box is also well crafted and tidy; the interior is hollowed out precisely, and the top and bottom halves meet snugly. All of these things make it compellingly and satisfyingly tactile.
I still check for it every week. If things have gotten messy, I frantically scrabble around in the tangle until I find it, feeling a deep miserly pleasure when I nestle it in my palm and run my fingers over its sweetly engraved surfaces.
*
FETISHES: INTRODUCTION | Josh Foer on DEATH MASK | Beth Lisick on MURDERED-OUT KFC BUCKET | Ramona Lyons on RABBIT BOX | Friederike Paetzold on OLD HANDS | Katya Apekina on MISSISSIPPI WATER | Matthew Daniel on PIPE CLEANER FIGURE | Christina Couch on LEECH ACTION FIGURE | Kenneth Goldsmith on THEWLIS SOCK | Matthew Sharpe on GLASSES | Katrina Brown Hunt on DAY OF THE DEAD FIGURINE | Niela Orr on IVERSON SNEAKERS | Toni Schlesinger on CLOUD ERASE BOARD | Carlo Rotella on TONE BAR | Hilary Greenbaum on FAMILY PHOTO | Mimi Lipson on CLAWFOOT TUB | Wayne Chambliss on MATRYOSHKA CHEST | Chelsea Barabas on SWITCHBLADE | Ciara O'Rourke on MOLLY McINTIRE DOLL | Kelli Anderson on MIURA-ORI FOLD | Shawn Wolfe on BOX OF AYDS | Alyssa Giacobbe on LOVE NOTE | Marc Weidenbaum on DUMMY JACK | Abby Rapoport on MAGNATILES | Bryn Smith on DUCK UMBRELLA | Kerry Lauerman on WALL ORGANIZER.
FOSSILS: INTRODUCTION | Allegra Huston on SKATAWAY JACKET | Kevin Obsatz on HOMEMADE NUNCHUKS | Ian Bogost on DESKTOP TELEPHONE | Jeff Lewonczyk on CHA-CHA JACKET SCRAP | Kelly Horan on VOLVO KEY | & 20 MORE.
FLAIR: INTRODUCTION | Cliff Kuang on ROLEX DATEJUST | Ethan Zuckerman on LAPTOP STICKERS | Ann Shoket on LEATHER JACKET | Kembrew McLeod on KEMBREW MERCH | Paola Antonelli on MERMAID TEARS | & 20 MORE.
LOST OBJECTS (vol. 1): INTRODUCTION | Kate Bernheimer on MULLET WIG (ill. Amy Evans) | Dan Piepenbring on COLOGNE (ill. Josh Neufeld) | Doug Dorst on STRATOCASTER (ill. John Holbo) | Paul Lukas on VANILLA BEAN (ill. Allison Bamcat) | Mimi Lipson on DODGE DART (ill. Mister Reusch) | & 20 MORE.
ILLICIT OBJECTS: INTRODUCTION | Kio Stark on PEEPSHOW TOKEN | Sari Wilson on TOMBSTONE PARTS | Annalee Newitz on CAR-BOMB REMNANT | Tito Bottitta on MOONINITE DEVICE | Eric Bennett on DIRTY MAGAZINE | & 20 MORE.
TALISMANIC OBJECTS: INTRODUCTION | Veda Hille on CROCHET SHEEP | Gary Panter on DINOSAUR BONES | Jami Attenberg on SELENITE CRYSTAL | Annie Nocenti on MINIATURE DICE | Wayne Curtis on CLOCK WINDING KEY | & 20 MORE.
POLITICAL OBJECTS: INTRODUCTION | Luc Sante on CAMPAIGN PAMPHLETS | Lydia Millet on PVC POLAR BEAR | Ben Greenman on MATCHBOX CAR | Rob Baedeker on PRESIDENTS PLACEMAT | L.A. Kauffman on WHEATPASTE POSTER | & 20 MORE.
SIGNIFICANT OBJECTS at HILOBROW: PROJECT:OBJECT homepage | PROJECT:OBJECT newsletter | PROJECT:OBJECT objects (Threadless shop — all profits donated to the ACLU) | POLITICAL OBJECTS series (1Q2017) | TALISMANIC OBJECTS series (2Q2017) | ILLICIT OBJECTS series (3Q2017) | LOST OBJECTS vol. 1 series (4Q2017) | FLAIR series (2Q2018) | FOSSIL series (4Q2018) | FETISHES series (2Q2019) | LOST OBJECTS vol. 2 series (4Q2019) | MOVIE OBJECTS series (2Q2020). ALSO SEE: SIGNIFICANT OBJECTS website | SIGNIFICANT OBJECTS collection, ed. Rob Walker and Josh Glenn (Fantagraphics, 2012) | TAKING THINGS SERIOUSLY, ed. Josh Glenn (Princeton Architectural Press, 2007) | TAKING THINGS SERIOUSLY excerpts.