FETISHES (22)
By: Marc Weidenbaum
June 5, 2019
The seventh PROJECT:OBJECT volume is a 25-part series of true stories about fetishes. That is to say: objects with which we are obsessed, to which we are devoted, and from the influence of which we cannot escape.
*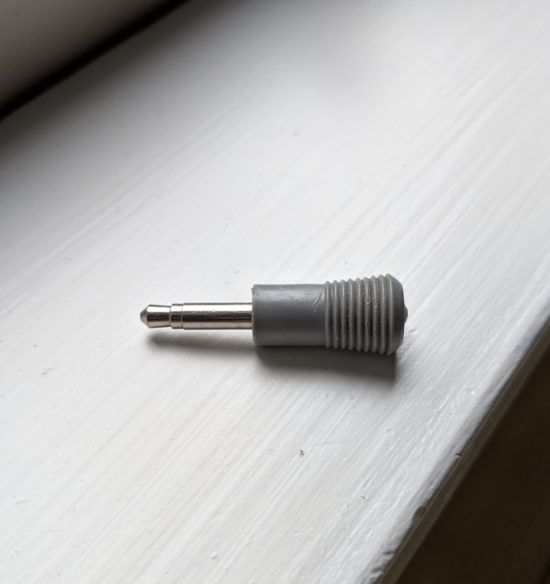 Sometime around the turn of the millennium I was plagued by a very turn-of-the-millennium hassle: laptops that made unwelcome sounds when turned on.
Whether generic beeps or the nascent sonic branding of digital devices, these startup noises intruded at inconvenient moments. And then one day my girlfriend handed me a mundane object of metal and plastic that she thought might be of use.
It was — and for me, at least, remains — a truly strange thing: an audio jack that leads nowhere. Where there should seemingly be another jack, or a cable, or maybe an LED, there was simply nothing except hard plastic, harder even than its utilitarian gray might suggest.
The jack had the so-called "male" end, and then it dead-ended. It was, I learned later, called a dummy jack. The gadget, if the word "gadget" can be applied to the dummy jack, originally accompanied a Realistic tape recorder decades earlier — its purpose, like the tape recorder, now lost. But the original purpose didn't matter. What mattered was its new purpose. What mattered was that my laptop, thanks to this protruding doodad, a premonition of dongles to come, no longer made a scene. No software solution had been sufficient to quell the boot-up beeps, but stick the dummy jack where my laptop expected headphones, and suddenly it was as quiet as a mouse — well, a mouse with a rattly hard drive and a robust cooling fan.
Technology was not, as the saying goes, evenly distributed at the millennium's turn, and even less so in New Orleans, where I was living at the time. Working on a laptop amid chicory coffee and po' boys already marked me as alien in a place where you weren't local until you had multiple generations to visit at the city cemetery. Those beeps had sealed the deal on my outsiderness. The dummy jack didn't just quiet my technology. It provided me a cloak of relative anonymity.
Over time, that dummy-jack fix became less necessary, until it wasn't necessary at all. Laptop manufacturers slowly became conscientious about sounds, startup and otherwise. As this technological-cultural transition unfolded, my dummy jack became all the more valuable to me. Outdated technology may become art, but on the way to art it sometimes becomes a fetish.
I fetishized the dummy jack for years before I understood why, before I recognized it as a totem of silence. I mostly write about ambient-leaning, minimalist music and sound art. The dummy jack was a sound art readymade that encapsulated my aesthetic world view. The question was how to safeguard this minuscule obsession. I came to keep it in a container with actual desk items (paper clips, push pins, rubber bands), and there it remains, a treasured object amid the mundane. Of course, in my increasingly paperless office, I need those things less often, too, so the totem rests amid other potential totems, totems in waiting.
*
FETISHES: INTRODUCTION | Josh Foer on DEATH MASK | Beth Lisick on MURDERED-OUT KFC BUCKET | Ramona Lyons on RABBIT BOX | Friederike Paetzold on OLD HANDS | Katya Apekina on MISSISSIPPI WATER | Matthew Daniel on PIPE CLEANER FIGURE | Christina Couch on LEECH ACTION FIGURE | Kenneth Goldsmith on THEWLIS SOCK | Matthew Sharpe on GLASSES | Katrina Brown Hunt on DAY OF THE DEAD FIGURINE | Niela Orr on IVERSON SNEAKERS | Toni Schlesinger on CLOUD ERASE BOARD | Carlo Rotella on TONE BAR | Hilary Greenbaum on FAMILY PHOTO | Mimi Lipson on CLAWFOOT TUB | Wayne Chambliss on MATRYOSHKA CHEST | Chelsea Barabas on SWITCHBLADE | Ciara O'Rourke on MOLLY McINTIRE DOLL | Kelli Anderson on MIURA-ORI FOLD | Shawn Wolfe on BOX OF AYDS | Alyssa Giacobbe on LOVE NOTE | Marc Weidenbaum on DUMMY JACK | Abby Rapoport on MAGNATILES | Bryn Smith on DUCK UMBRELLA | Kerry Lauerman on WALL ORGANIZER.
FOSSILS: INTRODUCTION | Allegra Huston on SKATAWAY JACKET | Kevin Obsatz on HOMEMADE NUNCHUKS | Ian Bogost on DESKTOP TELEPHONE | Jeff Lewonczyk on CHA-CHA JACKET SCRAP | Kelly Horan on VOLVO KEY | & 20 MORE.
FLAIR: INTRODUCTION | Cliff Kuang on ROLEX DATEJUST | Ethan Zuckerman on LAPTOP STICKERS | Ann Shoket on LEATHER JACKET | Kembrew McLeod on KEMBREW MERCH | Paola Antonelli on MERMAID TEARS | & 20 MORE.
LOST OBJECTS (vol. 1): INTRODUCTION | Kate Bernheimer on MULLET WIG (ill. Amy Evans) | Dan Piepenbring on COLOGNE (ill. Josh Neufeld) | Doug Dorst on STRATOCASTER (ill. John Holbo) | Paul Lukas on VANILLA BEAN (ill. Allison Bamcat) | Mimi Lipson on DODGE DART (ill. Mister Reusch) | & 20 MORE.
ILLICIT OBJECTS: INTRODUCTION | Kio Stark on PEEPSHOW TOKEN | Sari Wilson on TOMBSTONE PARTS | Annalee Newitz on CAR-BOMB REMNANT | Tito Bottitta on MOONINITE DEVICE | Eric Bennett on DIRTY MAGAZINE | & 20 MORE.
TALISMANIC OBJECTS: INTRODUCTION | Veda Hille on CROCHET SHEEP | Gary Panter on DINOSAUR BONES | Jami Attenberg on SELENITE CRYSTAL | Annie Nocenti on MINIATURE DICE | Wayne Curtis on CLOCK WINDING KEY | & 20 MORE.
POLITICAL OBJECTS: INTRODUCTION | Luc Sante on CAMPAIGN PAMPHLETS | Lydia Millet on PVC POLAR BEAR | Ben Greenman on MATCHBOX CAR | Rob Baedeker on PRESIDENTS PLACEMAT | L.A. Kauffman on WHEATPASTE POSTER | & 20 MORE.
SIGNIFICANT OBJECTS at HILOBROW: PROJECT:OBJECT homepage | PROJECT:OBJECT newsletter | PROJECT:OBJECT objects (Threadless shop — all profits donated to the ACLU) | POLITICAL OBJECTS series (1Q2017) | TALISMANIC OBJECTS series (2Q2017) | ILLICIT OBJECTS series (3Q2017) | LOST OBJECTS vol. 1 series (4Q2017) | FLAIR series (2Q2018) | FOSSIL series (4Q2018) | FETISHES series (2Q2019) | LOST OBJECTS vol. 2 series (4Q2019) | MOVIE OBJECTS series (2Q2020). ALSO SEE: SIGNIFICANT OBJECTS website | SIGNIFICANT OBJECTS collection, ed. Rob Walker and Josh Glenn (Fantagraphics, 2012) | TAKING THINGS SERIOUSLY, ed. Josh Glenn (Princeton Architectural Press, 2007) | TAKING THINGS SERIOUSLY excerpts.